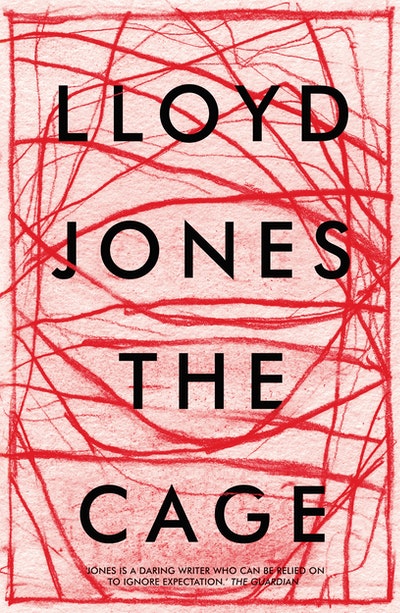 Published:

29 January 2018

ISBN:

9780143772330

Imprint:

Penguin eBooks

Format:

EBook

Pages:

272
The Cage
---
---
---
As the townspeople watch the strangers to discover their identity, we learn far more about the watchers than the watched.
A powerful allegorical tale about humanity and dignity and the ease with which we can justify brutality.
Two mysterious strangers turn up at a hotel in a small country town. Where have they come from? Who are they? What catastrophe are they fleeing?
The townspeople want answers, but the strangers are unable to speak of their trauma. Before long, wary hospitality shifts to suspicion and fear, and the care of the men slides into appalling cruelty.
Lloyd Jones's fable-like novel The Cage is a profound and unsettling novel.
Published:

29 January 2018

ISBN:

9780143772330

Imprint:

Penguin eBooks

Format:

EBook

Pages:

272
Jones builds calmly, rationally, in prose shot through with instances of unexpected beauty and tenderness to a terrible climax – a climax that at last makes our young scribe question his compliance, that tendency of so many of us to deplore and do nothing: "For now I knew who or what I was. I was that stone rabbit. I had ears. But they did not hear. I had eyes. But they did not see…The question is this. At what point did I know what was going to happen? The second question. Why did I not do anything to prevent it?" In this novel, more than any other so far, Jones challenges the humanity of his readers.

Katharine England, Adelaide Advertiser
Great novels make their own rules and, if the writing's properly, authoritatively alive, it will never once occur to you to question them. And quite how this pair make the transition from hotel guests in a normal double room to a specially constructed cage in the backyard with a "feeding hole" and the human equivalent of a litter tray is the first in a series of imaginative sleights of hand that Jones – whose earlier novel, Mister Pip, won the Commonwealth prize and was shortlisted for the 2007 Man Booker prize – roguishly pulls off. The cage simply – chillingly – seems to come about, almost a physical manifestation of the townsfolk's kneejerk fear and prejudice. . . . It goes without saying that all of this makes for uneasy reading in these blisteringly xenophobic times. . . . this is fantastically, blandly effective prose, the tone pitch perfect, not a stultifying word wasted, not a dark idea out of place. In fact, by far the most impressive thing about this deeply disturbing fable is the vast and deadening landscape of language that seems to spring up around it. Jones has forged a piece of poetry of the most uncanny and macabre kind – a timely reminder to us all that humanity cannot ever be taken for granted, that it hangs, always, and all too terrifyingly, by the very skin of its teeth.

Julie Myerson, The Guardian
Indeed you may sense a political subtext to Jones' narrative, but it's one of his many achievements that he holds his novel above such simplistic explanations. Events elude definition and classification. Everything and almost everyone is clear, concrete, yet unsettlingly ambivalent. . . . Jones has written of his increasing preoccupation with language in fiction. He shows quite marvellously here how words strain and slip as people try to comprehend something almost incomprehensible. . . . It's a story potent with images like small grenades: "the backyard rushes at me"; "a silence that has the temperament of a siege". Its mastery lies in its mystery: the skill with which it leaves things unsaid. An audacious and affecting riff on the tenuousness of understanding and the frailty of good intentions. What on Earth will the guy do next?

David Hill, Weekend Herald
New Zealand writer Lloyd Jones' latest offering is a compelling if unsettling read. The language is simple and reflective, as befits the teenage narrator. There are obvious parallels to the plight of refugees and how a horrendous situation can become almost banal and acceptable. It is a thought-provoking and affecting book for readers of literary fiction where the morally questionable appears very ordinary.

Helene Ephraim, Books and Publishing, Australia
How do people go from being part of our tribe to being outside of it? That's the question Jones is asking. . . . "When you find that voice you end up writing things you never knew you knew," he says. The voice he found for The Cage is difficult to listen to, but one that can't be ignored.

Bess Manson, Dominion Post
confronting and powerful

Louise O'Brien, National Radio
It's a terrible book. I had been thinking how to construct that sentence. After all, you don't tend to turn up to interview an author and tell them their book is so terrible that it gave you nightmares, . . . It is also brilliant. It compels and repels.

Michele Hewitson, NZ Listener
Lloyd Jones, in The Cage, has dug up something raw and painful, unearthing the extent of degradation that can be inflicted by one person on another, even without initial ill intent. The only weapons of protection the strangers have are their eyes, to bore into those holding them captive, and silence. This jigsaw Jones has matted together from deep within has opened up into a place that is shameful and disturbing, with an inner darkness that is all too real.

Jessie Neilson, Otago Daily Times
The book is like a study into human behaviour and how we treat others who are different from us. Even those in the book who do not do direct harm to "the stranger", do harm by way of complacency and failure to act on what they know is wrong. It also brings to light the fascinating way we assume we know what is best for others based on our own experiences and world view. . . . This book kept me thinking long after I had finished it. I would recommend it as a great read for book clubs in particular, as it would generate some interesting discussions.

Gisborne Herald
The Kiwi master who brought us Mister Pip and The Book of Fame is in fine form with this unsettling new novel that begins with two mysterious strangers arriving at a hotel in a small country town. Hospitality shifts to suspicion and fear in this allegorical, fable-like tale about humanity and dignity and the ease with which we can justify brutality.

Cityscape, Christchurch