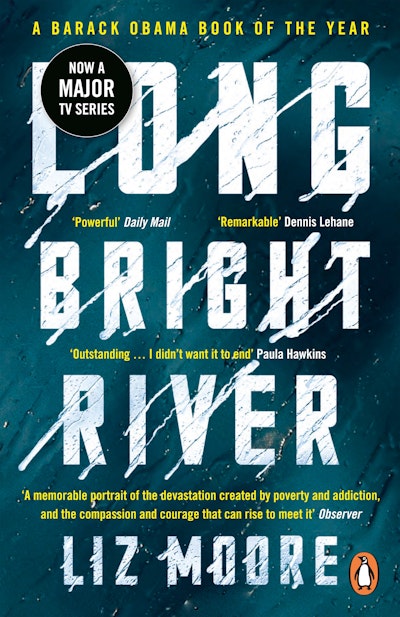 Published:

9 January 2020

ISBN:

9781473563643

Imprint:

Cornerstone Digital

Format:

EBook

Pages:

464
Long Bright River
an intense family thriller
---
---
---
Gritty and moving crime thriller, for fans of THE WIRE and LINE OF DUTY from the critically-acclaimed author of HEFT.
Set in Northeast Philadelphia, Long Bright River is a compelling and gritty novel about two women's struggles – one, a police officer who patrols a high-crime district populated by dealers and sex workers; the other, her sister who is suffering from addiction and is missing.
Against the backdrop of a small community that is foundering in an endless cycle of drug addiction, desperation and crime, Officer Fitzpatrick's search for her sister, Kacey, is made more urgent when she discovers a body. Then a second. Then a third.
A killer is on the loose, targeting women who engage in sex work to fund their addictions. With every new victim, Officer Fitzpatrick is filled with the fear that it might be Kacey; relief when it is not and dread that they may not catch the killer before it is too late.
Published:

9 January 2020

ISBN:

9781473563643

Imprint:

Cornerstone Digital

Format:

EBook

Pages:

464
Praise for Long Bright River
Every so often a thriller comes along that is so remarkable that it transcends genre and Long Bright River is one such book. The mystery at its heart is absorbing, thoughtful and perfectly paced and Mickey is a flawed heroine who it's easy to root for. But the fourth novel from acclaimed American writer Moore is also heartbreakingly profound in exploring the strain put on families and entire communities by the opioid crisis in US cities. It exposes the way addicted parents' broken promises inflict childhood wounds that never heal. But it also gives hope that familial bonds and community spirit can ultimately triumph. This flawless masterpiece deserves to be a bestseller.

Daily Express
Strong characters and some truly evocative writing.

Guardian Books of the Month
[T]he twists are clever . . . but it is the novel's more eccentric, reflective aspects that make it stand out from the ruck.

Daily Telegraph
As with the best crime novels, its scope defies the constraints of genre . . . the result feels startlingly fresh . . . Moore has created a memorable portrait of the devastation created by poverty and addiction, and the compassion and courage that can rise to meet it.

Stephanie Merritt, Observer
Tough, tense and twisty - but tender, human and deeply affecting, too ... I don't have a sister, but when I finished the book I called my brother, just to hear his voice.

Lee Child
An outstanding crime novel, bringing to mind the best of Dennis Lehane or David Simon. I found myself eking out the final pages because I didn't want it to end. I absolutely loved it.

Paula Hawkins, bestselling author of THE GIRL ON THE TRAIN
An outstanding crime novel, bringing to mind the best of Dennis Lehane or David Simon. I found myself eking out the final pages because I didn't want it to end. I absolutely loved it.

Paula Hawkins, bestselling author of THE GIRL ON THE TRAIN
Extraordinary . . . twists, turns and subverts readers' expectations till its very last pages . . . a sweeping, elegiac novel about a blighted city.

Maureen Corrigan, Washington Post
Very moving.

The Times
Outstanding . . . an intense family thriller . . . The clever plot and involving characters set a high standard for this new year.

Daily Mail
This is a thrilling and heartbreaking exploration of the strain the opioid crisis puts on families. A masterpiece.

Daily Mirror
A page-turning mystery . . . Equal parts literary and thrilling.

Oprah magazine
LONG BRIGHT RIVER is a remarkable, profoundly moving novel about the ties that bind and the irrevocable wounds of childhood. It's also a riveting mystery, perfectly paced. I loved every page of it.

Dennis Lehane, New York Times bestselling author
Both sweeping and unbearably intimate, a riveting crime novel and character-rich study of a city and its battered heart . . . Not to be missed.

Megan Abbott, author of YOU WILL KNOW ME
Liz Moore lays open the sometimes fractured lives of others with a true novelist's hand and eye.

John Harvey
[A] compassionate tale, full of empathy for the low-lying members of society.

Spectator
[B]rilliant and harrowing thriller […] Beautifully told, this is a book to totally lose yourself in.

Best January reads, Stylist
Told in a crisp, propulsive first-person voice, Long Bright River is a detailed, realistic portrait of a city and an intimate, incredibly moving study of characters seemingly beyond repair.

Irish Times
A haunting tale of addiction and redemption.

Woman
A gritty exploration of the power of family ties.

Best
Sprawling, intuitive and immaculately told, this is a powerful evocation of grief and regret that haunts to the final page.

Daily Mail
Superb

Strong Words
Much more than a police procedural, this is multi-layered and the reading pleasure is in the development of the characters.

Choice Magazine
Article
2020 summer picks from the Penguin NZ team!
Here at the NZ office of Penguin Random House we are huge readers – it is definitely one of the perks of the job that we get access to so many books! Luckily across the team we have a wide range of interests so, for example, if we want to know what all the fuss is about with a big debut international crime novel, our crime fiction enthusiast Becky can read it and share her thoughts on whether it will work for NZ readers, our Naomi can spot the next big thing in young adult fiction, and so on… here we present you with a few of what we've truly loved over the summer.