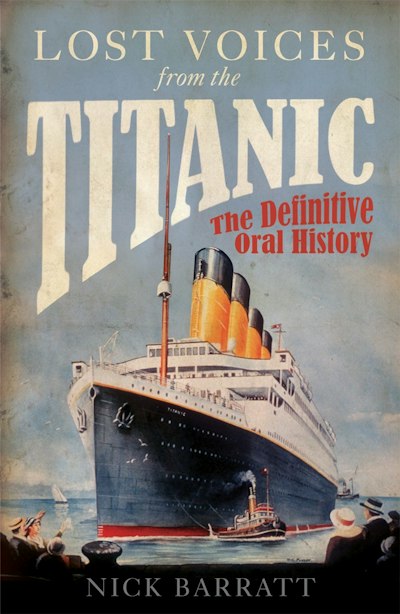 Published:

2 August 2010

ISBN:

9781409050216

Imprint:

Preface Digital

Format:

EBook

Pages:

368
Lost Voices from the Titanic
The Definitive Oral History
---
---
---
Running up to the centenary of her sinking in April 2012 this is the story of the world's most infamous ship, told for the first time in the words of those who designed her, built her, sailed her and survived her.
Starting from its original conception and design by the owners and naval architects at the White Star Line through construction at Harland and Wolff's shipyards in Belfast, Nick Barratt explores the pre-history of the Titanic. He examines the aspirations of the owners, the realities of construction and the anticipation of the first sea-tests, revealing that the seeds of disaster were sown by the failure to implement sealed bulkheads - for which the original plans are now available. Barratt then looks at what it was like to embark on the Titanic's maiden voyage in April 1912. The lives of various passengers are examined in more detail, from the first class aristocrats enjoying all the trappings of privilege, to the families in third-class and steerage who simply sought to leave Britain for a better life in America. Similarly, the stories of representatives from the White Star Line who were present, as well as members of the crew, are told in their own words to give a very different perspective of the voyage.
Finally, the book examines the disaster itself, when Titanic struck the iceberg on 14 April and sunk hours later. Survivors from passengers and crew explain what happened, taking you back in time to the full horror of that freezing Atlantic night when up to 1,520 people perished. The tragedy is also examined from the official boards of enquiry, and its aftermath placed in a historic context - the damage to British prestige and pride, and the changes to maritime law to ensure such an event never took place again. The book concludes by looking at the impact on those who escaped, and what became of them in the ensuing years; and includes the words of the last living survivor, Millvina Dean.
Published:

2 August 2010

ISBN:

9781409050216

Imprint:

Preface Digital

Format:

EBook

Pages:

368
Praise for Lost Voices from the Titanic
A splendid collection of eye-witness accounts by those who built, sailed and survived the Titanic. Fascinating and heart-rending.

Saul David