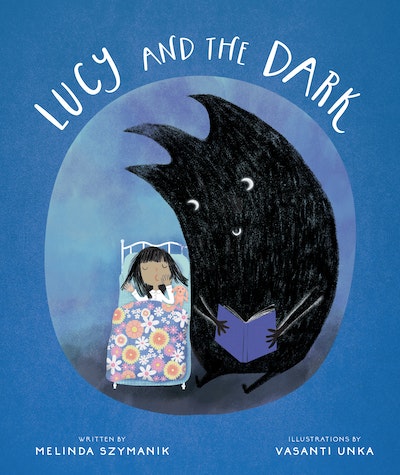 Published:

15 August 2023

ISBN:

9780143778011

Imprint:

Picture Puffin

Format:

Paperback

Pages:

32

RRP:

$21.00
Lucy and the Dark
---
---
When Lucy makes friends with the Dark she discovers a new and exciting world - but the world is about to discover what it's like without the Dark! A funny and enjoyable bedtime story with a glow-in-the dark cover to encourage lights out!
From an award-winning author and illustrator comes this delightful story about a child who faces her fears and makes friends with the Dark. They go on a wild nocturnal adventure together - but what happens to everyone else when the Dark has run away?
'I'm Dark,' said the voice. 'It's all right if you don't like me. Nobody does. Everyone is too afraid. Just close your eyes and by morning I'll be gone.'
Dark heaved a sigh.
One night, Lucy befriends the Dark and zooms away with it on an adventure to explore all the wonderful things that happen when the Dark is around. But back home, everyone else is discovering that they really do miss the Dark after all. Can Lucy and Dark be convinced to return?
From the creators of My Elephant is Blue comes this gorgeous, funny story about why we should ALL make friends with the Dark. It even has a surprise at lights out in the form of a glow-in-the-dark cover!

Published:

15 August 2023

ISBN:

9780143778011

Imprint:

Picture Puffin

Format:

Paperback

Pages:

32

RRP:

$21.00
Praise for Lucy and the Dark
Lucy and the Dark is a children's book, like a few others I have read this year, that has really made me feel something. I feel the dark, I feel for Lucy, I feel sad and touched and delighted. This is what a good story can do. In the hands of a deft author such as Melinda, simplicity of craft leads to a richness of narrative. Glorious. Vasanti's illustrations are equally glorious. The colour palette and textures catch the mood, the facial expressions are exquisite and full of life, the visualisation of the Dark sublime. Just as it is with the narrative, these are illustrations that you feel. I am reminded of how, when you look into the pitch black of night, everything seems the same, but how the longer you look, as your eyes grow accustomed, you see the nuances, the ripples of life, the subtle shifts in shadow and light. Lucy in the Dark is a gift of a book, beautifully designed, beautifully written, beautifully illustrated. A book to celebrate indeed.

Paula Green, Poetry Box
This is a book with appeal across the board. I'm sure all kids (and probably some adults) can relate to a fear of the dark, but even without that, it's a well-told story with fantastic illustrations, and that's the kind of thing that should appeal to anyone.

Annelies Judson, The Sapling
It was also a special surprise to turn the lights off after reading and seeing the cover glow! My boys can't wait for 'lights out' after reading this book! So far we have read the book three nights in a row and once in the morning – so it is safe to say it is a favourite...Five stars – myself and the kids really enjoyed it.

Reader review from Emmeline, Kidspot
To little ones, the world becomes a very different place, even in familiar surroundings, when the lights are out – for one thing, the cover of this de-lightful book actually glows in the dark! Facing her fears, Lucy embarks on a wild adventure making friends with 'the Dark' as this funny story (ideal for readers aged 0-5 years) shines a light on a common cause of anxiety.

Rural Living
Storylines Notable Book Award
Awarded • 2023 • Storylines Notable Picture Book
Article
Teachers' notes