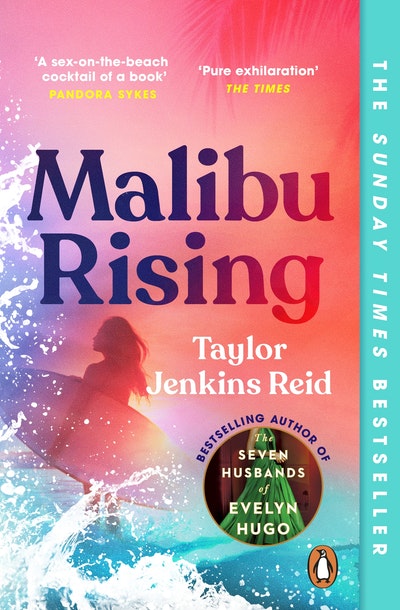 Published:

12 April 2022

ISBN:

9781529157147

Imprint:

Hutchinson Heinemann

Format:

Paperback

Pages:

384

RRP:

$26.00
Malibu Rising
The Sunday Times Bestseller
---
---
---
From the Sunday Times bestselling author of Daisy Jones & The Six.
'Never has so much sex, tragedy, celebrity and tanned skin been crammed into one thinking person's beach read. It's 365 pages of pure exhilaration' The Times
_________________________
A lifetime holding it together.
One party will bring it crashing down.
Malibu: August, 1983. It's the day of Nina Riva's annual end-of-summer party, and anticipation is at a fever pitch. Everyone wants to be around the famous Rivas: Nina, the talented surfer and supermodel; brothers Jay and Hud, one a championship surfer, the other a renowned photographer; and their adored baby sister, Kit. Together, the siblings are a source of fascination in Malibu and the world over-especially as the offspring of the legendary singer, Mick Riva.
By midnight the party will be completely out of control.
By morning, the Riva mansion will have gone up in flames.
But before that first spark in the early hours before dawn, the alcohol will flow, the music will play, and the loves and secrets that shaped this family's generations will all come bubbling to the surface.
Malibu Rising is a story about one unforgettable night in the life of a family: the night they each have to choose what they will keep from the people who made them . . . and what they will leave behind.
_________________________
'The perfect, literal, beach read, with the emotional depth of the ocean. I was such a fan of Daisy Jones and this certainly didn't disappoint.' HOLLY BOURNE
'It's a full on escapist delight.' STYLIST, Best Fiction of 2021
'Thank you Taylor Jenkins Reid for the escapism we all need- a sex-on-the-beach cocktail (quite literally) of a book.' PANDORA SYKES
_________________________
Praise for Daisy Jones & The Six
'Utterly believable . . . fantastically enjoyable' THE TIMES
'Pitch perfect' SUNDAY TIMES
'Prepare to be obsessed' STYLIST
'I devoured this in a day, falling head over heels for it' REESE WITHERSPOON
'I LOVE it . . . I can't remember the last time I read a book that was so fun' DOLLY ALDERTON
'I didn't want this book to end' FEARNE COTTON
Published:

12 April 2022

ISBN:

9781529157147

Imprint:

Hutchinson Heinemann

Format:

Paperback

Pages:

384

RRP:

$26.00
Completely slick and compelling, but also has such warmth and psychological insight. The characters were so real I almost found myself checking out their Wikipedia pages afterwards! It's the perfect, literal, beach read, with the emotional depth of the ocean. I was such a fan of Daisy Jones & The Six and this certainly didn't disappoint.

Holly Bourne
Completely slick and compelling, but also has such warmth and psychological insight. The characters were so real I almost found myself checking out their Wikipedia pages afterwards! It's the perfect, literal, beach read, with the emotional depth of the ocean. I was such a fan of Daisy Jones & The Six and this certainly didn't disappoint.

Holly Bourne
Think Selling Sunset with knobs on as Taylor Jenkins Reid again plunges us into the intoxicating, heat-heavy realm of intrigue of Malibu, this time amidst the world of the filthy rich.

2021 look ahead, BBC News
Think Selling Sunset with knobs on as Taylor Jenkins Reid again plunges us into the intoxicating, heat-heavy realm of intrigue of Malibu, this time amidst the world of the filthy rich.

2021 look ahead, BBC News
Heart-wrenching and utterly compelling, Malibu Rising is a story about the fierce bonds between four fascinating siblings. The novel immerses us in a glamorous, star-studded world but at its heart it's full of raw human emotion. Its characters felt completely real to me - each one is flawed and messy and impossible not to love.

Beth O'Leary
Heart-wrenching and utterly compelling, Malibu Rising is a story about the fierce bonds between four fascinating siblings. The novel immerses us in a glamorous, star-studded world but at its heart it's full of raw human emotion. Its characters felt completely real to me - each one is flawed and messy and impossible not to love.

Beth O'Leary
Perfect pure escapism.

Simon Savidge
Perfect pure escapism.

Simon Savidge
Oh, how I longed to be in California with the glamourous Riva siblings when I was reading this [...] I did not want this book to end!

Prima, Book of the Month
Oh, how I longed to be in California with the glamourous Riva siblings when I was reading this [...] I did not want this book to end!

Prima, Book of the Month
It's a full on escapist delight.

Stylist, Best Fiction of 2021
It's a full on escapist delight.

Stylist, Best Fiction of 2021
Thank you Taylor Jenkins Reid for the escapism we all need- a sex-on-the-beach cocktail (quite literally) of a book.

Pandora Sykes
Thank you Taylor Jenkins Reid for the escapism we all need- a sex-on-the-beach cocktail (quite literally) of a book.

Pandora Sykes
This summer's must-read novel.

Sarra Manning, Red
This summer's must-read novel.

Sarra Manning, Red
A beautifully touching and thought provoking novel interspersed with Jenkins Reid's trademark wit and humour.

Essential Marbella Magazine
A beautifully touching and thought provoking novel interspersed with Jenkins Reid's trademark wit and humour.

Essential Marbella Magazine
Malibu Rising is as much an impressionistic whirl of neon sunsets, acid-wash denim and high-cut bikinis as it is a grand set piece about a glamorous party ... Jenkins Reid has an easy, breezy style that serves melodrama on a daring scale . . . Never has so much sex, tragedy, celebrity and tanned skin been crammed into one thinking person's beach read. It's 365 pages of pure exhilaration.

The Times
Malibu Rising is as much an impressionistic whirl of neon sunsets, acid-wash denim and high-cut bikinis as it is a grand set piece about a glamorous party ... Jenkins Reid has an easy, breezy style that serves melodrama on a daring scale . . . Never has so much sex, tragedy, celebrity and tanned skin been crammed into one thinking person's beach read. It's 365 pages of pure exhilaration.

The Times
Unapologetically escapist beach read fiction, it's urgent style evocative of Hollywood Wives era Jackie Collins.

Sunday Times
Unapologetically escapist beach read fiction, it's urgent style evocative of Hollywood Wives era Jackie Collins.

Sunday Times
Perfect for whatever holiday you hopefully get to take this summer.

Irish Independent
Perfect for whatever holiday you hopefully get to take this summer.

Irish Independent
With Malibu Rising - a novel as redolent of California dreamin' as a Lana del Rey track - Jenkins Reid has lost none of her touch ... A stroke of genius ... Imagine Blue Water High and Selling Sunset had a lovechild, or Jackie Collins rewrote The O.C. , then combine these ingredients with warm, propulsive storytelling, and you'll get an inkling of this family saga's escapist magic ... Immersive and relaxing, as every great beach read should be.

Evening Standard
With Malibu Rising - a novel as redolent of California dreamin' as a Lana del Rey track - Jenkins Reid has lost none of her touch ... A stroke of genius ... Imagine Blue Water High and Selling Sunset had a lovechild, or Jackie Collins rewrote The O.C. , then combine these ingredients with warm, propulsive storytelling, and you'll get an inkling of this family saga's escapist magic ... Immersive and relaxing, as every great beach read should be.

Evening Standard
A riveting, propulsive bookwith characters that stayed with me, not because they are complicated but because they are so vivid ... Full of warmth and tenderness ... Deliciously escapist, conjuring the sun and the sand.

i paper
A riveting, propulsive bookwith characters that stayed with me, not because they are complicated but because they are so vivid ... Full of warmth and tenderness ... Deliciously escapist, conjuring the sun and the sand.

i paper
A gorgeous, sun-soaked novel that delves into the glamour and desperate hope of 1980s Malibu.

The Skinny
A gorgeous, sun-soaked novel that delves into the glamour and desperate hope of 1980s Malibu.

The Skinny
When the party starts, it's celebrity mayhem but the heart of the book is family, love and loyalty. I adored everything about this punchy and incisive take on fame and its consequences, from the sympathetic characters to the salty surf atmosphere.

Daily Mail
When the party starts, it's celebrity mayhem but the heart of the book is family, love and loyalty. I adored everything about this punchy and incisive take on fame and its consequences, from the sympathetic characters to the salty surf atmosphere.

Daily Mail
Fast-paced and addictive, Reid's vivid world-building provides the ultimate in summer escapism. With touches of 1980s glamour and scandal, Malibu Rising is another thrilling read from a talented writer, sure to delight old fans, as well as winning her new ones.

Independent
Fast-paced and addictive, Reid's vivid world-building provides the ultimate in summer escapism. With touches of 1980s glamour and scandal, Malibu Rising is another thrilling read from a talented writer, sure to delight old fans, as well as winning her new ones.

Independent
Perfectly evoking the sun-drenched and debauched backdrop that made Daisy Jones and The Six so immersive ... Addictive and fun, it's an essential addition to your summer reading list.

Stylist
Perfectly evoking the sun-drenched and debauched backdrop that made Daisy Jones and The Six so immersive ... Addictive and fun, it's an essential addition to your summer reading list.

Stylist
Hot off the success of the immensely enjoyable 1970s band story Daisy Jones & The Six comes Taylor Jenkins Reid's latest, a superfun foray into the 1980s ... Delicious.

Sunday Telegraph, Novel of the Week
Hot off the success of the immensely enjoyable 1970s band story Daisy Jones & The Six comes Taylor Jenkins Reid's latest, a superfun foray into the 1980s ... Delicious.

Sunday Telegraph, Novel of the Week
Simmering with sexual tension, this hugely enjoyable ensemble narrative turns on a raucous party.

Mail on Sunday
Simmering with sexual tension, this hugely enjoyable ensemble narrative turns on a raucous party.

Mail on Sunday
Malibu Rising is finely crafted commercial fiction, escapism in high definition, a quintessential beach read... If Nina Riva's party is the hottest ticket of the summer, then Malibu Rising is a front-row seat at the main event.

Irish Times
Malibu Rising is finely crafted commercial fiction, escapism in high definition, a quintessential beach read... If Nina Riva's party is the hottest ticket of the summer, then Malibu Rising is a front-row seat at the main event.

Irish Times
A gorgeous, sun-soaked novel that delves into the glamour and desperate hope of 1980s Malibu, and the saga of a family that will never be the same again.

The Skinny
A gorgeous, sun-soaked novel that delves into the glamour and desperate hope of 1980s Malibu, and the saga of a family that will never be the same again.

The Skinny
The perfect summer novel, a vibrant story filled with sun, surfing, and flawed but lovable characters.

Daily Beast
The perfect summer novel, a vibrant story filled with sun, surfing, and flawed but lovable characters.

Daily Beast
After a year where most people stayed home, it's a great time to escape to the beach, even if only through Reid's writing.

Independent
After a year where most people stayed home, it's a great time to escape to the beach, even if only through Reid's writing.

Independent
This glamourous, compulsive novel is best enjoyed from your sun lounger with a cocktail in hand.

Good Housekeeping
This glamourous, compulsive novel is best enjoyed from your sun lounger with a cocktail in hand.

Good Housekeeping
A deliciously decadent tale of sex, tragedy, celebrity, surfboards and tanned skin in 1980s Malibu.

The Times
A deliciously decadent tale of sex, tragedy, celebrity, surfboards and tanned skin in 1980s Malibu.

The Times
I absolutely loved her book.... It's an absolute blast to read

Alice- Azania Jarvis
I absolutely loved her book.... It's an absolute blast to read

Alice- Azania Jarvis
JACKIE COLLINS, BUT BETTER Sacrilege to say "better", I know, but there we are. Set in the 1980s, Taylor Jenkins Reid's Malibu Rising is wonderfully written, intensely evocative and concerns the model/ surfer children of a rock star. Tons of glamour, tons of sharply observed insights about sibling relationships, plus a massive party. Beach read par excellence. See also her brilliant Daisy Jones & the Six, which is heaven (more rock stars).

Anonymous
JACKIE COLLINS, BUT BETTER Sacrilege to say "better", I know, but there we are. Set in the 1980s, Taylor Jenkins Reid's Malibu Rising is wonderfully written, intensely evocative and concerns the model/ surfer children of a rock star. Tons of glamour, tons of sharply observed insights about sibling relationships, plus a massive party. Beach read par excellence. See also her brilliant Daisy Jones & the Six, which is heaven (more rock stars).

Anonymous
When we picked up Malibu Rising, the new novel by Taylor Jenkins Reid, we could barely put it down

That's Life
When we picked up Malibu Rising, the new novel by Taylor Jenkins Reid, we could barely put it down

That's Life