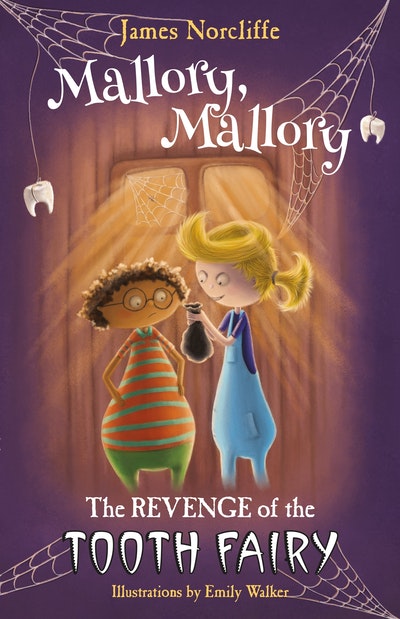 Published:

1 September 2020

ISBN:

9780143773825

Imprint:

Puffin

Format:

Paperback

Pages:

272

RRP:

$17.99
Mallory, Mallory: The Revenge of the Tooth Fairy
---
---
A cunning kidnap and blackmail plot . . . what could go wrong?
When Mallory and her sidekick Arthur kidnap the tooth fairy, they get more than they bargained for in this award-winning fantasy adventure for children.

Mallory is a nasty piece of work. Her one friend is Arthur, who only puts up with her because he has no one else.
When Mallory loses a tooth, she comes up with an evil idea to capture and blackmail the tooth fairy for an endless supply of money.
But it's never a good idea to meddle with a magical creature, and Mallory and Arthur are about to find out just how bad it can get.

With James Norcliffe's signature magic and humour, and Emily Walker's equally magical illustrations, The Revenge of the Tooth Fairy will delight fans of the Harry Potter series, Alice's Adventures in Wonderland, the Wizard of Oz and top-quality fantasy adventures.

And don't miss Mallory and Arthur's next hilarious misadventure Mallory, Mallory: Trick or Treat!

Published:

1 September 2020

ISBN:

9780143773825

Imprint:

Puffin

Format:

Paperback

Pages:

272

RRP:

$17.99
Praise for Mallory, Mallory: The Revenge of the Tooth Fairy
Great rollicking fun from beginning to end.

Bernard Beckett, The Sapling
I knew I was in for a treat, and yes, a surprising book adventure. James's new novel for junior readers is an utter delight...Emily Walker's quirky illustrations are misty and magical - and a perfect match...Mallory, Mallory is a treasure of a book with its story bends, its very cool characters, its wisdom gleams and its excellent ending.

Paula Green, Poetry Box
...laugh-out-loud funny and full of terrible puns, suspense and humour. Plus there are magical drawings from Emily Walker throughout.

Latitude, Canterbury
Mallory is definitely a contender for world's worst child, but will she get her comeuppance when her plan to catch the tooth fairy is a little too successful? Go on a journey with the magical pen of James Norcliffe.

The Sapling Holiday Reading List 2020
This is a delightful children's novel that is easy to read, exciting, funny and has a message for everybody...Loved this story from beginning to end and the illustrations by Emily Walker help enhance the story. Read chapter 26 Major Rat's Court, it is absolutely brilliant.

Bob Docherty, Bob's Book Blog
Full of funny mouth and teeth references and sayings of old, Mallory, Mallory is funny, clever and a little mind-bending too.

What Book Next
A tooth-defying tale...Author James Norcliffe's knack for making teeth scary, humanlike, and hilarious is ripe for engaging young children and Emily Walker's illustrations bring them to life ever so well. My seven-year-old got more than he bargained for here and despite protests of swapping this book for the umpteenth Marvel comic, he was soon inextricably engrossed in a fantasy world.

Jo Lucre, Regional News, Wellington
full of suspense and loads of laughs

Kapiti News
Mallory, Mallory is a good book. I enjoyed reading it. Chapter one inspired me to keep reading the rest of the book. Mallory is not a nice kid and with her only friend Arthur, is always up to no good.

Issy Tull, age 8, Latitude, Canterbury
Storylines Notable Junior Fiction Award
Awarded • 2021 • A Storylines Notable Junior Fiction Book