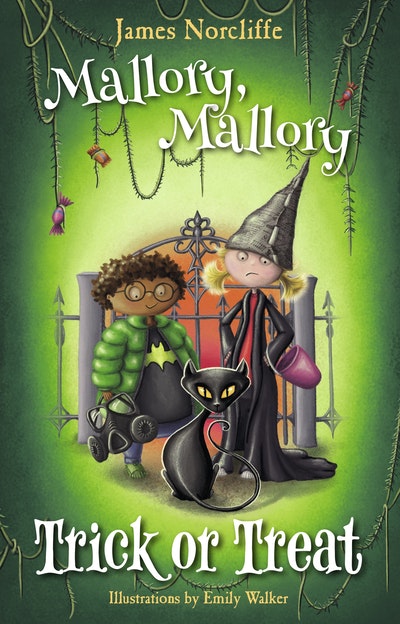 Published:

28 September 2021

ISBN:

9780143775836

Imprint:

Puffin

Format:

Paperback

Pages:

272

RRP:

$17.99
Mallory, Mallory: Trick or Treat
---
---
It's Halloween and Mallory has a trick up her sleeve!
Scheming Mallory and her reluctant sidekick Arthur have a Halloween misadventure involving nasty tricks, time travel and a sneaky cat.

Mallory wants candy, as much as she can grab, and she's prepared to play some tricks (and kick a pesky black cat) to get it. But when she and her reluctant sidekick Arthur tangle with the owner of a spooky old house, the trick is on them. In the beat of a bat's wing, they're a century back in time with a mission to find that slippery cat, or Mallory will change shape forever . . .
From the magical pen of James Norcliffe, and with fantastical illustrations by Emily Walker, Mallory, Mallory: Trick or Treat is a spooky tale of time travel and intrigue, and people getting their (un)just desserts.
Don't miss Mallory and Arthur's first hilarious misadventure Mallory, Mallory: The Revenge of the Tooth Fairy!
Published:

28 September 2021

ISBN:

9780143775836

Imprint:

Puffin

Format:

Paperback

Pages:

272

RRP:

$17.99
Praise for Mallory, Mallory: Trick or Treat
We met the outrageous Mallory in The Revenge of the Tooth Fairy and her antics are sniggeringly funny. If she would only listen to the sensible (but browbeaten) Arthur, she might just avoid getting into so much strife. Walker's fun illustrations add to the anarchic humour of this wonderful eerie tale for ages 9+. A great class read-aloud too.

Wellington Children's Bookshop
Part time-slip, part quest and a little creepy, Mallory, Mallory – Trick or Treat is perfect for Halloween.

whatbooknext.com
This novel, the second in the Mallory, Mallory series, sees the return in full awfulness of Mallory, the young lady who is officially described as 'self-centred, greedy, untrustworthy and utterly mercenary and awful.' She is also not nice, which is deplorable but makes for amusing reading. Mallory has no friends to go trick-or-treating with at Halloween but as usual bullies her hapless minion, Arthur from next door...The result is an entertaining and gently humorous time travel story.

Trevor Agnew, The Source
If you read Book One of this series then this second one is better. Get in there and read it ... you won't regret it.

Bob Docherty, Bob's Book Blog
The story skips along, is well written and fun to read. The illustrations are quirky and a good fit for the tone of the book, breaking the text up nicely. There is some great word play and subtle humour, especially based around the misunderstandings both culturally and socially, that happen between the two groups of children from two very different eras. We learn a little bit about living at the turn of the last century – there is some lovely detail lightly delivered.

Melinda Szymanik, Kids Books NZ
This is James Norcliffe's second book with the irrepressible Mallory and he has developed two interesting characters that are total opposites in nature. Readers who are budding detectives will enjoy picking up the subtle clues within the story and racing to solve the mystery before the brash Mallory can. There is a lot of dialogue in the text resulting in short sentences for early chapter readers and the vocabulary is typical everyday language. Emily Walker's dramatic illustrations enhance the text exquisitely.Young readers are sure to enjoy this fanciful and hilarious, time travelling story...Recommended.

Elaine Wills, Library Manager, Enner Glynn School Nelson, The School Library