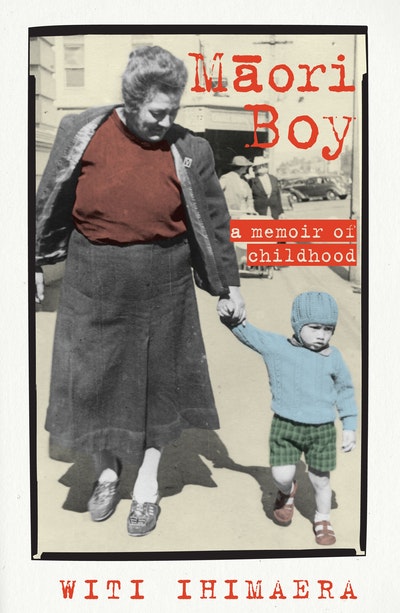 Published:

7 November 2014

ISBN:

9781869797270

Imprint:

RHNZ Adult ebooks

Format:

EBook

Pages:

400
Maori Boy
A Memoir of Childhood
---
---
---
This is the first volume of Witi Ihimaera's enthralling, award-winning memoir, packed with stories from the formative years of this much-loved writer.
This is the first volume of Witi Ihimaera's enthralling, award-winning memoir, packed with stories from the formative years of this much-loved writer.
Witi Ihimaera is a consummate storyteller — one critic calling him one of our 'finest and most memorable'. Some of his best stories, however, are about his own life. This honest, stirring work tells of the family and community into which Ihimaera was born, of his early life in rural New Zealand, of family secrets, of facing anguish and challenges, and of laughter and love. As Ihimaera recounts the myths that formed his early imagination, he also reveals the experiences from real life that wriggled into his fiction.
Alive with an inventive, stimulating narrative and vividly portrayed relatives, this memoir is engrossing, entertaining and moving, but, more than this, it is also a vital record of what it means to grow up Maori.

Winner of the Ockham New Zealand Book Award 2016 for the General Non Fiction category.
Published:

7 November 2014

ISBN:

9781869797270

Imprint:

RHNZ Adult ebooks

Format:

EBook

Pages:

400
. . . a rich, powerful, multi-layered and totally unique story that leaves us with such a strong sense of what it means firstly to be Maori; and secondly, to be Maori growing up in a Pakeha world. For this reason, it is something every New Zealander should read. What comes through is a strong sense of identity and to know Witi is to know his whakapapa and also our country.

Gisborne Herald
Maori Boy: A Memoir of Childhood is a big book in many ways. Literally so, because, at 370 pages plus, it brings us only to the author's late teens. Figuratively also, because it encompasses not just one boy's life, but a community's whakapapa, history and mythology. . . The book both describes a culture and inscribes that culture in its structure, which frequently turns back through generations and epochs of time, in order to move forward . . . I knew it was true to a way of life and a way of thinking and seeing the world. This seems an important thing to preserve, and it has been preserved well . . . And there were many pleasures to be found in the prose itself. The voice on the page is very much the voice of the man: eloquent, endearing, cheeky, somehow proud and humble at the same time, willing to put it all out there.

Tina Makereti, NZ Books
I loved this book. The ancestors and the no-so-distant relations, and the immediate family members are all brought to vivid life by this master of storytelling. Witi Ihimaera has created an amazing work . . . The story of his whanau and the challenges, anguish, love and pain that they experienced are written about in such a way as to make you stop and think. Seriously. And for quite a long time. . . . This is a wonderful skill – to be able to give life to figures long dead, and Witi Ihimaera has it in spades. . . . We can depend on Witi Ihimaera to write about life, love, history, tipuna, turangawaewae and more in a way that all New Zealanders, Maori or Pakeha, can identify with, rejoice in and share.

Sue Esterman, booksellersnz.wordpress
In both its content and its form the book provides a rare experience of a culture that the Anglo-American literary tradition does not know. As a bonus, it offers to anyone who knows Ihimaera's fiction the pleasure of recognising characters, motifs and even entire scenes that appear in such novels as The Matriarch, The Dream Swimmer, The Uncle's Story, Bulibasha and The Whale Rider, and in some short stories.

Lawrence Jones, Otago Daily Times
An honest, moving book, which examines what it means to be Maori in a Pakeha-dominated environment without losing the sense of self that comes from Maori tradition.

Christine Edmunds, Wanganui Chronicle
Ockham New Zealand Book Awards
Awarded • 2016 • Ockham Book Awards
Article
Looking for ways into Witi Ihimaera's works?
Writing about the Māori world, both rural and urban, often knocking into the Pākehā status quo, Witi Ihimaera's writing has always offered a broader view of what New Zealand literature could be – should be – about.
Article