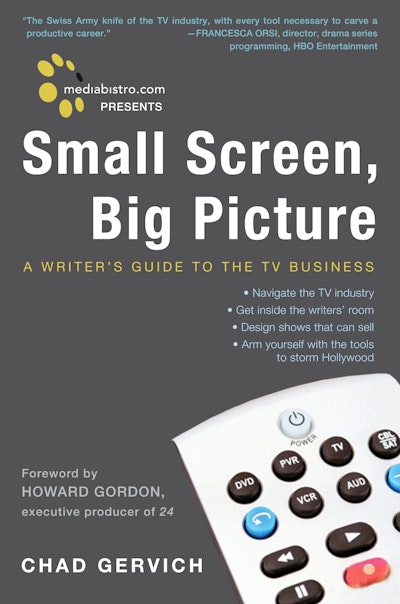 Published:

28 May 2019

ISBN:

9780307395313

Imprint:

Crown

Format:

Paperback

Pages:

448

RRP:

$35.00
Mediabistro.com Presents Small Screen, Big Picture
A Writer's Guide to the TV Business
---
---
Take On Hollywood and Make It as a Television Writer.
From mediabistro.com, the media industry's most well-respected source for jobs, professional development, and community, this inside-the-business guide gives you the knowledge and tools you need to infiltrate Hollywood and land a job as a TV writer. That's right—Small Screen, Big Picture gives you a competitive edge over millions of other aspiring writers who share your talent, creativity, and determination . . . because after reading these pages, you'll have the one thing they lack: an understanding of the business of television.
This journey into Hollywood's inner workings not only details how networks, studios, and production companies work together, it teaches you how the process affects the creation and writing of TV series, how shows make money, and—ultimately—how you can use this information to break into the industry.
You'll learn:
• What really goes on in the inner sanctum of the writers' room—and how to be a part of it
• How today's TV business model works—and how rapidly it's changing
• Who has the power to buy a show idea—and how to pitch your own
• How new media formats are changing television—and how to use them to your advantage
• Which jobs will kick-start your TV writing career—and how to get hired
• And much more . . .
Armed with this solid foundation of knowledge, you'll be ready to plan your entry into the industry and begin your successful TV writing career.
Published:

28 May 2019

ISBN:

9780307395313

Imprint:

Crown

Format:

Paperback

Pages:

448

RRP:

$35.00