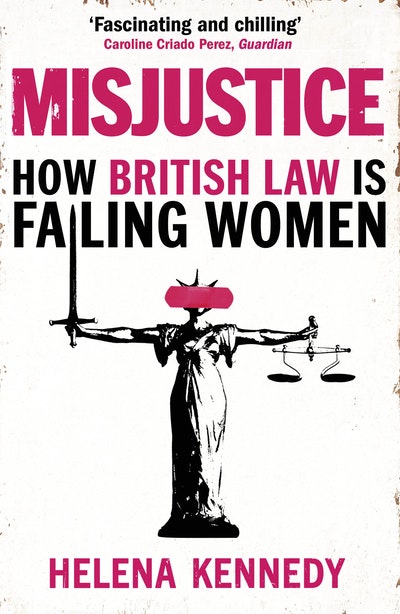 Published:

5 September 2019

ISBN:

9781473572195

Imprint:

Vintage Digital

Format:

EBook

Pages:

352
Misjustice
How British Law is Failing Women
---
---
---
One of our most eminent lawyers and defenders of human rights shows how the British justice system is discriminating against, and failing, women.
'Fascinating and chilling' Caroline Criado Perez, author of Invisible Women
Two women a week are killed by a spouse or partner.
Every seven minutes a woman is raped.
The police receive one phone call per minute about domestic violence.
Now is the time for change.
Helena Kennedy forensically examines the pressing new evidence that women are being discriminated against when it comes to the law. From the shocking lack of female judges to the scandal of female prisons and the double discrimination experienced by BAME women, Kennedy shows with force and fury that change for women must start at the heart of what makes society just.
'Helena Kennedy has written a chilling exposé of how the law has historically failed women. Taking no prisoners, Kennedy outlines the damage we must undo, and the changes we must make' Amanda Foreman
Published:

5 September 2019

ISBN:

9781473572195

Imprint:

Vintage Digital

Format:

EBook

Pages:

352
Stimulating and scary

Jeanette Winterson, Guardian
An excellent and forensic takedown... fascinating and chilling... women are being let down wholesale by a justice system designed with men in mind. And almost the worst thing is, it doesn't have to be this way

Caroline Criado-Perez, Guardian
An unflinching look at women in the justice system… an important book because it challenges acquiescence to everyday sexism and inspires change

Kirsty Brimelow, The Times, **Books of the Year**
Helena Kennedy has written a chilling exposé of how the law has historically failed women. Taking no prisoners, Kennedy outlines the damage we must undo, and the changes we must make. Eve was Shamed is a necessary book for the #MeToo era

Amanda Foreman
Passionate and persuasive proof that equal justice is an ideal yet to be achieved. Drawing upon her outstanding career at the defence Bar and of leading reform in Parliament, Helena Kennedy eloquently urges an end to the discrimination and dehumanisation that women suffer in the courts, and in their lives

Geoffrey Robertson QC
A call to arms, but it is also a whistle-stop tour of the wide-ranging societal and legal changes which have taken place over the last 40 years. The breadth of her book is enormous... In order to explain where we are, Kennedy looks back to where we have come. She does this most powerfully

Sarah Langford, Prospect
Justice for women in this country is failing at every point of our interaction with it, for reasons ranging from age-old prejudice to modern austerity... Yet in her rigorous tenacity, her undimmed enthusiasm for the fight, Helena Kennedy spreads the irrational buoyancy of which revolutions are made

Zoe Williams, Guardian
A shocking wake-up call, this book will have you demanding justice

Emerald Street
if I were to be charged with a crime, I would definitely want Helena Kennedy QC in my corner

Sarah Baxter, Sunday Times
Kennedy… writes with calm authority. Her analysis of how such women fail to conform to what remain white, male ideas about appropriate female behaviour and femininity in court…is incisive

Afua Hirsch, Guardian
As eerily persuasive a read as you'd expect from one of the country's top barristers... Kennedy lays bare a panoply of injustices that explain the rage unleashed post-Weinstein... Kennedy's vivacious prose and plentiful research yields a pacy, important read that both elucidates the current climate and offers sage pointers on where to go next

Gwen Smith
A passionately argued eye-opener…both a deeply depressing read and a hugely energising wake-up call for anyone concerned with justice, diversity and human dignity

Gemma Simmonds, The Tablet, **Books of the Year**
Compelling… The marginal advances that have been secured fade into irrelevance in comparison with the horrific chronicle of shortcomings that exist for women in the courts…bang up to date… Kennedy writes well and illustrates her cases with heartrending individual examples

Julia Langdon, The Tablet