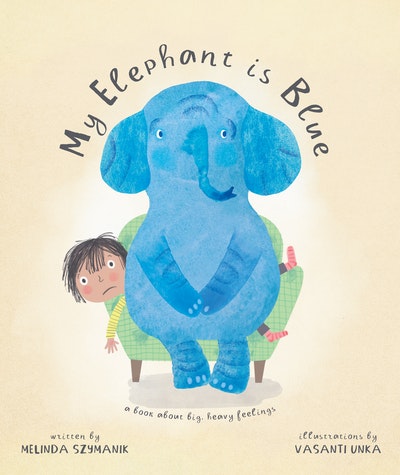 Published:

4 May 2021

ISBN:

9780143775645

Imprint:

Picture Puffin

Format:

Paperback

Pages:

32

RRP:

$19.99
My Elephant Is Blue
---
---
A sweet and quirky story about a child who is stuck carrying around an elephant, wondering if they will ever feel light and free again . . .
A story full of humour and heart about having the blues, in the form of a big heavy elephant.
One day an elephant came and sat on my chest.
I found it hard to get up or move around, to breathe or talk.

"I'm Blue," the elephant said.
"Can you please move, Blue?" I asked.
"I don't want to move. This is a good spot for me to sit."
"You're crushing me," I said.
"Yet I find you very comfortable," said Blue.

Mum read every book about elephants she could get her hands on, while Dad phoned an elephant specialist someone recommended. They all tried pushing, and pulling, and persuading. But would anyone — or anything — be able to shift Blue?
Warm, empathetic, hopeful and often funny, with the ability to be read on different levels, My Elephant is Blue is the perfect story to help children explore and understand the experience of living under the weight of a big sadness.
Published:

4 May 2021

ISBN:

9780143775645

Imprint:

Picture Puffin

Format:

Paperback

Pages:

32

RRP:

$19.99
Article
A sneak peek at our 2021 kids books!
After an exhausting and unusual 2020, we've got plenty of reasons to be grateful for a new year, not least because of the stellar line up of children's books we have coming your way over the next few months!Read on for a sneak peek at some of the best new children's books we're bringing to you in 2021.