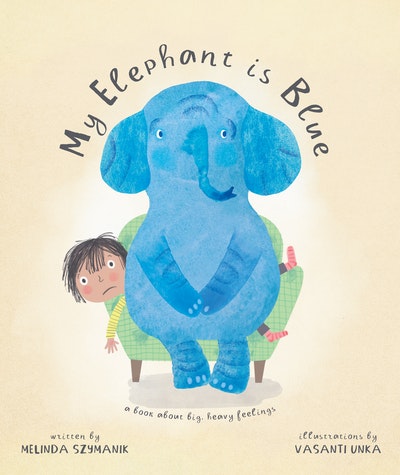 Published:

4 May 2021

ISBN:

9780143775645

Imprint:

Picture Puffin

Format:

Paperback

Pages:

32

RRP:

$19.99
My Elephant Is Blue
---
---
An award-winning, quirky story about a child who is stuck carrying around an elephant, wondering if they will ever feel light and free again . . .
A story full of humour and heart about having the blues, in the form of a big heavy elephant.
One day an elephant came and sat on my chest.
I found it hard to get up or move around, to breathe or talk.

"I'm Blue," the elephant said.
"Can you please move, Blue?" I asked.
"I don't want to move. This is a good spot for me to sit."
"You're crushing me," I said.
"Yet I find you very comfortable," said Blue.

Mum read every book about elephants she could get her hands on, while Dad phoned an elephant specialist someone recommended. They all tried pushing, and pulling, and persuading. But would anyone — or anything — be able to shift Blue?
Warm, empathetic, hopeful and often funny, with the ability to be read on different levels, My Elephant is Blue is the perfect story to help children explore and understand the experience of living under the weight of a big sadness.
Published:

4 May 2021

ISBN:

9780143775645

Imprint:

Picture Puffin

Format:

Paperback

Pages:

32

RRP:

$19.99
Praise for My Elephant Is Blue
My Elephant is Blue is a magnificent picture book about mental health, that is bursting with empathy and positivity. This is the kind of book that every family should have on their bookshelves, for those days when anyone feels a little blue...It will create some good conversations and help children to understand their emotions. It will also give them some strategies to try when they are feeling blue. It will help children to become more empathetic, as it will help them to understand how others feel.

Zac McCallum, My Best Friends are Books
[A]n exquisite combination of words and images, story and illustration...significant, genius, beautiful.

Paula Green, Poetry Box
My Elephant is Blue is a beautiful, locally produced picture book which can be read to preschoolers and primary schoolers suffering from anxiety and depression - as well as to those who don't, in order to generate understanding... The text is carefully chosen and appropriately paced, and the illustrations are engaging and gorgeous. A gentle, soothing, mood-booster.

Stacey Anyan, NZ Booklovers
We've all had the 'elephant' of sadness laying heavily across us, or the blues at some time in our lives. That heavy feeling that just won't leave, despite encouragement from siblings, favourite foods or friendly advice, is universal. My Elephant is Blue is a wonderful way to explain these feelings to children 5 and up. The use of an exotic animal and the colour blue is an eye catching and imaginative device to also attract younger children. The cover of this story is fun and intriguing, inviting young readers in. Moving that 'elephant' is possible. Sometimes it may take longer than others, but that blue elephant can gradually change colour to pink or even yellow. The sweet but subtly clever illustrations by Vasanti Unka show the slow shift from blue to yellow in her backgrounds – shifting gradually from blues and greys to bright colours when the child is feeling better. A winning combination from NZ award winners.

What Book Next?
A sweet story, full of empathy and kindness with themes of family working together to solve a problem and taking small steps to recover. Melinda has written a few books that have an underlying message of wisdom. Pairing the story up with Vasanti Unka and her quirky, heartfelt and very original artwork is a stroke of genius. Parents, teachers and librarians will want to read aloud to 4-8-year-old children, including sensitive kids who take on the problems of the world on their shoulders...The book will give children an opportunity to talk about their feelings and what is causing their sadness/anxiety. They'll also see ways they can move their own metaphoric elephant. A very clever book that will help children deal with depression. Highly recommended!

Maria Gill, Kids Books NZ
[T]old with a light touch and sensitivity, whilst not avoiding the reality of having the blues, which can happen to anyone...Illustrations reflect the changes, blossoming gardens and sunshine in the finale, whilst acknowledging that the elephant is part of the family for good.

Crissi Blair, The Dominion Post Weekend
[T]his insightful and empathetic book is about having the blues, and was written to help little ones who might be dealing with sadness, to identify and manage those feelings in a constructive way.

Margi Riddiford, The Denizen
New Zealand Booklovers Awards
Finalist • 2020 • NZ Booklovers Best Children's Book
Storylines Notable Picture Book Award
Awarded • 2021 • A Storylines Notable Book