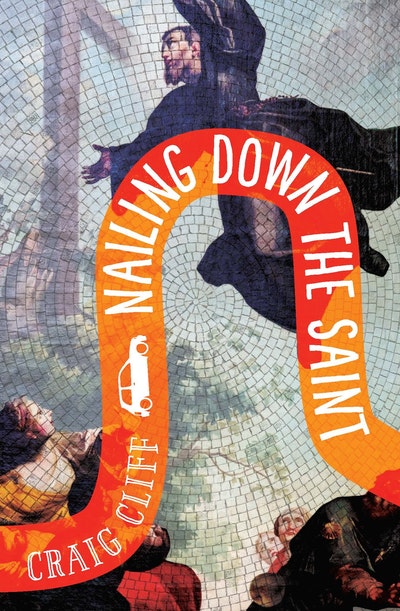 Published:

6 August 2019

ISBN:

9780143773757

Imprint:

RHNZ Adult ebooks

Format:

EBook

Pages:

400
Nailing Down the Saint
---
---
To what extent should we pursue our dreams?
Hollywood, fatherhood, levitation. This smart, funny, thought-provoking novel is full of surprises.
Duncan Blake is a Kiwi filmmaker whose move to LA has not gone to plan. After a series of setbacks, he's working at a chain restaurant, his marriage is on shaky ground after a porn-related faux pas and his son won't stop watching Aladdin.
When Duncan gets the chance to scout locations for a fêted director's biopic of Saint Joseph of Copertino, it's the lifeline he's been searching for. But in Italy, in the footsteps of the seventeenth-century levitator, he must confront miracles, madness and the realities of modern movie making.
A novel about the pursuit of dreams, the moral calculus this entails, and the possibility that the rational, materialist worldview isn't all it's cracked up to be.
Published:

6 August 2019

ISBN:

9780143773757

Imprint:

RHNZ Adult ebooks

Format:

EBook

Pages:

400
Praise for Nailing Down the Saint
This is Craig Cliff's second novel, and he presents a diverse, Pynchon-esque milieu of fast-talkers and fantasists, con artists and cultists, and people just trying to get by. They all play their parts in a book that is an exhilarating mix of road movie, superhero movie, hagiography, makingof movie, quirky independent feature and more – all wrapped up in a vastly entertaining package that has its doubts about the value of both scepticism and belief.

Paul Little, North and South
Among a string of hilarious mishaps that include a porn-related technological faux pars, hair-raising Italian driving failures and murderous nuns, Duncan must confront his own materialist worldview to re-evaluate the dreams he has been chasing. . . . the novel is smart and full of surprises Cliff 's take on life in Hollywood had me convinced he must have experienced this world first-hand and I was surprised to read his bio to find he hasn't. His research on the little-known saint that is the focus of this story and the snappy dialogue give this story a fly-on-the-wall documentary realism with a satirical edge that is hugely enjoyable.

Diane McCarthy, Eastern Bay Life
Excellent reading from this New Zealand author.

Jacquie Webby, Oamaru Mail
Our protagonist slowly learns that the believer and the cynic, doubt and certainty frequently coexist. Nailing Down the Saint is characterised by fresh energy and constant sparring, as Duncan tries to keep his home front together while also seeking his own realised ambition and glory in a new terrain.

Jessie Neilson, Otago Daily Times
His second novel offers similar contrasts, with sceptical, self-serving 21st century mores set against a sub-narrative of 17th century miracles and transformations. . . There's great mischief and energy, right up to the visionary final page. Events ricochet from mishap to crisis to incipient humilation. Things fall apart and chaos lurks. It's entertaining and inventive. People delight Cliff. Just about every character here is an essay - a paragraph, anyway - in idiosyncracies. . . . The writing swaggers along. Textual inventions, unabashed cleverness and the occasional prolix dialogue, it's a novel full of satisfactions.

David Hill, Weekend Herald
In his short but stellar career, Cliff has shown himself to be a master of finely judged under explanation. . . . This is an ambitious novel. Cliff clearly intends to keep it light, but while it is funny throughout, it lacks some of the exuberance of his earlier work. Perhaps this is because he is seeking to speak hard truths in jest: certainly, he is intending to leave us wondering, as there are few tidy resolutions on offer - no saints actually get nailed down in the making of this book. And he is such a clever writer of prose that there are many points at which you feel the urge to nudge someone next to you, to point, and to exclaim: did you see that?

John McCrystal, NZ Books
Article
Nailing Down The Saint - book club guide
Nailing Down the Saint explores modern movie making, friendship, fatherhood and the limits of the possible by following Duncan Blake on his quest to resurrect his career by scouting locations for the biopic of Saint Joseph of Copertino.