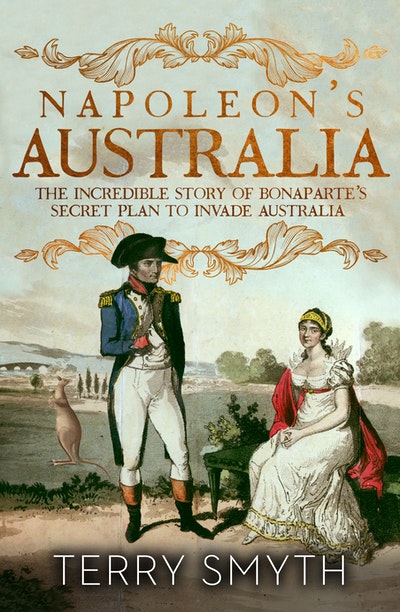 Published:

20 August 2018

ISBN:

9780143787280

Imprint:

Ebury Australia

Format:

Trade Paperback

Pages:

336

RRP:

$40.00
Napoleon's Australia
---
---
---
The incredible story of Bonaparte's secret plan to invade Australia
'A fascinating insight into French ambition and amity in Australia, bursting with joie de vivre' – David Hunt, bestselling author of Girt
In the northern winter of 1814, a French armada set sail for New South Wales. The armada's mission was the invasion of Sydney, and its inspiration and its fate were interwoven with one of history's greatest love stories – that of Napoleon and Josephine.
The Empress Josephine was fascinated by all things Australian. In the gardens of her grand estate, Malmaison, she kept kangaroos, emus, black swans and other Australian animals, along with hundreds of native plants brought back by French explorers in peacetime. And even when war raged between France and Britain, ships known to be carrying Australian flora and fauna for 'Josephine's Ark' were given safe passage.
Napoleon, too, had an abiding interest in Australia, but for quite different reasons. What Britain and its Australian colonies did not know was that French explorers visiting these shores, purporting to be naturalists on scientific expeditions, were in fact spies, gathering vital information on the colony's defences. It was ripe for the picking.
The conquest of Australia was on Bonaparte's agenda for world domination, and detailed plans had been made for the invasion, and for how French Australia would be governed. How it all came together and how it fell apart is a remarkable tale – history with an element of the 'What if?' No less remarkable is how the tempestuous relationship between Napoleon and his empress affected the fate of the Great Southern Land.
Published:

20 August 2018

ISBN:

9780143787280

Imprint:

Ebury Australia

Format:

Trade Paperback

Pages:

336

RRP:

$40.00