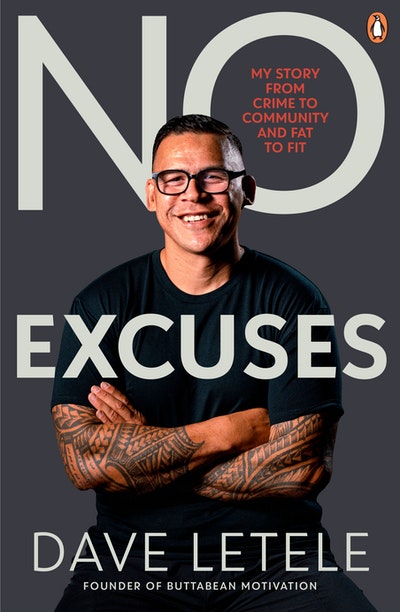 Published:

5 July 2022

ISBN:

9780143776192

Imprint:

Penguin

Format:

Trade Paperback

Pages:

272

RRP:

$40.00
No Excuses: My Story
From crime to community and fat to fit
Extract
Introduction
One morning in March 2014, I woke up and wondered just how the hell I'd got here. I was sleeping on a mattress on the floor of a one-room sleep-out at a community home in South Auckland, with rapists and drug addicts as my neighbours. I'd borrowed my niece's bed, but I'd broken it because I was so fat. I weighed over 210 kilograms, and that poor bed just couldn't take it any more. I knew just how it felt. I was deeply depressed and had just arrived back from Australia, where my life had disintegrated.
It had started well. I'd played rugby league in Australia and overseas and I'd been a successful businessman, owning and running a couple of supermarkets. But I got too ambitious, and I ended up getting involved in something I shouldn't have to keep the money coming in. I had to hustle to make ends meet, so I went back to the ways I knew growing up. It was a dumb move.
Over just a few short years I went from being a fit rugby league player to a fat shopkeeper, fuelled by pies and fizzy drinks from my store. I was working over a hundred hours a week, trying to stay on top of things. Something had to give.
My relationship with my partner broke down because I was too busy working and didn't spend enough time with her and our sons. In the end, I had to leave them all behind. I'd gone from having everything I had ever wanted to having nothing. I hated it.
I was really depressed, crying all the time, missing my kids —I hated my life. I had no money, and just the clothes I'd arrived in from Australia. I couldn't believe the situation I found myself in.
I stared up at the ceiling, thinking, This can't be it. This can't be my life.
Chapter 1
Going from nothing, to having a lot, and back to nothing again was really humbling. I had no idea what I was going to do, and then one of my oldest friends, Dave Higgins, a boxing promoter who owns Duco Events, offered me a lifeline. He wanted to throw me in the boxing ring to give me a goal. He thought it would give me something to train for and help me lose some weight. He wanted to give me a purpose.
I jumped at the chance. I got off that single mattress and I started walking, every day, morning and night. I borrowed a car and drove to One Tree Hill/Maungakiekie in central Auckland and started walking up the road to the summit. I can't remember how long it took me, but I must have looked a sight, huffing and puffing up that road. At that stage even walking across a room made me wheeze, so you can imagine the sweaty mess I was. But I got up, and I went for a walk. That's all I did. I just started moving again.
I always encourage anyone who is going through tough times to get outside and take a walk. Exercise is such a great form of therapy. While you're walking, while you're exercising, you're not thinking about anything else. All you're thinking about is getting up that hill. You're not thinking about how crap your life is, you're not thinking about lockdowns, you're not thinking about paying bills, or school . . . you're just thinking about getting to that next lamp post or finishing that set. I really want to encourage you to do that.
I trained really hard. I didn't have anything else to do, so I just got stuck in. Then Dave invited me to go with him and his team from Duco Events to Oberhausen, Germany, for the world heavy weight championship.
DH: Wladimir Klitschko was fighting an Australian–Sāmoan boxer, Alex Leapai, and we managed to negotiate Joseph Parker, who was quite young back then, a spot on the undercard.
I had to go to Germany. David had only just got back to New Zealand, and I remember thinking I really didn't want to leave him on his own. I thought, Bugger it, why don't we take him along? But the airfares were so expensive, so I told David he had to fly economy . . . I wasn't made of money. Lufthansa, we later learned, had very slim economy seats. I didn't feel sorry for David, I felt sorry for the passengers either side of him in the cabin — he couldn't really fit in the seats. He spilled over the top like a giant muffin.
I guess going to Germany was something to help him get out of his own head. At the undercard weigh-in, the president of the German Boxing Association was fascinated by David, because he was such a big unit and, to them, a bit exotic. They wanted to weigh him, too.
So, they made a bit of a spectacle of it and put him on the scales. It was one of those old scales with the weights, and it pretty much maxed out straight away. The president said,'Oooh — how exciting,' and the Germans were all amazed. David played it up, like King Kong in New York. It was all good fun, but I'm sure David — part of him — knew he'd become a bit of a spectacle.
It was amazing. They couldn't get over how fat I was, and they wanted to chuck me on the scales. I wanted to know, too, because all the scales I jumped on just said ERROR, so I didn't know what I weighed. But I knew I'd lost weight because my clothes were fitting better. When I got on the scales and it said I weighed 178 kilos, I was so happy because I'd been over 200 kilos!
I was so happy I started jumping around, saying, 'Yeah! Fuck yeah! I'm THE MAN! No one can beat me — I'm the toughest man in the world!' and everyone was laughing at me. That's when Dave Higgins had the idea of rolling me out as the next circus act. Duco already had little people fighting, and celebrity fights — they're what's known as circus acts — and so I became their next circus act.
DH: Shortly after we came back from Germany, we had Joseph Parker fighting Brian Minto in Manukau, Auckland. I remember thinking, David likes to fight. He's clearly got a lot of anger in him,and frustration, and he's a bit of a showman, he's got good one-liners and the gift of the gab. If I put him on the undercard of this Parker fight, it'll give him a goal. He'll have two or three weeks to train, and he'll be on national TV, so he'll want to look as good as he can — he'll train hard. It gave him a goal, the motivation not to disgrace himself on national TV, and some cash in his pocket to send back to his family. That's how it started.
We found him an opponent, who happened to be Manu Vatuvei's brother, Lopini. We announced it, and David turned up the volume straight away. He put on a show, calling out Lopini, and the public saw it as a bit of a circus. There was a lot of criticism and sledging, and hatred poured out towards David. His reaction was to give it back and get wound up.
But he did train. He trained the house down— and he must have lost 20 or 30 kilos by then— but he barely won the fight. It was quite comical — at one point he was lying over his opponent like a wrestler, doing the one-two three count. It was funny. Some of the public and boxing community thought he was great entertainment, but most thought he was an idiot and a disgrace to boxing.
It was only three two-minute rounds with headgear and gloves. We're safety conscious,so when we put people who aren't professional boxers in the ring, there are certain rules we follow.
The fight served its purpose. He lost some weight. At that time Joseph Parker was fighting every few weeks, so we thought we'd do it again. We lined him up another fight. A lot of this played out publicly on social media, which David was using to promote the fight. And then he lost more weight and developed more haters.
He needed a name. There was a famous American boxer called Butterbean, who fought before Mike Tyson's fights. He was a white American with a bald head, and he was short, squat and obese. His real name was Eric Esch. He was like a circus act, a comical figure. He'd have two- to three-round fights but he could knock people out. He'd dress in shorts with the American flag on, and he had a cult following. Most people hated him, and some people loved him — he was certainly getting noticed. I don't know where his name came from.
I think my brother Andrew, David and I were throwing around ring names and we said, 'Gee, you could be the Brown Butterbean because you're like Butterbean but you're brown.' And it was kinda tongue-in-cheek to begin with.
But he adopted it and adapted the spelling as well. He said, 'I'm the Brown Buttabean,' and people would ask, 'What the hell is that? What does that mean?' Some people who knew boxing would connect it back to the American Butterbean and others would wonder what was going on.
Not too many people would be able to front such silliness, but David could. Most people would be too squeamish, or embarrassed, but David owned it, and had almost no shame in that respect. Sure enough, fight by fight, the Brown Buttabean developed a larger and larger following, and David kept losing weight.
The whole premise was based on being a wrestling bad guy. Just like The Rock. I just had to be this real bad guy. Say whatever I wanted. Do whatever I wanted. Only speak about myself in the third person . . . so I was a caricature of an arrogant American 'bad guy' wrestler.
'The Buttabean does what he wants, says what he wants, and goes wherever he likes!'
---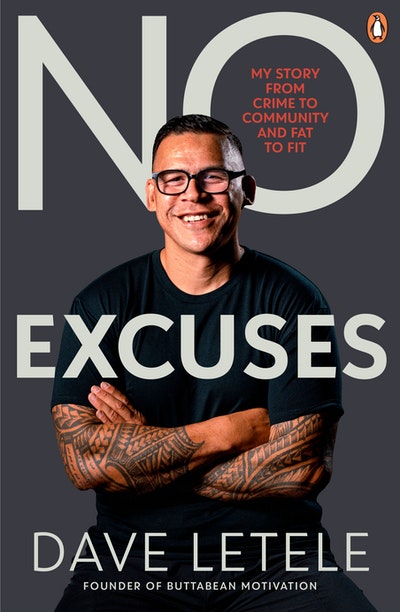 The amazing true story of Dave "the Brown Buttabean" Letele and how he turned his life around.
Buy now
Buy now
---