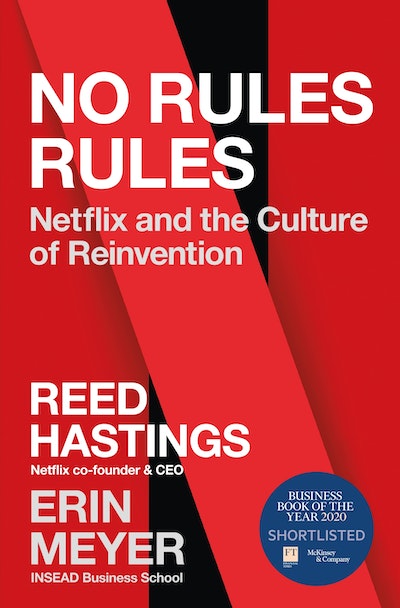 Published:

15 September 2020

ISBN:

9780753553664

Imprint:

Virgin Books

Format:

Trade Paperback

Pages:

320

RRP:

$40.00
No Rules Rules
Netflix and the Culture of Reinvention
---
---
---
How do you build the most dynamic, disruptive business on earth? This is the Netflix founder's radical blueprint.
*** Shortlisted for the 2020 Financial Times & McKinsey Business Book of the Year ***
It's time to do things differently.
Trust your team. Be radically honest. And never, ever try to please your boss.
These are some of the ground rules if you work at Netflix. They are part of a unique cultural experiment that explains how the company has transformed itself at lightning speed from a DVD mail order service into a streaming superpower - with 190 million fervent subscribers and a market capitalisation that rivals the likes of Disney.
Finally Reed Hastings, Netflix Chairman and CEO, is sharing the secrets that have revolutionised the entertainment and tech industries. With INSEAD business school professor Erin Meyer, he will explore his leadership philosophy - which begins by rejecting the accepted beliefs under which most companies operate - and how it plays out in practice at Netflix.
From unlimited holidays to abolishing approvals, Netflix offers a fundamentally different way to run any organisation, one far more in tune with an ever-changing fast-paced world. For anyone interested in creativity, productivity and innovation, the Netflix culture is something close to a holy grail. This book will make it, and its creator, fully accessible for the first time.
Published:

15 September 2020

ISBN:

9780753553664

Imprint:

Virgin Books

Format:

Trade Paperback

Pages:

320

RRP:

$40.00
Praise for No Rules Rules
I had the privilege of learning from Reed personally and studying the Netflix culture. The insights in this book are invaluable to anyone trying to create and sustain organisational culture

Satya Nadella, CEO of Microsoft
I had the privilege of learning from Reed personally and studying the Netflix culture. The insights in this book are invaluable to anyone trying to create and sustain organisational culture

Satya Nadella, CEO of Microsoft
I had the privilege of learning from Reed personally and studying the Netflix culture. The insights in this book are invaluable to anyone trying to create and sustain organisational culture

Satya Nadella, CEO of Microsoft
As the information age shrinks product cycles and compresses time frames, the most important business question of our era is "how do we keep innovating?" In this breakthrough book, Reed Hastings and Erin Meyer provide the answer. They lay out a proven, systematic methodology for building, maintaining and enhancing a highly innovative global culture. It is an amazing piece of work. Bravo!

Ben Horowitz, author of The Hard Thing About Hard Things
As the information age shrinks product cycles and compresses time frames, the most important business question of our era is "how do we keep innovating?" In this breakthrough book, Reed Hastings and Erin Meyer provide the answer. They lay out a proven, systematic methodology for building, maintaining and enhancing a highly innovative global culture. It is an amazing piece of work. Bravo!

Ben Horowitz, author of The Hard Thing About Hard Things
As the information age shrinks product cycles and compresses time frames, the most important business question of our era is "how do we keep innovating?" In this breakthrough book, Reed Hastings and Erin Meyer provide the answer. They lay out a proven, systematic methodology for building, maintaining and enhancing a highly innovative global culture. It is an amazing piece of work. Bravo!

Ben Horowitz, author of The Hard Thing About Hard Things
Aspiring tech moguls should flock to Hastings and Meyer's energetic and fascinating account.

Publishers Weekly
Aspiring tech moguls should flock to Hastings and Meyer's energetic and fascinating account.

Publishers Weekly
Aspiring tech moguls should flock to Hastings and Meyer's energetic and fascinating account.

Publishers Weekly
Highly recommended for leaders eager to build innovative, fast, and flexible teams.

Library Journal
Highly recommended for leaders eager to build innovative, fast, and flexible teams.

Library Journal
Highly recommended for leaders eager to build innovative, fast, and flexible teams.

Library Journal
Reed Hastings learned early what it takes to build an enduring great company. Here in No Rules Rules, he and Erin Meyer teach the culture that propelled Netflix into one of the most distinctive and impactful companies on the planet. Packed with vivid specifics, they illustrate how Hastings melded a spicy concoction into a framework of freedom and responsibility. Well-written and fast-paced, timeless and timely, inspired and practical, smart and wise - read it and learn the Netflix secret sauce from the master himself!

Jim Collins, author of Good to Great, co-author of Built to Last and Beyond Entrepreneurship
Reed Hastings learned early what it takes to build an enduring great company. Here in No Rules Rules, he and Erin Meyer teach the culture that propelled Netflix into one of the most distinctive and impactful companies on the planet. Packed with vivid specifics, they illustrate how Hastings melded a spicy concoction into a framework of freedom and responsibility. Well-written and fast-paced, timeless and timely, inspired and practical, smart and wise - read it and learn the Netflix secret sauce from the master himself!

Jim Collins, author of Good to Great, co-author of Built to Last and Beyond Entrepreneurship
Reed Hastings learned early what it takes to build an enduring great company. Here in No Rules Rules, he and Erin Meyer teach the culture that propelled Netflix into one of the most distinctive and impactful companies on the planet. Packed with vivid specifics, they illustrate how Hastings melded a spicy concoction into a framework of freedom and responsibility. Well-written and fast-paced, timeless and timely, inspired and practical, smart and wise - read it and learn the Netflix secret sauce from the master himself!

Jim Collins, author of Good to Great, co-author of Built to Last and Beyond Entrepreneurship
Forget reinventing television; Reed Hastings' real achievement is reinventing corporate culture, and in No Rules Rules, Reed reveals all the tactics and processes that he's used to make Netflix one of the 21st century's most innovative companies. Clear, compelling, fascinating and (for a book about Netflix) appropriately binge-worthy, No Rules Rules is the book I wish I had read when I was starting out, and it's the book I'll be giving to every CEO I work with. It's simply a must-have for any business leader.

Marc Randolph, Netflix co-founder and author of That Will Never Work: The Birth of Netflix and the Amazing Life of an Idea
Forget reinventing television; Reed Hastings' real achievement is reinventing corporate culture, and in No Rules Rules, Reed reveals all the tactics and processes that he's used to make Netflix one of the 21st century's most innovative companies. Clear, compelling, fascinating and (for a book about Netflix) appropriately binge-worthy, No Rules Rules is the book I wish I had read when I was starting out, and it's the book I'll be giving to every CEO I work with. It's simply a must-have for any business leader.

Marc Randolph, Netflix co-founder and author of That Will Never Work: The Birth of Netflix and the Amazing Life of an Idea
Forget reinventing television; Reed Hastings' real achievement is reinventing corporate culture, and in No Rules Rules, Reed reveals all the tactics and processes that he's used to make Netflix one of the 21st century's most innovative companies. Clear, compelling, fascinating and (for a book about Netflix) appropriately binge-worthy, No Rules Rules is the book I wish I had read when I was starting out, and it's the book I'll be giving to every CEO I work with. It's simply a must-have for any business leader.

Marc Randolph, Netflix co-founder and author of That Will Never Work: The Birth of Netflix and the Amazing Life of an Idea
Netflix's unique culture of freedom and responsibility and its flexibility to adapt are fuelling its remarkable rise around the world. In No Rules Rules, Reed Hastings and Erin Meyer reveal the fascinating story of Netflix's success, while providing actionable lessons for leaders on how to attract top talent and unleash their creative energies to drive excellence.

Susan E Rice, former US national security adviser and permanent representative to the United Nations
Netflix's unique culture of freedom and responsibility and its flexibility to adapt are fuelling its remarkable rise around the world. In No Rules Rules, Reed Hastings and Erin Meyer reveal the fascinating story of Netflix's success, while providing actionable lessons for leaders on how to attract top talent and unleash their creative energies to drive excellence.

Susan E Rice, former US national security adviser and permanent representative to the United Nations
Netflix's unique culture of freedom and responsibility and its flexibility to adapt are fuelling its remarkable rise around the world. In No Rules Rules, Reed Hastings and Erin Meyer reveal the fascinating story of Netflix's success, while providing actionable lessons for leaders on how to attract top talent and unleash their creative energies to drive excellence.

Susan E Rice, former US national security adviser and permanent representative to the United Nations