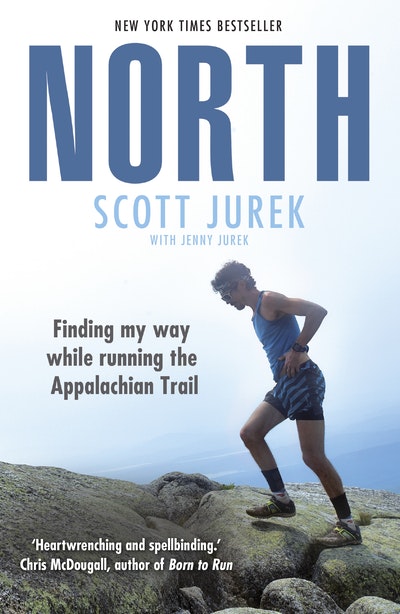 Published:

5 April 2018

ISBN:

9781473538672

Imprint:

Cornerstone Digital

Format:

EBook

Pages:

304
North: Finding My Way While Running the Appalachian Trail
---
---
---
May 2015. The world's greatest ultra-distance runner looks out from the top of Boulder Mountain, Georgia. Ahead of him, 2,200 miles of track and the most gruelling run of his life . . .
2,200 miles.
47 days.
One remarkable journey.
In July 2015, ultramarathon legend Scott Jurek smashed the world record for running the Appalachian Trail, the sprawling mountain path that runs nearly the entire length of the United States. For nearly seven weeks straight, Jurek battled the elements to run, hike and stumble 50 miles every single day.
A tale of mind-boggling physical exertion, pressure and endurance, North reveals the extraordinary lengths to which we can push our bodies and our minds.
Instant New York Times Bestseller
_____________
'Pure suspense, adventure, and inspiration . . . His story of plunging into the wilderness in pursuit of a dream is both heartwrenching and spellbinding.' Christopher McDougall, author of Born to Run
'Probably America's greatest ever ultrarunner.'
Guardian
'Scott Jurek's record-setting journey on the Appalachian Trail was the most punishing, most demanding, most gruelling feat I've ever personally witnessed . . . An immersive and engaging book.' Aron Ralston, author of 127 Hours
'I'm a huge fan . . . North is tremendous.'
Vassos Alexander, BBC Radio 2
'Undoubtedly the greatest ultrarunner of his generation.'
Independent
Published:

5 April 2018

ISBN:

9781473538672

Imprint:

Cornerstone Digital

Format:

EBook

Pages:

304
Praise for North: Finding My Way While Running the Appalachian Trail
Pure suspense, adventure, and inspiration. When Scott Jurek went into the woods to create his masterpiece, no one knew if he would make it back out again. He was America's greatest ultra-athlete, a runner whose brains and singular intensity led him to years of extraordinary victories. But this time, Jurek was pushing himself into realms more dangerous than Death Valley, more treacherous than Mexican canyons, and only slightly less crazy than the time he chased after a wild bear. His story of plunging into the wilderness in pursuit of a dream is both heartwrenching and spellbinding.

Christopher McDougall, author of BORN TO RUN and NATURAL BORN HEROES
Scott Jurek's record-setting journey on the Appalachian Trail was the most punishing, most demanding, most gruelling feat I've ever personally witnessed. By mile 2,000, he was a hollowed-out, broken-down carapace of a person. And unless he found something, some way not just to keep going but to speed up, he was going to miss the record. Over those final 200 miles, I watched him dig deeper than I thought humanly possible: he not only claimed the fastest known time, but – most impressively – never failed to greet a fellow blaze-hiker with a smile and a cheery, "How far ya' going?" Now, reading his immersive and engaging book, where he asks and pushes himself to find the answers to all of the 'whys', I almost don't want his suffering to end, just so I can enjoy another chapter.

Aron Ralston, author of 127 HOURS
I'm a huge fan . . . North is tremendous.

Vassos Alexander, BBC Radio 2
Probably America's greatest ever ultrarunner.

Guardian
One of the greatest runners of all time.

Runner's World
The greatest ultrarunner of them all.

New York Times
An ultramarathon legend.

Men's Health
One of the world's most dominant ultramarathon runners.

Daily Telegraph
An ultramarathon running god . . . Is he crazy? Or is he superhuman?

Slate
[Jurek has] accomplished feats that boggle the mind, showing the amazing things that can be accomplished by a determined athlete.

Business Insider
Widely regarded as one of the best ultrarunners of all-time.

Men's Journal
Scott Jurek is a veritable demigod in the sport of ultrarunning.

Independent
An ultramarathon legend . . . An extraordinary athlete.

Gizmodo
Scott Jurek is Exhibit A in the argument that man was meant to run.

Complex
One of the greatest runners of all time.

Evening Standard
Undoubtedly the greatest ultrarunner of his generation.

Independent
Jurek's victories in punishing 100-mile races since the late 1990s – plus a starring role in the writer Christopher McDougall's best seller, Born to Run – have made him a distance-running celebrity. But tackling the Appalachian Trail forced him to dig deeper than he ever had before . . . To hear Jurek tell it, forcing himself to the limit is purifying and transformational.

The Atlantic
Ultrarunning legend Scott Jurek has a great tale of conquering the Appalachian Trail . . . If testing yourself to the max is your thing, you'll love this story.

Trail Running Magazine