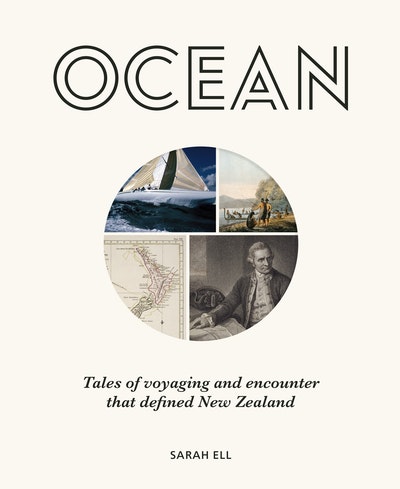 Published:

3 December 2018

ISBN:

9780143772675

Imprint:

Penguin

Format:

Hardback

Pages:

288

RRP:

$70.00
Ocean
The Definitive Visual Guide
Extract
He pūkai tō Tū, he pūkai tō Rongo.
A heap of Tū (godof war), a heap of Rongo (god of peace)...
Our 15,000 kilometres of coastline is longer than that of China, and not much smaller than that of the United States. This makes us vulnerable to enemies from without.
However, much of New Zealand's martial history relates to conflict from within: tribe against tribe before and in the early days of European settlement, then British troops, settler soldiers and kūpapa (collaborating) tribes against other Māori in the 1840s to 1870s. It wasn't until the very end of the nineteenth century that New Zealanders were engaged against a foreign enemy, being sent to South Africa to fight for the British.
WAKA TAU  — HONGI HIKA AND THE MUSKET WARS
A blustery November day on the Auckland isthmus. The people of the fortified pā at Mauinaina, on the Tāmaki River, wait in fear. Their worst nightmares have come true. Hongi Hika, the great warrior chief of the north, has come, with his weapons that flash fire and burn through flesh. Hundreds of warriors in their giant waka tauā have been seen  approaching by sea. There will be no escape this time. Hongi Hika didn't start out as the most powerful or significant chief of Ngāpuhi in Tai Tokerau (Northland), but his adoption of European weapons in the late 1810s and 1820s soon made his the most feared name of all the tribal leaders around the upper North Island. By the time his decade-long reign of terror came to an end in the late 1820s, thousands had died, tribal relationships were shattered and the social fabric of Māori life significantly altered, with ongoing repercussions still felt today, nearly 200 years later.
Hongi, his name rendered 'Shungee' by missionaries and other European visitors in the early 1800s, was born around the year of Marc Joseph Marion du Fresne's visit to the Bay of Islands, in 1772. His father was the rangatira Te Hōtete, and his older half-brother, Kāingaroa, was also an important chief. Following his brother's death in 1815, Hongi became ariki, the leader of the Ngāpuhi, and a mighty toa, or warrior.
Hongi's early life was scarred and shaped by inter-tribal war; he was born to it. Biographer Dorothy Urlich Cloher says of his family: 'Conquest was their presiding ethos. They were the warrior line of Ngāpuhi.' His uncle and two of his other brothers were killed by Ngāti Whātua at Moremonui, near Maunganui Bluff north of the entrance to the Kaipara Harbour, in 1807 or 1808; Hongi narrowly escaped with his life by hiding in a swamp. Significantly, in this battle Ngāpuhi were armed with a handful of muskets which they had obtained from European traders. Ngāti Whātua took advantage of the time it took to reload these guns to ambush and defeat their enemies, but Hongi was convinced that this new weapon of war held the key to revenge and domination. 
Hongi, with his base at Waimate inland from the Bay of Islands and his relatives on the coast, was well positioned to take advantage of the growing numbers of Europeans coming to trade. In 1814 he met the missionaries Thomas Kendall and William Hall, who had been sent to New Zealand by the Reverend Samuel Marsden to investigate a site to establish a mission in New Zealand. He returned with them to Port Jackson on the brig Active, along with a group of other Māori, including his young son, Repero. Hongi spent three months with Marsden at his base at Parramatta, up the river from Sydney town, before returning on the Active with the first missionaries to be permanently stationed in New Zealand. To Hongi's disappointment, they were to live at Rangihoua on the northern side of the Bay, under the protection of Hongi's nephew Ruatara. Two other stations were later established in Hongi's own territory, at Kerikeri and inland at Te Waimate. Hongi had an inquiring mind, an enthusiasm for innovation and a strong perfectionist streak. He took advantage of the increasing trade to the Bay of Islands following the establishment of the mission to increase his stocks of European goods, especially muskets. While the missionaries refused to trade in arms, others calling at the Bay in search of provisions were not so scrupulous, and he put slaves to work growing large acreages of potatoes and raising pigs so he would have foodstuffs to trade.
In 1820, Hongi took the opportunity to travel to England with Kendall — who would soon be in deep trouble with the Church Missionary Society (CMS) over his affair with a Māori woman — and another lesser chief, Waikato. Ostensibly, the visit was to work on a book of Māori vocabulary and grammar with Cambridge University scholar Professor Samuel Lee. But Hongi also wanted to go beyond the limited supply of muskets available to him through trade in New Zealand and straight to the source, to bring to fruition the plans he had been developing to enactutu, or revenge, on neighbouring tribes.
In England, the New Zealanders were widely feted. Hongi's ultimate aim of meeting the King of England, George IV, was satisfied, and he was given a tour of the Royal Armoury. The King presented Hongi with a shirt of chainmail and a helmet, along with several guns. Laden also with gifts from the CMS and other enthusiastic donors, Hongi, Waikato and Kendall set sail on their return voyage to New Zealand in December 1820. A force never before seen was about to be unleashed upon the tribes of the upper North Island.
It has long been thought that Hongi traded in Sydney many of the gifts he had received in England, but more recent research suggests a consignment was already waiting for him in Sydney when he arrived with Kendall. Either way, he returned home to the Bay of Islands with more than 300 muskets, and suddenly Ngāpuhiwas the most formidable fighting tribe in Aotearoa. Historian Matthew Wright says the tribe's arsenal of around 1000 muskets made them 'the most powerfully armed and organised military force in Australasia outside the Royal Navy and regiments stationed in Sydney'.
Hongi wasted little time putting his new resources into action. He set his people to work preparing weapons and waka for the first of his attacks. The CMS missionaries reported preliminary manoeuvres; missionary Francis Hall wrote that 'four large beautiful canoes with from 60 to 70 [warriors] each got under way and moved up and down the river [at Kerikeri] merely for a little exercise to show their skill', with Hongi dressed in a scarlet uniform. In early September 1821 the tauā set off in waves down the coast, an estimated 2000 warriors armed with hundreds of muskets. Hongi's first targets were the Ngāti Paoa pā of Mokoia and Mauinaina, on the Tāmaki River near what is today known as the Panmure Basin. Some sources say he tried to attack Mokoia first, but its inhabitants had placed stakes across the entrance to the bay below it, so the warriors went overland to Mauinaina to strike the first blow. Others say Mokoia was attacked first, then Mauinaina. Either way, both pā were overwhelmed by the musket-armed fighting force from the north. Hundreds, if not thousands, of Ngāti Paoa were killed, and many eaten.
Ngāpuhi then moved on to Hauraki to attack the Ngāti Maru pā of Te Tōtara, near where the town of Thames stands today. Hongi tricked his way into the pā by pretending to broker a peace deal, then attacked at night once the Ngāti Maru guard was down. Many more hundreds were killed, and a large number captured and taken back to the Bay of Islands as slaves. The missionaries watched in horror as the waka returned; they estimated that 2000 slaves were brought back, although large numbers were killed and eaten as Ngāpuhi celebrated their great victory. But Hongi was by no means finished. There were many scores to settle. The following year the Ngāpuhi portaged their canoes across the Tāmaki isthmus to Waiuku, then across land again to the Waikato River, to attack the Waikato tribes.
Even those far from the sea were not safe: in 1823 Hongi's tauā travelled to the Bay of Plenty and up the Pongakawa River from the Waihi estuary near Maketū and carried their canoes overland into Lakes Rotoehu and Rotoiti, before decimating Te Arawa on Mokoia Island in Lake Rotorua. Historian Ron Crosby says that the Herculean task of dragging a fleet of waka, each weighing between 10 and 25 tonnes, out of the Pongakawa and overland up a track to Rotoehu took 'over a thousand men two-and-a-half full days to achieve'. He notes that on the way back, travelling downhill and with hundreds of new slaves to lend a hand, the portages would have been 'considerably easier'.
Ironically, it was the weapon which had brought Hongi so much power which was eventually his downfall. In January 1827 he was shot during a skirmish at Whangaroa, north of the Bay of Islands, while not wearing his chainmail coat. A musket ball penetrated his chest but did not kill him straight away; it took more than a year for him to die from this wound. During this time, he was visited and painted by Augustus Earle, with his family and supporters gathered around. 'He received us kindly,' Earle wrote, and '. . . so mild was the expression of his features, that he would have been the last man I would have imagined accustomed to scenes of bloodshed and cruelty.'