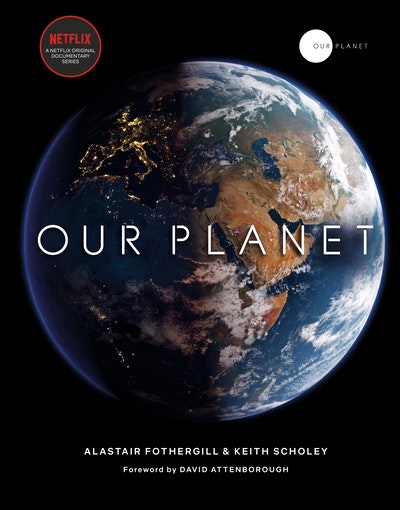 Published:

2 April 2019

ISBN:

9780593079768

Imprint:

Bantam Press

Format:

Hardback

Pages:

320

RRP:

$55.00
Our Planet
with special foreword by David Attenborough
---
---
---
Companion to the groundbreaking NETFLIX original documentary series narrated by Sir David Attenborough, OUR PLANET presents a new view of the world, using stunning photographic images and graphics to reveal animal behaviour and environmental change that we've never seen before.
'The future of all life on this earth depends on our willingness to take action now' David Attenborough
The official companion to the ground-breaking Netflix original series.
With a foreword by Sir David Attenborough, breathtakingly beautiful still photography, specially commissioned maps and graphics, and compelling text expanding on the remarkable TV stories and giving the reader a depth of information that is impossible on screen, this companion book presents a whole new view of the place we call home.
Featuring some of the world's rarest creatures and previously unseen parts of the Earth from deep oceans to remote forests to ice caps, Our Planet takes nature-lovers deep into the science of our natural world.
Revealing the most amazing sights on Earth in unprecedented ways, alongside stories of the ways humans are affecting the world's ecosystems, from the wildebeest migrations in Africa to the penguin colonies of Antarctica, this book captures in one concise narrative a fundamental message:
If we don't act now to protect and preserve our planet, the beauty we're lucky enough to witness on these pages will have disappeared . . .
'This book is part of a vital global conversation about protecting and preserving the planet.' Compass Magazine
Published:

2 April 2019

ISBN:

9780593079768

Imprint:

Bantam Press

Format:

Hardback

Pages:

320

RRP:

$55.00
Featuring some of the world's rarest creatures and previously unseen parts of the Earth - Our Planet travels deep into the science of our natural world. Revealing the most amazing sights, alongside stories of the way humans are affecting the world's ecosystems - this book is part of a vital global conversation about protecting and preserving the planet.

Compass Magazine
Breathtaking photographs

Radio Times
A treat on your coffee table and a fine companion to any binge watch of the series

Wanderlust
Astonishing book...full of beautiful photographs

Radio Times
Revealing the most amazing sights on Earth, alongside stories of the way humans are affecting the world's ecosystems, this book places itself at the forefront of a global conversation as we work together to protect and preserve the planet.

Catholic Times
Video
Our Planet | Teaser [HD] | Netflix
From the creator of "Planet Earth," "Our Planet" series takes viewers on an unprecedented journey through some of the world's most precious natural habitats, narrated by Sir David Attenborough. Launching globally on Netflix April 5, 2019. Connect with Our Planet: Like Our Planet on FACEBOOK: http://bit.ly/2CXIszT Follow Our Planet on TWITTER: http://bit.ly/2RvYMfg Follow Our Planet on INSTAGRAM: http://bit.ly/2yKKuAp SUBSCRIBE: http://bit.ly/29qBUt7 About Netflix: Netflix is the world's leading internet entertainment service with 130 million memberships in over 190 countries enjoying TV series, documentaries and feature films across a wide variety of genres and languages. Members can watch as much as they want, anytime, anywhere, on any internet-connected screen. Members can play, pause and resume watching, all without commercials or commitments. Connect with Netflix Online: Visit Netflix WEBSITE: http://nflx.it/29BcWb5 Like Netflix Kids on FACEBOOK: http://bit.ly/NetflixFamily Like Netflix on FACEBOOK: http://bit.ly/29kkAtN Follow Netflix on TWITTER: http://bit.ly/29gswqd Follow Netflix on INSTAGRAM: http://bit.ly/29oO4UP Follow Netflix on TUMBLR: http://bit.ly/29kkemT Our Planet | Teaser [HD] | Netflix http://youtube.com/netflix