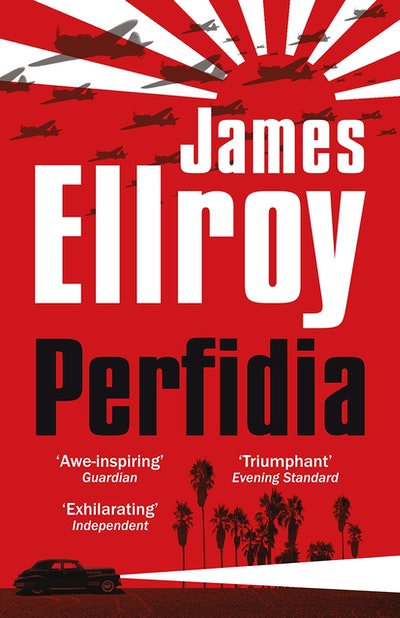 Published:

11 September 2014

ISBN:

9781409023203

Imprint:

Cornerstone Digital

Format:

EBook

Pages:

816
Perfidia
---
---
---
THE SUNDAY TIMES BESTSELLER.
This is World War Two as you have never seen it.
This is America as only Ellroy can write it.

'There has never been a writer like James Ellroy.' Telegraph
Los Angeles, December 6, 1941. Last hopes for peace are shattered when Japanese squadrons bomb Pearl Harbor. War fever and race hate grip the city and the internment of Japanese-Americans begins.
Following the hellish murder of a Japanese family, three men and one woman are summoned. William H. Parker is a captain on the Los Angeles Police. He's superbly gifted, corrosively ambitious and consumed by dubious ideology. He is bitterly at odds with Sergeant Dudley Smith - Irish émigré, ex-IRA killer and fledgling war profiteer. Kay Lake is a 21-year-old dilettante looking for adventure. Hideo Ashida is a brilliant police chemist and the only Japanese on the payroll.
Four driven souls - rivals, lovers, history's pawns - thrown into an investigation which will not only rip them apart but take America to the edge of the abyss at a crucial moment in its history.
Published:

11 September 2014

ISBN:

9781409023203

Imprint:

Cornerstone Digital

Format:

EBook

Pages:

816
James Ellroy is the best crime writer in the world.

Irish Times
One of the most original and daring writers alive.

Independent on Sunday
A sprawling, uncompromising epic of crime and depravity.

Publishers Weekly
A war novel like no other."Dark desires sizzle" and explode with a furious climax. Ellroy is not only back in form - he's raised the stakes.

Kirkus Review (starred review)
As unflinching and sharp as ever, even more so . . . Perfidia might be his [Ellroy's] finest novel yet . . . Its story is full of tectonic movements, fascinating and dangerous characters with ambiguous morality, and events bigger than life itself. It's brilliant in its complexity and vastness.

Upcoming4.me
As abrasive and compelling as always.

Me and My Big Mouth
A triumphant return to the violent fictional world where he started - 1940s Los Angeles . Fans will not be disappointed ... It is populated by many of Ellroy's most memorable monsters, notably LAPD Sgt Dudley Smith . Reading it made me want to return to the original Quartet.

Evening Standard
A brash, two-fisted tour-de-force of spleen and invective which holds up a cracked and tarnished mirror to a turbulent period of American history . powerful in scope, theme and character . for blood and guts, he could give Beowulf a run for its money . it is impossible to deny the power and energy that has gone into Perfidia, which is more than a crime novel whilst showing, at the same time, what the crime novel is capable of.

SHOTS
The prose is as tight and fast moving as ever . If you are in pursuit of vintage Ellroy, this book is for you.

The Register
James Ellroy is back doing what he does best, weaving a tangle of tales set in wartime Los Angeles.I look forward, eagerly, to the next three instalments.

The Times
There surely can't be a more richly or brutally realised city in world literature than James Ellroy's Los Angeles ... The shock and awe of Ellroy's propulsive vision remains visceral, and reading him is about as physical as reading can get without being hit over the head by a book.

Doug Johnstone, Independent on Sunday
There has never been a writer like James Ellroy.

Telegraph
Ellroy's customary command of language is overwhelming.Ellroy is still trying to expand the parameters of the crime novel.Exhilarating prose.

Independent
The question any aficionado will ask is does it compare with prime Ellroy. The short answer is yes . Perfidia's greatest achievement might be the style in which it renders history - subjective, fictionalised history, but history nonetheless - in lurid 3D colour. They should teach this stuff in school.

Irish Times
A visceral triumph proving Ellroy remains at the top of his game.

Shortlist
Master of the sharp, snarling, spare sentence James Ellroy kicks off another mighty four-book run.A bloody big read but every word's made to count at gunpoint. Ellroy kicks ass all round the ballpark.

Sun
It's an epic 687-page undertaking that is at times disturbingly violent - a must for noir fans.

Stylist
An epic and bizarrely transcendental novel that represents an extraordinary achievement by any measure . a genuinely impressive feat of sustained literary energy: 90% of novelists couldn't get anywhere near it.His is an awe-inspiring artistic vision and this is a novel that should surely be read by new readers as well as fans.

Edward Docx, Guardian
One of the most courageous literary endeavours of recent times . Perfidia is a crime novel but mainly in the sense that it investigates deeper than before the ultimate crime of war, and the meta-crime that is society itself . Perfidia is a brave and moral book. It is not a beautiful book. Its defining characteristic is honesty, its engine principle, qualities that are vanishingly rare in contemporary fiction. It may be set in the 1940s, at a very specific and not so very distant moment in historical time, but its real subject is now.

Herald
Ellroy, writing in his signature telegraphic style, strives to depict reality, every dark aspect of it: there's murder, apparent ritual suicides, hate crimes and a world of characters that you just cannot root for. Ellroy successfully establishes his four main characters, alongside a wealth of fully developed, clever and sophisticated secondary characters, within his own creation of a microcosm of a community challenged by politics and an unavoidable history.

Culture Fly
An impressively detailed reconstruction of Los Angeles in wartime . Perfidia's high-octane hard-boiled energy draws the reader in.

Financial Times
A sprawling, beguiling and hugely entertaining tale . a typically sprawling, chaotic, pulsating tale of crime and punishment on a huge canvas, every page thrumming to the furious tension between his ambition and his delivery.

Irish Examiner
Ellroy depicts with frightening authenticity how those innocent of crimes are knowingly framed in the interest of the almighty "greater good".'

Dennis Lehane, New York Times Book Review
Perfidia is a brilliant, breakneck ride. Nobody except James Ellroy could pull this off. He doesn't merely write - he ignites and demolishes.

Carl Hiaasen
The master of American crime fiction.

Sunday Times