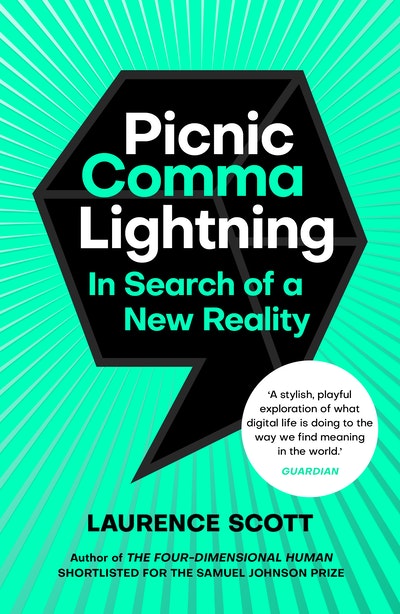 Published:

13 June 2019

ISBN:

9781786090027

Imprint:

Windmill Books

Format:

Paperback

Pages:

304

RRP:

$28.00
Picnic Comma Lightning
In Search of a New Reality
---
---
---
A spellbinding examination of the nature of reality, by one of the brightest thinkers of today.
**A BBC RADIO 4 BOOK OF THE WEEK**
'Laurence Scott . writes beautifully about the experience of reality in the digital age, and about how grief changes our perceptions . I'm besotted with Scott's writing.' Derren Brown, i paper
'Clever, funny and deeply moving... an engaging and thought-provoking journey through the fakery of modern life.' Mail on Sunday
'A stylish, playful exploration of what digital life is doing to the way we find meaning in the world.' Guardian, 'Book of the Week'
________________________
In Vladimir Nabokov's Lolita, the narrator offers a memorably brief account of his mother's death: 'picnic, lightning'. Picnic Comma Lightning similarly opens with the death of Laurence Scott's parents, and the definitive ending of their deaths raises for him one fundamental question: how much of what we live through is truly real?
With humour and insight, Scott transforms this personal meditation on loss into an exploration of what it means to exist in the world now. It used to be that our vision of the world was rooted to reasonably solid things: to people, places and memories. But today, in an age of constant internet debates, online personas and alternative truths, reality feels more vulnerable than ever before.
Picnic Comma Lightning looks at how digital life is distorting, echoing and magnifying our age-old preoccupation with what is real and what isn't. Where do we draw the line? How is technology shifting these boundaries? And how do we maintain a sense of reality in an increasingly unreal world?
________________________
'A report from the front line of the digital generation by someone superbly well-equipped to read and decode the signals.' Sunday Times
Published:

13 June 2019

ISBN:

9781786090027

Imprint:

Windmill Books

Format:

Paperback

Pages:

304

RRP:

$28.00
Praise for Picnic Comma Lightning
Reality and belief in the digital age, and signs above all, are the themes of this sophisticated book.... A report from the front line of the digital generation by someone superbly well-equipped to read and decode the signals. Scott is very, very good at metaphors. He also has a formidable wide range of cultural references.

James McConnachie, Sunday Times
Clever, funny and deeply moving... an engaging and thought-provoking journey through the fakery of modern life. Digital panic isn't new, but Scott writes such entrancing prose that reading his book is like waking up from a nightmare and realising, in a panicky split-second, that you're not sure if something bad has actually happened in your real life or just in the parallel one that gets live-streamed inside your own head.

Kathryn Hughes, Mail on Sunday
A stylish, playful exploration of what digital life is doing to the way we find meaning in the world... It is a philosophical meditation of perceptions of reality, achieved by means of beguilingly playful moves from confession to anthropology to social analysis. Scott operates on a dauntingly large conceptual scale, but there's a sense of embrace in his cleverness. It's not often that a highly ambitious work of social analysis speaks so determinedly to the heart.

Alexandra Harris, Guardian, 'Book of the Week'
Illuminating... Perceptive... There is throughout the book a sincere wish to make beautiful sentences and surprising images out of quotidian experience.

Steven Poole, New Statesman
The roots of today's rampant unreason are buried deep in the cultural and psychological bedrock of our societies; simplistic explanations don't reveal the seismic faults being opened up by technology. In its willingness to dig deeper, Picnic Comma Lightning provides a bravura investigation of our turbulent times.

Sumit Paul-Choudhury, New Scientist
A brave exploration of life after loss and how it alters our reality. Full of insightful, often quite sweeping, formulations. Courageous.

David Sexton, Evening Standard
Scott is funny, Scott is personal. An engaging, imaginative, sometimes moving read.

Tim Stanley, Daily Telegraph
My favourite book title of the year so far and what lies behind it is delightful, intriguing and sticky; his thoughts on storytelling and our collective realities, play in your mind long after the book is closed. The turn of phrase, the softness but effectiveness of the emotional punch and depth of understanding and subtlety of the dissection of our changing culture of storytelling means my copy is thick with underlined phrases and sentences. Once finished, I began again ... I was perpetually fascinated.

Robin Ince
[Scott's] project - to carve out a more reflective space, a "poeticised reality", in this four-dimensional world - feels admirable and necessary. In an era of anti-nuance, such meticulousness is a tonic.

Times Literary Supplement
Laurence Scott's book on the signs and symbols of the digital age is insightful, in part for its academic nuance but also for its humane, personal style. In trying to make sense of the digital world, Scott takes on everything from the Internet of Things to the changing nature of truth. A moving meditation of reality in the 21st century.

Wired, 'Books of the Year'
Laurence Scott . writes beautifully about the experience of reality in the digital age, and about how grief changes our perceptions . I'm besotted with Scott's writing.

Derren Brown, i Paper