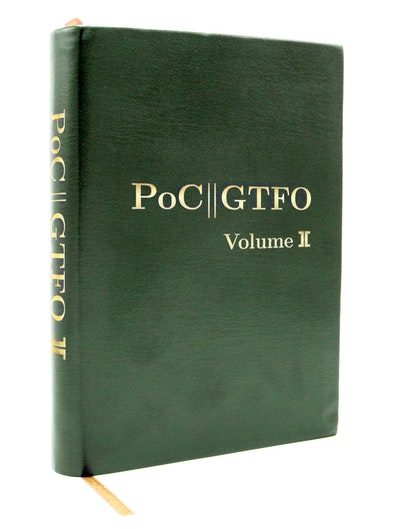 Published:

15 August 2018

ISBN:

9781593279349

Imprint:

No Starch

Format:

Hardback

Pages:

788

RRP:

$75.00
PoC Or GTFO, Volume 2
---
---
PoC or GTFO, Volume 2 follows-up the wildly popular first volume with issues 9-16 of the eponymous hacker zine. Contributions range from humorous poems to deeply technical essays.
PoC or GTFO, Volume 2 follows in the tradition of Phrack and Uninformed by publishing on the subjects of offensive security research, reverse engineering, and file format internals. Until the release of Volume 1, the journal had only been available online or printed and distributed for free at hacker conferences worldwide. This volume is a much-anticipated follow-up complete with issues 9-16 of the beloved hacker zine.
Consistent with the journal's quirky, biblical style, this book comes with all the trimmings: a leatherette cover, ribbon bookmark, bible paper, and gilt-edged pages. The book features technical essays from numerous famous hackers, including "Exploiting Pokemon in a Super GameBoy," "Reversing a Pregnancy Test," "Emulating Star Wars on a Vector Display," "Atari Star Raiders," "Comma Chameleon," and "Are Androids Polyglots?" Full-color pages by Ange Albertini illustrate many of the clever tricks described in the text.
Published:

15 August 2018

ISBN:

9781593279349

Imprint:

No Starch

Format:

Hardback

Pages:

788

RRP:

$75.00