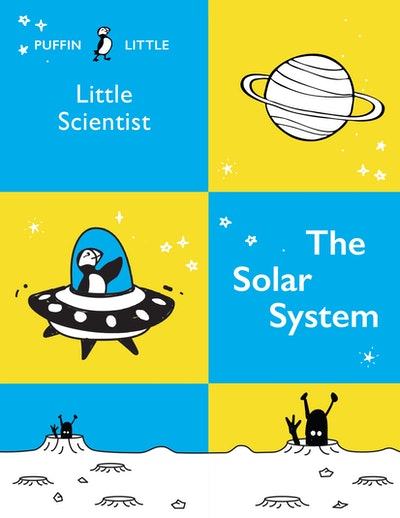 Published:

2 July 2020

ISBN:

9781760897031

Imprint:

Puffin

Format:

Paperback

Pages:

96

RRP:

$15.99
Puffin Little Scientist: The Solar System
Penguin Random House Australia
---
---
---
Introducing Puffin Little – beautifully designed, simple and engaging non-fiction books for young readers!
Just because we're LITTLE doesn't mean we can't learn BIG facts.
Have you ever wondered how long it takes Neptune to orbit the Sun?
If you're a Little Scientist who is curious about the solar system, you're about to go on a SUPER SPACE ADVENTURE with Puffin Little!
Published:

2 July 2020

ISBN:

9781760897031

Imprint:

Puffin

Format:

Paperback

Pages:

96

RRP:

$15.99
Praise for Puffin Little Scientist: The Solar System
The Puffin Little series look at the solar system is sure to enthuse young readers who are interested in science and prove to be a valuable easy to read reference book in a library.

Pat Pledger, Read Plus
The information on each page is manageable for the age group, but with plenty of interesting material – there is no sense of dumbing down.

Marita Thomson, CBCA Reading Time
I can't tell you how impressed I am with these little books. In my experience, quality and contemporary non-fiction for our youngest readers is not always easy to come by and these with their attractive design and clear format are just fantastic additions to your shelves... Perfect for the budding astronomer, for your class unit on space for little ones or simply for those filled with scientific curiosity.

Sue Warren, Just So Stories
Learn big skills and fun facts with these three cute new books from Puffin... Puffin Little Scientist: The Solar System shares exciting facts about the planets, stars and space. Cool!

National Geographic Kids
[These] little books in the 'Puffin Little' series are just perfect for those children who have an unquenchable curiosity and love regurgitating BIG facts.

Merle Morcom, Good Reading
Head on a space adventure with Little Scientist! Learn all about what makes up our solar system from understanding terms such as 'orbit' and 'axis' to fast facts on all of the planets, including the dwarf planets. Have you ever heard of Makeake? Or Eris? Find out more in Little Scientist.

Heather Zubek, The West Australian's ED! Magazine
This stylish little non-fiction set of books is designed for small hands and big curiosities... The Solar System is a dazzling assembly of sensational space facts that convoys potential astronauts through our solar system one planet and asteroid belt at a time. I'm still learning from it!

Dimity Powell, Dim's Write Stuff
All three of these books would make an excellent addition to a classroom and have been well put together. They are compact and easily transported for a long ride in the car where you can quiz each other about the fun facts.

Library Geek, Little Big Reads
There are facts galore in this little book, but they are presented in an easy-to-read layout, with engaging snippets spread across the pages.

Shaye Wardrop, Kids' Book Review
Young readers will appreciate this series because there has clearly been a lot of thought put into addressing their unique needs as emerging readers as well as tapping into subjects that appeal.

Barbara Braxton, The Bottom Shelf
Little Scientist: The Solar System blasts us off into outer space and introduces us to all aspects of the solar system.

James, Blog of Dad