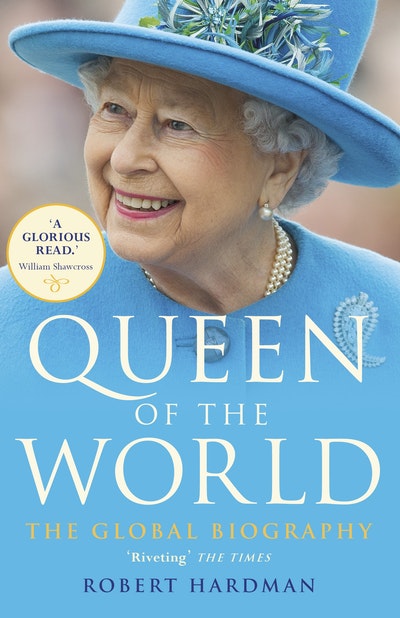 Published:

6 September 2018

ISBN:

9781473549647

Imprint:

Cornerstone Digital

Format:

EBook

Pages:

592
Queen of the World
---
---
---
An enthralling personal portrait of Her Majesty the Queen and how she has helped redefine the role of Britain, the monarch and the world stage itself.
If you loved the Netflix series, The Crown, you'll love this.
WRITTEN ALONGSIDE THE MAJOR ITV DOCUMENTARY
'Dazzling, poignant and full of delicious surprises; the true story of how Elizabeth II took on the world – and won. The Crown is fictional. Here is the real thing.' – Andrew Roberts
'Hardman's book, filled with new details, will be an essential source for any historian of modern Britain. It's also a glorious read' – William Shawcross, Spectator
_____________________________
Written by the renowned royal biographer, Robert Hardman, and with privileged access to the Royal Family and the Royal Household, a brilliant new portrait of the most famous woman in the world and her place in it.
On today's world stage, one leader stands apart. Queen Elizabeth II has seen more of the planet and its people than any other head of state, and has engaged with them like no other monarch in British history. Since her coronation, she has visited over 130 countries across the ever-changing globe, acting as diplomat, stateswoman, pioneer and peace-broker.
She has transformed her father's old empire into the Commonwealth, her 'family of nations', and has come to know its leaders better than anyone. In 2018, they would gather in her own home to endorse her eldest son, the Prince of Wales, as her successor.
With extensive access to the Queen's family and staff, Hardman tells a true story full of drama, intrigue, exotic and even dangerous situations, heroes, rogues, pomp and glamour – and, at the centre of it all, the woman who has genuinely won the hearts of the world.
_____________________________
'Superb' – Peter Hennessy
Published:

6 September 2018

ISBN:

9781473549647

Imprint:

Cornerstone Digital

Format:

EBook

Pages:

592
Praise for Queen of the World
Hardman's book, filled with new details, will be an essential source for any historian of modern Britain. It's also a glorious read

William Shawcross, The Spectator
A magisterial book… Robert Hardman brings together every intriguing detail he's gleaned about how the Queen reigns.

Daily Mail
This is not only the best biography of the Queen in years, it is also laugh-out-loud entertainment

Daily Express
Dazzling, poignant and full of delicious surprises; the true story of how Elizabeth II took on the world – and won. The Crown is fictional. This is the real thing.

Andrew Roberts
By far our most authoritative royal specialist, Hardman is a supremely entertaining storyteller and guide as well outstanding political analyst of the Queen's career as international titan of power and tact. Often hilarious, sometimes moving, always as acute as he is fascinating, there's never a dull moment in the untold diplomatic career of the most famous woman in the world, who has known everybody from monsters like Ceaucescu and Amin to heroes like Mandela and JFK.

Simon Sebag Montefiore
Watching The Crown was entertaining but reading Robert Hardman's Queen of the World was riveting — and true.

Alice Thomson
Superb

Peter Hennessy
Dazzling, poignant and full of delicious surprises; the true story of how Elizabeth II took on the world – and won. The Crown is fictional. Here is the real thing.

Andrew Roberts
By far our most authoritative royal specialist, Hardman is a supremely entertaining storyteller and guide as well outstanding political analyst of the Queen's career as international titan of power and tact. Often hilarious, sometimes moving, always as acute as he is fascinating, there's never a dull moment in the untold diplomatic career of the most famous in the world, who has known everybody from monsters like Ceaucescu and Amin to heroes like Mandela and JFK

Simon Sebag Montefiore, author of THE ROMANOVS and JERUSALEM
Vivid and superlatively well-informed, this is a compelling account of a monarch in perpetual motion

The Daily Mail