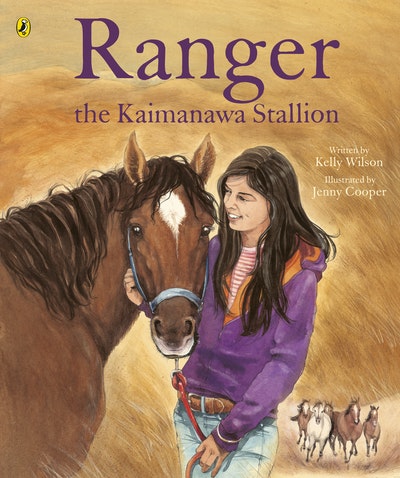 Published:

17 October 2016

ISBN:

9780143770121

Imprint:

Picture Puffin

Format:

Paperback

Pages:

32

RRP:

$19.99
Ranger the Kaimanawa Stallion
---
---
Kelly Wilson's heartwarming picture book about a stallion rescued from the 2012 Kaimanawa muster, and his real-life journey from wild horse to show horse, illustrated by Jenny Cooper
Kelly Wilson's heartwarming picture book about a stallion rescued from the 2012 Kaimanawa muster, and his real-life journey from wild horse to show horse, illustrated by Jenny Cooper
Ranger is a wild horse living in the rolling Kaimanawa Ranges of New Zealand. The lead stallion of a large herd, he protects his mares and foals from danger and takes them to safe places to graze among the tussock.
One wintery day, Ranger hears the sound of a helicopter approaching. The Kaimanawa horses don't trust humans and Ranger has always kept his herd well away from them. He rounds up the others to flee, but after hours of being mustered by helicopter, he finds himself locked in a pen with over a hundred frightened horses.
This will be his very last day in the wild.
But it's also the first day of a completely new life — a life that Ranger at first finds frightening and confusing. But, with the gentle and patient care of the three sisters who have rescued him, it's a life that Ranger will eventually grow to love.
Published:

17 October 2016

ISBN:

9780143770121

Imprint:

Picture Puffin

Format:

Paperback

Pages:

32

RRP:

$19.99
Praise for Ranger the Kaimanawa Stallion
The story is special but the illustrations bring it all together and this will be another of those books that are loved to death.

Barbara Murison, Around the Bookshops