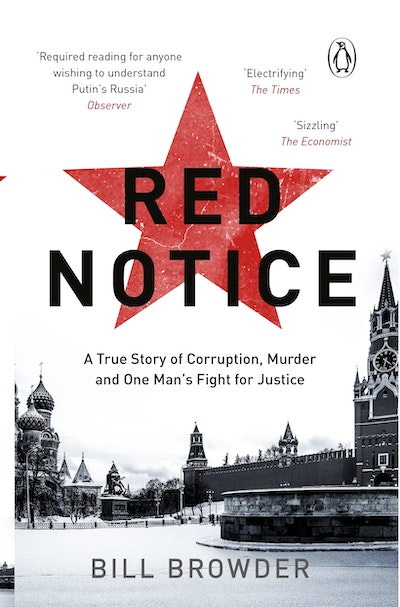 Published:

5 February 2015

ISBN:

9781448170937

Imprint:

Transworld Digital

Format:

EBook

Pages:

480
Red Notice
How I Became Putin's No. 1 Enemy
---
---
---
Corruption, dirty politics and murder in Russia - told by one of Putin's Most Wanted.
I have to assume that there is a very real chance that Putin or members of his regime will have me killed some day. If I'm killed, you will know who did it. When my enemies read this book, they will know that you know.
'Reads like a classic thriller, with an everyman hero alone and in danger in a hostile foreign city … but it's all true, and it's a story that needs to be told.'
LEE CHILD
'An unburdening, a witness statement and a thriller all at the same time … electrifying.'
THE TIMES
'A shocking true-life thriller.'
TOM STOPPARD
---
In November 2009, the young lawyer Sergei Magnitsky was beaten to death by eight police officers in a freezing cell in a Moscow prison. His crime? Testifying against Russian officials who were involved in a conspiracy to steal $230 million of taxes.
Red Notice is a searing exposé of the whitewash of this imprisonment and murder. The killing hasn't been investigated. It hasn't been punished. Bill Browder is still campaigning for justice for his late lawyer and friend. This is his explosive journey from the heady world of finance in New York and London in the 1990s, through battles with ruthless oligarchs in turbulent post-Soviet Union Moscow, to the shadowy heart of the Kremlin.
With fraud, bribery, corruption and torture exposed at every turn, Red Notice is a shocking political roller-coaster.
Published:

5 February 2015

ISBN:

9781448170937

Imprint:

Transworld Digital

Format:

EBook

Pages:

480
Reads like a classic thriller, with an everyman hero alone and in danger in a hostile foreign city … but it's all true, and it's a story that needs to be told.

Lee Child
The story of Sergei Magnitsky's life and death is a shocking true-life thriller, and Bill Browder was the man to write it.

Tom Stoppard
A sizzling account of Mr Browder's rise, fall and metamorphosis from bombastic financier to renowned human-rights activist ... Reads more like a financial thriller than a real-life story.

The Economist
An unburdening, a witness statement and a thriller all at the same time ... Electrifying ... One heck of a read.

Giles Whittell, The Times
An expose of years of state-sponsored torture and murder ... this story of courage combined with a dash of obsessiveness is about the real here and now.

Sonia Purnell, The Independent
The cut and thrust, and the high stakes, make for a zesty tale.

William Grimes, New York Times
Browder's narrative lays out in vivid detail the often murky mechanisms of Russia's kleptocratic economy, culminating in an engrossing account of what would surely be the heist of a century were it not so representative of business as usual. It's also a chilling, sinister portrait of a society in which the rule of law has been destroyed by those sworn to enforce it. The result is an alternatively harrowing and inspiring saga of appalling crime and undeserved punishment in the Wild East.

Publishers Weekly
A fascinating and unexpected story - including the fact that my work played Cupid.

Mitch Albom, author of 'Tuesdays With Morrie'
An impassioned personal broadside against the Kremlin ... [a] fitting tribute to a lawyer who was angered by the criminality he saw around him and was determined to do something about it.

Financial Times
Fast-paced

The Sunday Times
Browder's Red Notice is a classic tale of two halves: the first is a ripping yarn of murky financiers, desperate investments, and huge sums of money; the second is a terrible tragedy of corrupt officials, grieving friends and the murder of an honest man. I can't think of another book like it ... Required reading for anyone seeking to Putin's Russia.

Oliver Bullough, The Observer
A fascinating, heart-stopping account of how to take on Putin - and win. It's exciting to read about Browder's roller-coaster ride to wealth in Russia, and then how compassion for Sergei Magnitsky, his murdered lawyer, inspires his memorable struggle against the venal apparatchiks of a corrupt state. This is the gripping - and absolutely true - story behind the Magnitsky Law, a signal advance in human rights.

Geoffrey Robertson QC, author of "Crimes Against Humanity: The Struggle For Global Justice"
This indispensable look at the brutal realities of the Putin regime is of even greater relevance thanks to Bill Browder's unique expertise and personal experience inside the belly of the beast.

Garry Kasparov
[Browder's] freewheeling, snappy book describes the meteoric rise, and disastrous fall, of a buccaneer capitalist who crossed the wrong people and paid a steep price.

New York Times
Browder's true story is a heart-in-your-throat page turner, and the only close-up look I know of what it's like to take on Putin. It is also a moving account of a man who found his calling, and ended up winning in the end.

Bryan Burrough, co-author of "Barbarians at the Gate" and author of "Public Enemies" and "The Big Rich"
This book reads like a thriller, but it's a true, important, and inspiring real story. Bill Browder is an amazing moral crusader, and his book is a must-read for anyone who seeks to understand Russia, Putin, or the challenges of doing business in the world today.

Walter Isaacson
This book shows the difference that one person can make when they refuse to back down.

Pussy Riot
A jaw-dropping account of the Russian authorities' cover-up of the imprisonment, torture and murder of a brave young lawyer.

Caroline Sanderson, The Bookseller
A gripping read, tightly written.

Management Today Magazine
A chilling story ... that makes the dirty dealings of House of Cards look like Snow White.

Toronto Star
Engaging

Wall Street Journal
Browder's business saga meshes well with the story of corruption and murder in Vladimir Putin's Russia, making Red Notice an early candidate for any list of the year's best books

Norman Pearlstine, Fortune
This is perhaps the year's most astonishing business book

The Times, Australia
A dramatic recounting of Browder's battle with the Russian system. But more important, it's a tribute to Magnitsky.

Christian Science Monitor
This episode matters because, largely through Magnitsky's courageous efforts, it is a superbly well-documented case of state-sponsored crime ... An important tale.

A D Miller, The Spectator
I was hooked ... Browder's book is a real thriller. I was cheering him on as he retold his dogged fight to bring the fate of his murdered, gentle but stubborn lawyer to international attention.

Marcus Tanner, The Independent
A riveting account... it is a powerful story and Browder tells it skilfully.

The Washington Post
Red Notice is a dramatic, moving and thriller-like account of how Magnitsky's death transformed Browder from hedge-fund manager to global human rights crusader.

Luke Harding, The Guardian
I have to assume that there is a very real chance that Putin or members of his regime will have me killed some day. Like anyone else, I have no death wish and I have no intention of letting them kill me. I can't mention most of the countermeasures I take, but I will mention one: this book. If I'm killed, you will know who did it. When my enemies read this book, they will know that you know. So if you sympathize with this search for justice, or with Sergei's tragic fate, please share this story with as many people as you can. That simple act will keep the spirit of Sergei Magnitsky alive, and go further than any army of bodyguards in keeping me safe.

From Bill Browder in the Epilogue of 'Red Notice'