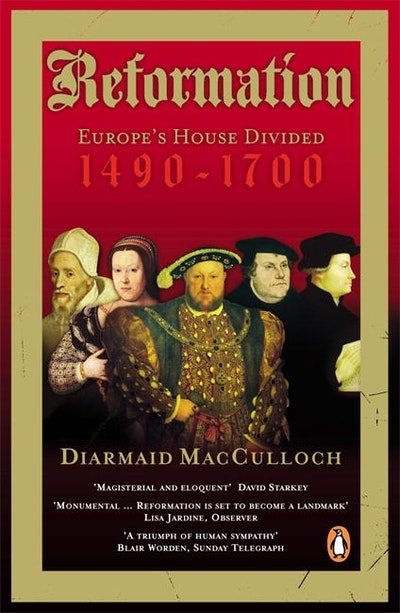 Published:

2 September 2004

ISBN:

9780140285345

Imprint:

Penguin Press

Format:

Paperback

Pages:

864

RRP:

$48.00
Reformation
Europe's House Divided 1490-1700
---
---
---
The definitive history of the most important event in European history between the fall of the Roman Empire and the French Revolution is coming in paperback.
Winner of the Wolfson Prize for history, Diarmaid MacCulloch's Reformation: Europe's House Divided 1490-1700 charts a seismic shift in European culture that marked the beginning of the modern world.
At a time when men and women were prepared to kill - and be killed - for their faith, the Reformation tore the western world apart. Acclaimed as the definitive account of these epochal events, Diarmaid MacCulloch's history brilliantly re-creates the religious battles of priests, monarchs, scholars and politicians, from the zealous Martin Luther nailing his Theses to the door of a Wittenburg church to the radical Ignatius of Loyola, founder of the Jesuit order; from Thomas Cranmer, martyred for his reforms, to the ambitious Philip II, unwavering in his campaign against Europe's 'heretics'.
Weaving together the many strands of Reformation and Counter-Reformation, ranging widely across Europe and even to the new world, MacCulloch also reveals as never before how these upheavals affected everyday lives - overturning ideas of love, sex, death and the supernatural, and shaping the modern age.
'Magisterial and eloquent'
David Starkey
'A triumph of human sympathy'
Blair Worden, Sunday Telegraph
'From politics to witchcraft, from the liturgy to sex; the sweep of European history covered here is breathtakingly panoramic. This is a model work of history'
Noel Malcolm, Sunday Telegraph Books of the Year
'A masterpiece of readable scholarship ... In its field it is the best book ever written'
David Edwards, Guardian
'Monumental ... Reformation is set to become a landmark'
Lisa Jardine, Observer
Diarmaid MacCulloch is Professor of the History of the Church at Oxford University. His Thomas Cranmer won the Whitbread Biography Prize, the James Tait Black Prize and the Duff Cooper Prize. He is also the author of A History of Christianity: The First Three Thousand Years.

Published:

2 September 2004

ISBN:

9780140285345

Imprint:

Penguin Press

Format:

Paperback

Pages:

864

RRP:

$48.00