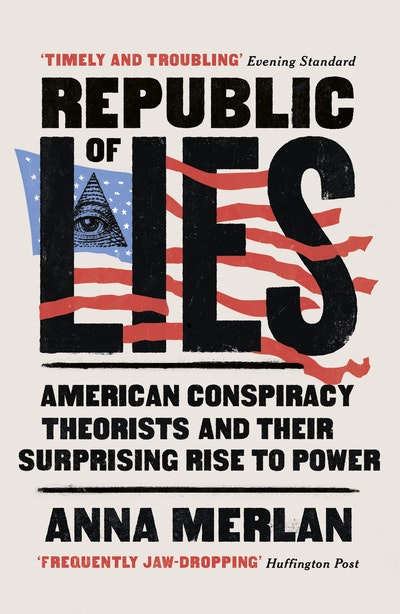 Published:

2 May 2019

ISBN:

9781473553613

Imprint:

Cornerstone Digital

Format:

EBook

Pages:

288
Republic of Lies
American Conspiracy Theorists and Their Surprising Rise to Power
---
---
---
From 9/11 truthers to white nationalists, this is the inside story of how conspiracy theorists won over America
_______AN EVENING STANDARD 'BEST BOOK TO LOOK FORWARD TO IN 2019'From UFOs to the New World Order, the inside story of how conspiracy theories won over America.
When Donald Trump entered the White House in January 2017, America's sprawling network of conspiracy theorists suddenly gained a powerful ally. Over the years, Trump had schmoozed with everyone from climate change deniers to anti-vax campaigners. Suddenly, to understand the USA, you needed to understand conspiracies.
In Republic of Lies, investigative journalist Anna Merlan goes deep inside this secretive world and unearths its most bizarre, enthralling and disconcerting stories. She heads over to America's top UFO conference, where she encounters the man who says he once went to Mars with a young Barack Obama. She speaks with the 'pizzagate' truthers who believe that Washington D.C.'s favourite pizzeria is run by a satanic paedophile ring. And she has a run-in with the controversial YouTuber and media impresario Alex Jones, who has said the state is using chemical warfare to turn the population gay – and who happens to be on first-name terms with the president of the United States.
Merlan's discoveries raise timely and troubling questions for us all. What happens when conspiracy theories go mainstream – and what impact does it have on the news that is actually true? Why are so many of us prepared to believe half-truths and outright lies? And might understanding conspiracy theories be the key to explaining the political upheavals of our age?
Published:

2 May 2019

ISBN:

9781473553613

Imprint:

Cornerstone Digital

Format:

EBook

Pages:

288
Praise for Republic of Lies
Anna Merlan reveals that the conspiracy theorists we all once felt a little sorry for (if annoyed by) have become the masters of the universe, lodged in the White House and presidential palaces throughout the world. It's a rich insight that makes this something more than a good book – it makes it a necessary book.

David Aaronovitch, author of VOODOO HISTORIES
[An] engrossing assessment of the profitable mainstreaming of conspiracy mongering in civic and political life . . . Captures this unsettling narrative succinctly and concretely . . . A lucid, well-researched look at a slippery topic.

Kirkus Reviews
To understand America you need to understand conspiracy theories . . . Merlan's exploration into the subject discovers some timely and troubling questions.

Evening Standard
If you're seeking a fascinating perspective on current political era, look no further than Anna Merlan's Republic of Lies. Merlan investigates some of the most popular (and wild) conspiracy theories today, and more importantly establishes why current societal dynamics create fertile ground for conspiracy.

Refinery29
The world of modern conspiracy theories is dizzying, but through exhaustive research, personal interviews, and a critical yet at times appropriately empathetic approach, writer Anna Merlan has written a captivating book that illuminates the landscape of conspiracy theories and what they might say about society as a whole.

New York Magazine
A frequently jaw-dropping, yet deeply sensitive and curious, journey through some of the most pervasive conspiracy theories in America today.

Huffington Post
With restrained but eloquent prose, Merlan unblinkingly documents our age of conspiracy. The book is filled with bizarre situations . . . and the author's droll voice buoys us through it all, bringing in expert commentary and academic research along the way . . . Against this formidable social trend, Merlan offers herself – a rock-steady narrator with a ready command of history, nerves of steel, and incisive social insights – as both guide and antidote. One gets the feeling that we need a thousand of her, or a million, to enter such communities with fearlessness and empathy, catalog the personalities, and emerge with humane conclusions.

The Nation
This book proves how society is much more like Homeland and House of Cards than we'd like to think.

Mail on Sunday