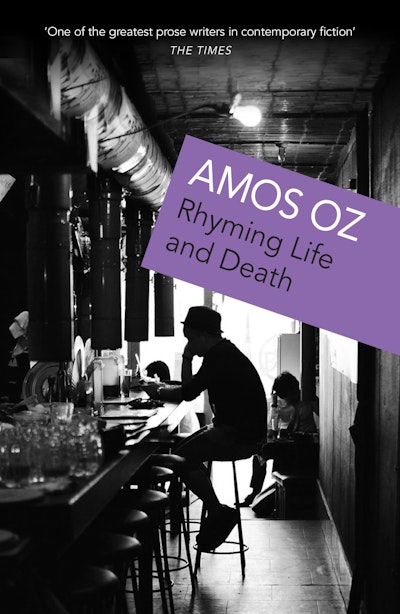 Published:

1 April 2010

ISBN:

9780099521020

Imprint:

Vintage

Format:

Paperback

Pages:

160

RRP:

$28.99
Rhyming Life and Death
---
---
---
Reality and fiction blend in an ingenious Rothian short novel from the celebrated author of A Tale of Love and Darkness - witty but elegiac, playful and sexy but somehow deadly serious, it's about a bored writer who goes to a reading and has a brief sexual skirmish with a female reader. Or does he?
Now in paperbackThe novel centres around 8 hours in the life of the Author (unnamed), a man in his forties, a literary celebrity, who is in Tel Aviv on a stifling hot night to give a reading. Bored, he looks for distraction - and finds copy. On the way he stops at a cafe where he 'bumps into' some of his own characters. In his head he conjures up the life stories of the people he meets, not least Ricky, an equally bored but seductive waitress. Later, even as the reading from his new book is underway, and the obligatory inane questions ("Why do you write? What is it like to be famous? Do you write with a pen or on a computer?) have come and gone — he weaves stories round the audience and the panel.
Afterwards, the Author invites the professional reader for a drink before walking her home… it turns out she lives just opposite, so she goes home and he wanders off into the night. But he returns, climbs the many flights of stairs to the flat, where she lives alone with her cat - and they have a brief but steamy sexual skirmish.
Published:

1 April 2010

ISBN:

9780099521020

Imprint:

Vintage

Format:

Paperback

Pages:

160

RRP:

$28.99
Praise for Rhyming Life and Death
'A master class in interlocking character sketches, and a fable on the themes of sex, death and writing pitched somewhere between the fictional universes of JM Coetzee and Milan Kundera'

Guardian
Delightful...a meditation, on the art of writing, the relationship between literature and life, between life and death...the work of a master. A book you are likely to return to'

Scotsman
'Oz writes with fluency and a sly humour'

Daily Mail
'A playful and meditative examination of old age, literary posterity and the juxtaposition between literature and real life'

Metro
'Beautifully balanced between humour and sorrow'

Literary Review
In this slim yet weighty new novel, Oz explores the sparring between reality and fantasy, shedding light on the mysterious inner workings of the creative process itself, as if presenting an X-ray of an author's mind at work

Anita Sethi, Indepedent on Sunday
Read this book. When you are done, read it again. Each time you'll find something different, I promise.

BookMunch