Try this delicious recipe from Rick Stein's Long Weekends.
Dried piri-piri chillies are getting easier to come by, although with their alternative name of African bird's eye you could get away with substituting bird's eye chillies. On the Scoville scale they are under Scotch bonnets, i.e. about eight or nine out of ten. Chicken piri-piri, a Mozambican dish, is now synonymous with Portuguese cooking but so often the heat is hardly there at all. If you are going to call something 'piri-piri', make it hot! You can get this dish all over Lisbon. I particularly recall Casa da India, where Sas and I stopped in for a beer and looked longingly at the piri-piri chicken cooking on a charcoal grill in the window. 'I wish we were eating here,' she said prophetically. 'This looks just our sort of place.' The restaurant where we were booked was massively experimental and used not very tiptop ingredients, which left me, as it was my insistence, thinking, Oh to be back in Casa da India – if only I had listened to my wife. Serve with salads and chips or potatoes.
FRANGO PIRIPÍRI (CHICKEN PIRI-PIRI)
Serves four to six
1 x 1.5kg chicken, jointed into 8 pieces, or 8 large chicken thighs
Lemon cut into wedges, to serve
For the marinade:
2 tsp salt
2 cloves garlic, crushed or grated
Juice half a lemon
2 tbsp olive oil
For the piri-piri sauce:
7–8 dried piri-piri chillies, or 5–6 red jalapeño and 1 red bird's eye, roughly chopped, seeds left in
1 clove garlic, roughly chopped
1 1/2 tbsp red wine vinegar or juice 1 lemon
125ml olive oil
1 1/2 tbsp smoked hot paprika
1/2 tsp salt
1/4 tsp caster sugar
1 tsp dried oregano
Method
Mix all the marinade ingredients together in a bowl. Add the chicken pieces, coat well, then cover and leave for an hour in the fridge.
Make the piri-piri sauce by combining all the ingredients except the oregano to a paste in a food processor. Stir in the oregano at the end. If the sauce is too thick, let it down with a little more olive oil. This will keep in a sterilized glass jar in the fridge for a couple of weeks.
Heat the oven to 200°C/gas 6.
Put the marinated chicken pieces on a baking tray and roast for about 25 minutes; meanwhile, heat the grill to hot.
Finish the chicken off under the hot grill for 5 minutes to crisp up the skin, then brush with about 4 tablespoons of the piri-piri sauce.
Alternatively, cook the chicken on a barbecue for about 15 minutes, skin-side down to crisp and slightly char it, then turn over and continue to cook for about 10 minutes or until cooked through. The chicken is ready when the internal temp reaches 80°C. Brush with the piri-piri sauce as above.
Serve with lemon wedges and more of the piri-piri sauce on the side.
---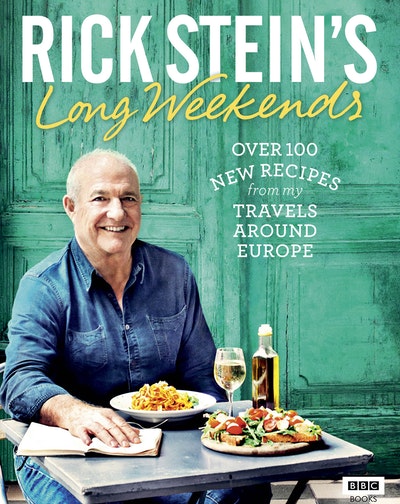 Cadiz, Palermo, Copenhagen and more... Rick Stein goes in search of good food in fabulous locations, and all of them just a quick hop, skip and a jump from the UK. Rick Stein's Long Weekends will accompany the second half of the BBC One series, which aired in Autumn 2016.
Buy now
Buy now
---