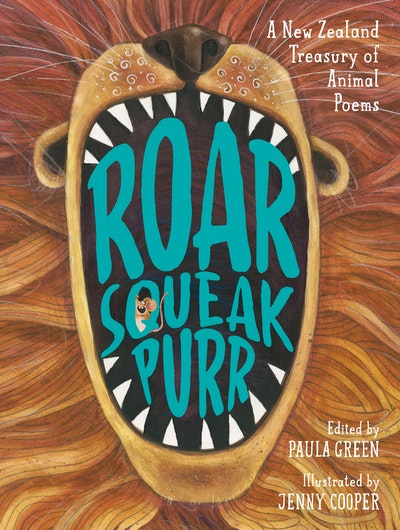 Published:

5 October 2022

ISBN:

9780143775140

Imprint:

Puffin

Format:

Hardback

Pages:

288

RRP:

$45.00
Roar Squeak Purr
A New Zealand Treasury of Animal Poems
---
---
A marvellous menagerie of animal poems for children by New Zealand's best writers - some of them children - selected by star New Zealand poet Paula Green and adorably illustrated by Jenny Cooper.
A marvellous menagerie of more than 200 animal poems by Aotearoa's best writers, ROAR SQUEAK PURR shows just how fun poetry can be, and is sure to inspire a new generation of poets.
In between the covers of this book you will meet creatures large and small. They might pad, or skitter, swoosh or soar. They could be fuzzy, feathery, suckery, scaly or spiky. These animals might ROAR or squeak or Purrrrrrrrrr. Just like the animals they are about, these poems come in all shapes and sizes! They tell stories, pose questions, make us feel things - and they all make glorious music.
If your kids think poetry isn't for them, Roar Squeak Purr will cure that thought forever! This exuberant treasury brings together over 200 animal poems by New Zealand's best writers, many of them written by children. The poems were selected and edited by champion poet Paula Green, winner of the Prime Minister's Award for Poetry and creator of the popular Poetry Box blog, and teamed with Jenny Cooper's cheeky, whimsical and adorable illustrations.
Roar Squeak Purr is destined to be a family treasure – and to inspire a new generation of poets.

Published:

5 October 2022

ISBN:

9780143775140

Imprint:

Puffin

Format:

Hardback

Pages:

288

RRP:

$45.00
Praise for Roar Squeak Purr
It was a joy to see this new compilation that will be a true keepsake and the perfect gift. This is a New Zealand treasury of animal poems, beautifully teamed together with a visual feast of illustrations by Jenny Cooper...a great reminder that poetry can be enjoyed by the whole whānau, either to be read aloud or independently read by junior readers.

Sue's Reviews, Wairarapa Times-Age
There's such playfulness and warmth among the pages of this hefty hardback, with glorious illustrations by the awesome Jenny Cooper. I love the variety of illustration styles and stunning colours throughout. Jenny Cooper is so clever at capturing an animal's personality and I particularly adore her illustration of Powell's 'Horse Lips' (pg 128). Surely an almighty feat to pull together such a rich collection of New Zealand poems, Paula Green (something of a NZ treasure herself), has proved once again she truly is a valiant poetry treasure hunter. I implore you to get your hands on a copy of this aptly named treasury and share it with someone special.

Melanie Koster, Down the Back of the Bookcase
The title of this book says it all. It is a superb treasury of poems and a real treasure. Every poem deserves its place in this collection...The poems are funny, informative, imaginative, cheeky and cover so many animal topics. Each and every one is accompanied by one of Jenny Cooper's delightful, warm, funny and thoughtful full-colour illustrations...wonderful matching up of words and pictures.

Desna Wallace, Book Trailers 4 Kids & YA
With old favourites, new poems, and poems by children around the motu, charmingly illustrated and both funny and thoughtful, this is a treasure all homes and schools should have.

Stuff's Best Books of 2022
It's a book to turn to when wanting to be inspired, uplifted, and just want to appreciate great New Zealand writing. Grandparents, buy it for your grandchildren and sit them on your knees and share this gorgeous book with them. I showed it to a group of fellow writers one afternoon, and they all said they're going to buy it for a child for Christmas. I should be passing my book onto a child, but I selfishly won't be parting with my copy! It'll be on my bookshelf in easy reach.

Maria Gill, Kids Books NZ
A treasury indeed! Who knew so many Kiwi poets - including kids - had captured the antics and oddities of our birds, bees, butterflies and pets? "Poems can do anything, " says Green. "There are no rules. Poetry is PLAY."

Ann Packer, NZ Listener 50 Best Kids' Books
The language throughout the poems is rich and descriptive...Jenny Cooper has made this book a visual delight with her stunning colourful artwork. She has managed to capture the animals' facial expressions beautifully...Recommended

Nova Gibson, Read NZ - The School Library
Storylines Notable Book Award
Awarded • 2022 • A Storylines Notable Non-Fiction Book
Article
Teachers' notes