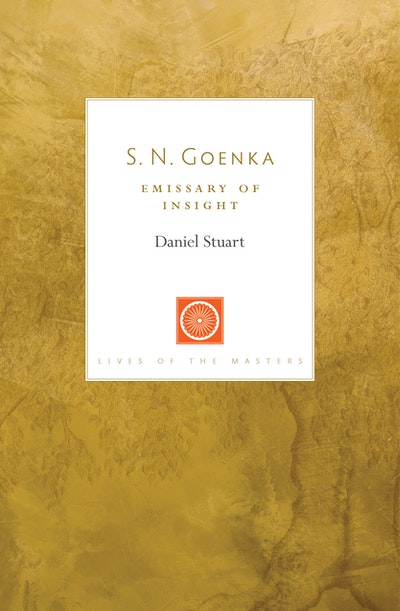 Published:

17 February 2021

ISBN:

9781611808186

Imprint:

Shambhala

Format:

Paperback

Pages:

352

RRP:

$37.00
S. N. Goenka
Emissary of Insight
---
---
An eagerly anticipated biography of S. N. Goenka--one of the most influential meditation masters of the twentieth century.
In a life that saw him evolve from a staunchly religious Hindu to an ecumenical master of Buddhist insight meditation, Satyanārāyaṇ (S. N.) Goenka (1924–2013) emerged as a leader in the spread of lay mindfulness and insight meditation practice on a global scale. A second-generation Burmese of Indian origin, Goenka was a successful businessman before turning to Buddhist meditation for help with crippling migraines. Becoming first a close student and then assistant teacher under the innovative Burmese lay Buddhist teacher U Ba Khin, Goenka eventually felt the pull of karmic destiny to teach meditation in India and thereby repay the ancient debt that Burmese Buddhists owed to the original Indian Buddhist tradition. In the 1970s, as he became an integral part of the Indian Buddhist spiritual landscape, thousands of young people from the United States and Europe flocked to India to explore its spiritual possibilities. Out of this remarkable convergence was launched a global network of practitioners and meditation centers that would become Goenka's legacy.
Drawing heavily on Goenka's own autobiographical writings and Dharma talks, Daniel Stuart draws the first comprehensive portrait of the master's life and demonstrates that Goenka's influences, teaching, and legacy are much more complex than has been commonly thought. Stuart incorporates a wide range of primary documents and newly translated material in Hindi and Burmese to offer readers an in-depth exploration of Goenka's teachings and his practice lineage in Burma. Stuart further details the trials and tribulations Goenka faced in building a movement in India in the 1970s, developing a global network of meditation centers, and negotiating a range of relationships with students and religious leaders worldwide. This fascinating addition to the Lives of the Masters series reflects on Goenka's role in the revival of Buddhism in postcolonial India and his emergence as one of the most influential meditation masters of the twentieth century.
Published:

17 February 2021

ISBN:

9781611808186

Imprint:

Shambhala

Format:

Paperback

Pages:

352

RRP:

$37.00