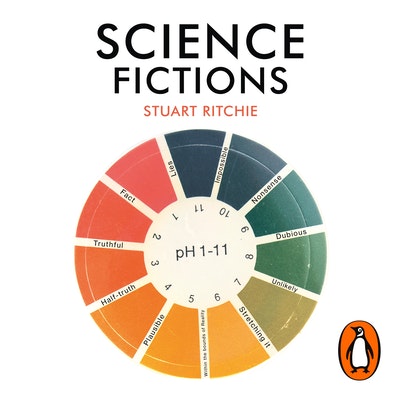 Published:

16 July 2020

ISBN:

9781473584075

Imprint:

Vintage Digital

Format:

Audio Download

Narrator:

Stuart Ritchie
Science Fictions
Exposing Fraud, Bias, Negligence and Hype in Science
---
---
---
A major exposé that reveals the absurd and shocking problems that pervade and undermine contemporary science
Brought to you by Penguin.
So much relies on science. But what if science itself can't be relied on?
Medicine, education, psychology, health, parenting - wherever it really matters, we look to science for advice. Science Fictions reveals the disturbing flaws that undermine our understanding of all of these fields and more.
While the scientific method will always be our best and only way of knowing about the world, in reality the current system of funding and publishing science not only fails to safeguard against scientists' inescapable biases and foibles, it actively encourages them. From widely accepted theories about 'priming' and 'growth mindset' to claims about genetics, sleep, microbiotics, as well as a host of drugs, allergies and therapies, we can trace the effects of unreliable, overhyped and even fraudulent papers in austerity economics, the anti-vaccination movement and dozens of bestselling books - and occasionally count the cost in human lives.
Stuart Ritchie has been at the vanguard of a new reform movement within science aimed at exposing and fixing these problems. In this vital investigation, he gathers together the evidence of their full and shocking extent and proposes a host of remedies to save and protect this most valuable of human endeavours from itself.
©Stuart Ritchie 2020 (P) Penguin Audio 2020
Published:

16 July 2020

ISBN:

9781473584075

Imprint:

Vintage Digital

Format:

Audio Download

Narrator:

Stuart Ritchie
Praise for Science Fictions
A desperately important book, Science Fictions brilliantly exposes the fragility of the science on which lives, livelihoods and our whole society depend ... Required reading for everyone

ADAM RUTHERFORD, author of How to Argue With a Racist
Gripping tales of increasing recent villainy and bias in the laboratory, which should worry those of us who love science

MATT RIDLEY, author of How Innovation Works
An engagingly accessible set of cautionary tales to show how science and scientists can be led astray, in some instances with fatal consequences ... clear-eyed and chillingly accurate ... should be compulsory reading for anyone involved in the communication of science to policy makers and to the public

GINA RIPPON, author of The Gendered Brain
Ritchie's engaging tour of the dark side of research [...] has rumbled science's guilty secret ... the tragedy is that the current system does not just overlook our foibles, it amplifies them ... he's entertaining company ... an illuminating and thoughtful guide. Ultimately, he comes to praise science, not to bury it

ROGER HIGHFIELD, Literary Review
Fascinating and often shocking

Sunday Times, Best Paperbacks of 2021
Thrilling ... Ritchie reminds us that another world is possible

The Times
Excellent ... we need better science. That's why books like this are so important

Evening Standard
The most important science story of our times ... evocative and engaging ... sometimes funny, sometimes shocking

Unherd
All the replication-failure and scientific-misconduct stories you've ever heard are here - along with more that you haven't ... This comprehensive collection of mishaps, misdeeds and tales of caution is the great strength of Ritchie's offering ... Ritchie's four themes carve complex, interconnected issues at natural joints, and allow his case studies to shine

Fiona Fidler, Nature
Entertaining ... revelatory ... brilliantly highlights the problems in current practices and sets out a path towards new ones

Daily Mail
He has come to praise science, not to bury it; nevertheless, his analyses of science's current ethical ills - fraud, hype, negligence and so on - are devastating

Simon Ings, Telegraph
Science Fictions... is a useful account of ten years or more of debate, mostly in specialist circles, about reproducibility

John Whitfield, London Review of Books