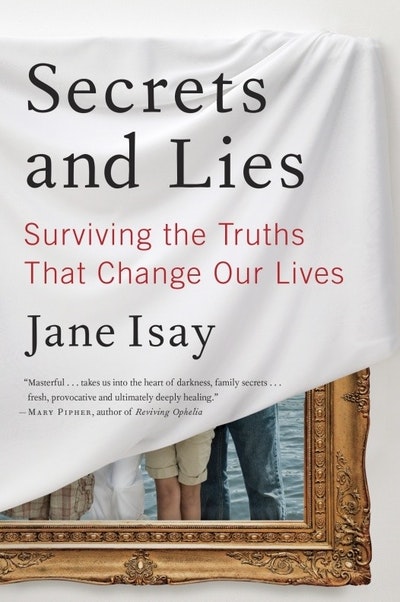 Published:

15 October 2014

ISBN:

9780307742247

Imprint:

Doubleday US

Format:

Trade Paperback

Pages:

208
Secrets And Lies
---
---
By the author of Walking on Eggshells, a compellingly readable journey into the realm of family secrets, offering lessons and insights for those who are hiding the truth and those who discover what has long been hidden.
Secrets, large and small, are a fact of human life. This book explores the impact of keeping secrets and the power of truth. Secrets can damage our sense of self and our relationships. Even so, Jane Isay has found, people survive learning the most disturbing facts that have been hidden from them. And secret keepers are relieved when they finally reveal themselves—even the things they are ashamed of—to the people they care about. Much depends, Isay writes, on the way of telling and the way of hearing.
Jane Isay was both a secret finder and a secret keeper. After fifteen years of marriage her husband admitted he was gay, but together they decided to keep it a secret for the sake of their two sons. Building on her personal experience, sixty intimate interviews, and extensive research into the psychology of secrets, Isay shows how the pain of secrets can be lightened by full disclosure, genuine apology, and time. Sometimes the truth sunders relationships, but often it saves them.
Powered by detailed stories and Isay's compassionate analysis, Secrets and Lies reveals how universal secrets are in families. The big ones—affairs, homosexuality, parentage, suicide, abuse, hidden siblings—can be ruinous at first, but the effects need not last forever, and Isay shows us what makes the difference. With specific guidelines for those who keep secrets and those who find them out, Isay's book reveals the art of surviving a secret.
Published:

15 October 2014

ISBN:

9780307742247

Imprint:

Doubleday US

Format:

Trade Paperback

Pages:

208
Praise for Secrets And Lies
Praise for Secrets and Lies

"This masterful and psychologically sophisticated book takes us into the heart of darkness, family secrets, and shows that they can and must be faced. Isay's ideas are fresh, provocative and ultimately deeply healing. Her stories glitter with authenticity."
—Mary Pipher, author of The Green Boat and Reviving Ophelia
 
"Who better to guide us through the anatomy of betrayal and its aftershocks than Isay, who has lived both sides of a public, family-shattering secret? Isay introduces us to a dazzling array of characters whose lives were fractured by painful revelations. Most important, she offers tough love advice about how to make sense of the unthinkable and move on. Anyone who has ever been harmed by a secret will find solace in Isay's compassionate, laser-sharp storytelling."
—Rachel Simmons, author of Odd Girl Out

"The truths that Jane Isay illustrates with compassion and delicacy about family relationships, ring true for communities and institutions as well: everyone involved is hurt by deceiving oneself and others, but truth can lead to healing."
—Mary Catherine Bateson, author of Composing a Further Life: The Age of Active Wisdom

"A wise, brave, and gripping book about the stories families hide from one another, Secrets and Lies instructs us in the many important ways that even painful truths can set us free."
—Judith Viorst, author of Necessary Losses

"Jane Isay starts by baring some secrets of her own—which is only fair, since this wonderful book abounds with stories of other people's secrets that are closely-guarded and, when revealed, deeply unsettling. She explores the full range of secrets people keep—using tricks ranging from well-intended white lies to self-serving and even vicious deceptions—and the full range of reactions when you find out you've been lied to for years. 'You don't know what you don't see until you are forced to see it,' Isay writes. A fascinating book."
—Robin Marantz Henig, Contributing Writer, The New York Times Magazine

"Jane Isay has once again brought her unflinching honesty, searing insight and open heart to corners of family dynamics that most of us avoid. In Secrets and Lies Isay examines the tangled webs we weave and the pain they inflict on innocents who become ensnared. With wisdom and warmth, she reassures us that facing the truth is possible, and that the time to do it is now."
—Dr. Ira Byock, physician and author of Dying Well, The Four Things That Matter Most, and The Best Care Possible
 
"As a family therapist for over three decades I recognize close-to-the-bone truth when I see it. So, if you or someone you know needs to be encouraged to take that bravest of steps toward the truth, get this page-turning book. Jane Isay is a gifted story teller with the soul of a poet and the wisdom of a master teacher. Secrets and Lies is not only about betrayal, it is about courage, the kind all of us need to negotiate the hidden currents and sudden riptides of life."
—Dr. Ron Taffel, author of Childhood Unbound

"Whether we are Finders or Keepers of secrets (or both), Jane Isay vividly shows how secrets and lies render the very fabric of our lives shot through with a corrupting thread of untruth. To move ahead, she argues, we must unravel these tangled threads and rework the tapestry of our inner worlds and intimate relationships that dishonesty and dissembling has distorted. Using her own riveting personal story of her husband's coming out as gay and their mutual decision not to tell the children as a jumping-off point, Isay also engagingly captures secrets and lies in the lives of others through in-depth interviews. Finding and keeping our own truths, Isay argues, leads to the honesty and authenticity that makes us whole and connects us to others."
—Susan C. Vaughan, M.D., author of The Talking Cure