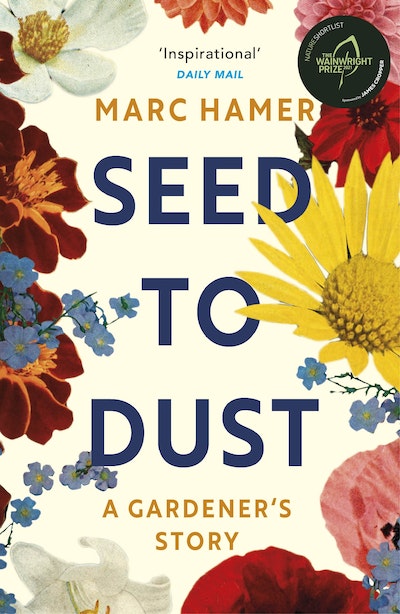 Published:

14 January 2021

ISBN:

9781473574960

Imprint:

Vintage Digital

Format:

EBook

Pages:

416
Seed to Dust
A Gardener's Story
---
---
---
A wonderful, life-enhancing book which follows a year in the life of a professional gardener and the relationship he has with the woman who employs him to look after her 12-acre garden.
*SHORTLISTED FOR THE WAINWRIGHT PRIZE 2021*
'A wholly original, semi-autobiographical book on how to live, how to be calm and content with only a little, in a quietly humming garden' Daily Mail
Beautifully illustrated, Seed to Dust is a reflective and restorative account of a life lived in harmony with nature.
Marc Hamer has nurtured the same twelve acres of garden for decades. It's rarely visited so he is the only person who fully knows its secrets. But it's not his garden, and his relationship with its owner is at once distant and curiously intimate.
In Seed to Dust, Marc takes us month-by-month through his experiences both working in the garden and outside it. We encounter new plants and wildlife, gardening folklore and the joys of manual work; we learn, too, about Marc's path from homelessness to family contentment, and the cycles of change that run through both the garden's life and our own.
'An absorbing combination of memoir, gardening folklore and natural history' Country Life
'Life-affirming... Absorbing' Sue Stuart-Smith, Sunday Times bestselling author of The Well-Gardened Mind
Published:

14 January 2021

ISBN:

9781473574960

Imprint:

Vintage Digital

Format:

EBook

Pages:

416
Written as a monthly journal, this is more memoir and philosophical meditation than gardener's manual... Hamer uses the material all around - robins and crows, beeches and cherry trees, jasmine, daffodils and soil - as the springboard for reflections on how to live a small-scale, spiritually aware life. ...making the case for seeing our place within nature, and relishing our contact with it.

Herald
Hamer takes the reader through his gardening year... Marc Hamer's gardening memoir offers an insight into what it is like to tend somebody else's plot, and how an unusual relationship blossomed...Seed to Dust is a bodily book. Hamer lets us in; we learn what his tools feel like in hands hardened by decades of manual labour...But it is also an unlikely love story: Hamer is happily married to Peggy, who we hear about, too, but his affection for Miss Cashmere, his elderly employer, is clear - and infectious.

Telegraph
[A] life-enhancing book

Eastern Daily Press
Inspirational... An invaluably original view of one man in his garden...noticing the tiny things that the busy world ignores... A wholly original book on how to live, how to be calm and content with only a little, in a quietly humming garden

Daily Mail
Seed to Dust draws on Hamer's deep sense of connection with plants and the earth as well as a lifetime of experience. Beautifully observed and quietly reflective, this is an absorbing and life-affirming read

Sue Stuart-Smith, Sunday Times bestselling author of The Well-Gardened Mind
Chapters...shimmer like lantern slides, lit with luminous imagery... Seed to Dust is an invitation to read this world as Mr. Hamer does - with a close eye to what changes, and what does not

Wall Street Journal
[An] absorbing combination of memoir, gardening folklore and natural history... This book provides insight into both the secrets of a garden and the experiences of the person caring for it

Country Life