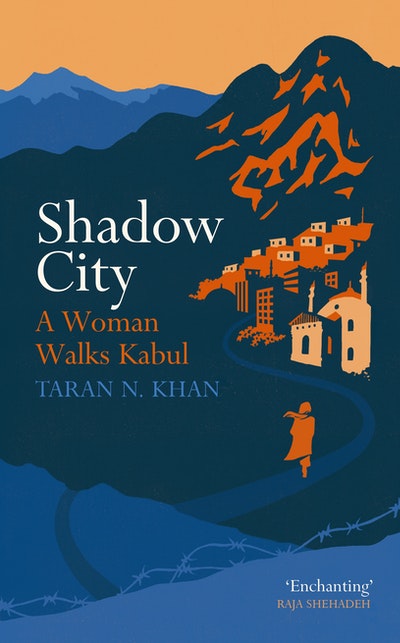 Published:

7 November 2019

ISBN:

9781473553507

Imprint:

Vintage Digital

Format:

EBook

Pages:

272
Shadow City
A Woman Walks Kabul
---
---
---
A revelatory and deeply moving journey on foot back into Kabul's past
When Indian journalist Taran Khan arrived in Kabul in 2006, she imagined it as a homecoming – a return to the land from where her Pashtun forebears hailed. Falling in with poets, doctors and other journalists, she began exploring the city on foot and discovered a Kabul quite different from the one she had encountered in the world's media.
Her wanderings revealed a fragile city in a state of flux: shaped by near-constant war, but showing the flickering promise of peace; a shape-shifting place governed by the ancient codes of Islam, but experimenting with new modes of living. Getting lost in its labyrinthine streets, Khan meets with the booksellers of Kabul, the archaeologists, the intrepid film-makers and the economists who are remaking the city. But as her walks take her deeper into the city's past – to the unvisited tombs of the dead, the mental asylums housing those forgotten by their families – it becomes clear that to talk of Kabul's various wars in the past tense is a mistake.
And as the political situation worsens and walking becomes untenable, Khan's friends and comrades begin to flee the city. With the sound of gunfire echoing in the distance, Khan excavates the ghostly iterations of Kabul past and its layers of forgotten memories – unearthing a city that has been brutally erased and redrawn as each new war sweeps through. Shadow City is a haunting evocation of loss and absence – and a blazing portrait of a city caught between worlds.
Published:

7 November 2019

ISBN:

9781473553507

Imprint:

Vintage Digital

Format:

EBook

Pages:

272
Offers a unique on-the-ground view of the city...a refreshing counterpoint to the macho foreign correspondent genre... Khan's interviews during her walks powerfully evoke the fluctuating mood in a city that is trying to heal itself

Amelia Gentleman, Guardian
These stories conjure a magic in the labyrinthine streets and reveal a fragile city in a state of flux, shape-shifting and flickering with the promise of peace

Sophie Lam
Any reader of this book is sure to discover a Kabul so unlike what the media portrays. Taran's love of her city comes across in her enchanting evocation of a city where so many tragedies echo from across Kabul's decades of war. On her last walk, she writes: "to leave Kabul was to take it with you." This is what happened when I finished reading this book, I took Kabul with me

Raja Shehadeh, author of Palestinian Walks
By excavating Afghanistan's forgotten past, Khan rescues its future, too. Her lyrical prose brings to life the most daring truth a writer can offer: that these tragedies were not preordained, and another Afghanistan is possible

Anand Gopal, author of No Good Men Among the Living
A lyrical discovery... As a Muslim woman from India, Khan is able to present a unique social and historical perspective

Edward Girardet, Global Geneva
Taran Khan invites and leads us into a wonderful journey through the streets of Kabul, its history and culture. Step by step with her, we breathe in the city's air of mysticism and mystery, walk through gardens full of myths and secrets, and we caress the wounds and scars of war on the skin of the city and cross the bridge that is built over the river between Indo-Greek civilization

Atiq Rahimi
Shadow City moved me to tears... In the service of Kabul and Afghanistan, a region of the world about which we imagine we know much more than we actually do, no book has done a more honest and heart-warming job in recent years... Thrilling

Supriya Nair, Mumbai Mirror
Traces the lost glory of the city and narrates contemporary miseries. A moving memoir...and a subtle dive into history

Ashutosh Bhardwaj, Financial Express
Sparkling...a city and a part of the world that is particularly suited to the elegy... The Kabul stories Khan collects are like that: silent screams for a city that was and the city it could be

Vikram Shah, Mint Lounge
An intricate, intimate portrait of a heartbreaking city, its people and its past, written with nuance, love and attention. In her multi-dimensional memoir Taran Khan explores Kabul as she wanders – through its streets but also its literature, its politics but also its passions – revealing as she does her own exacting, compassionate sense of what the city was and can still be

Alice Albinia, author of Empires of the Indus
Through these deep and compassionate portraits of ordinary people who call Kabul home, Taran Khan tells the story of the city through war and peace as never told before. At a time when deep uncertainly hangs over Afghanistan's future once again, Shadow City provides an invaluable perspective on life in its capital

Snigdha Poonam
Khan asks important questions of cities that have witnessed trauma in the palimpsests of what remains. The book carries valuable insights into the effects of war -- the fragility of books, films, ways of life; addiction as a war wound; the instability of 'home'. Mostly, it reminds us of the power of words to represent ways of seeing

Piya Srinivasan, India Today