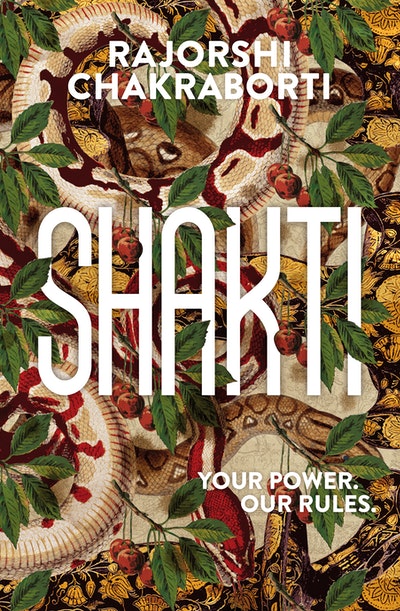 Published:

18 February 2020

ISBN:

9780143773894

Imprint:

Penguin

Format:

Trade Paperback

Pages:

336

RRP:

$36.00
Shakti
Extract
PART I
The Others
8 August 2017, Bardhaman district, West Bengal, India
A young man is taking a shortcut home from the railway station through fields, as he does every day of the week. He is a vendor of toys, who works on the trains that run between Bardhaman and Bolpur. It's 9.15 in the evening, and he is using the torch in his phone. He plans to get home, eat quickly, and head over to meet his friends for a game of cards and a few drinks. His day will begin again with the third train of the morning that stops at his village (at 7.22), on which he'll hitch a ride to Bardhaman.
He senses a presence on the path before him, and raises his phone to see, but then cannot believe what the light reveals. A girl of perhaps fifteen, which would be a surprise at this time of night even if she was familiar, but this one is clearly from a city, possibly even Calcutta. She is wearing jeans and a sleeveless top, and just standing there as if she has been waiting for someone to pass. The young man — Dipu is his name — thinks to himself that the road between the village and the station would be about fifty metres behind her. No doubt the car she was travelling in (almost certainly going to Shantiniketan, or else this would be a very late return to Calcutta) has broken down and she is looking around for help. The idea that there might be family members nearby, or at the very least a driver, tempers Dipu's immediate excitement, but hey, he could always add a few details in the recounting of the incident to his friends. Give them what they too would want to hear: 'Then, as soon as the car started, she was so pleased she hugged me spontaneously, even though her parents were standing nearby, and I could tell, if they hadn't been around, she wanted to do a lot more, just as I did . . .'
In any case, if he helps this girl and her family, she'll certainly owe him a selfie to drink and tell stories and spin fantasies over. God, he hopes he'll know the right thing to do, or the right person to call. First, of course, he'd try Anilda . . .
So convinced is Dipu of the scenario he has constructed in his mind that his first words to the girl, even before she has spoken, are, 'Where's your car? Let's take a look.' Despite knowing better, that nothing exciting is likely to happen, Dipu cannot help his heart thudding slightly. He has seen enough to note that she is attractive.
The girl doesn't immediately turn around to lead him to the road. As he draws closer, Dipu has a moment to wonder why she is standing there without her torch on.
'You go first,' she says in accented Bengali,which is a minor relief to Dipu. Clearly a non-Bengali, perhaps a Hindi speaker, which he can handle far better than if she'd spoken only English.
But his friendly enquiry, 'Where are you coming from?', uttered seconds later, turns out to be the last thing Dipu will ever say. Just after he has passed her, the girl brings down a large rock on the back of his head, and finishes the job with three more blows once he's on the ground. He's still wearing the big plastic sack fashioned into a backpack in which he carries his wares.
The girl picks up Dipu's phone and uses the torch to find her way to the road, where indeed a car is waiting for her. A driver appears moments later: he was checking to make sure Dipu is dead, having filmed the killing from behind a tree. He is also carrying the murder weapon, which he deposits in the boot. The car starts perfectly and they leave, the girl in the back seat, heading for the highway just beyond the turn-off to the railway station. Once they're on it, Dipu's killer, who is fifteen as well as a native Hindi speaker from Calcutta — although he will never know how many of his guesses were right — switches off Dipu's phone, wipes it with a cloth, lowers her window and hurls it into the dark.