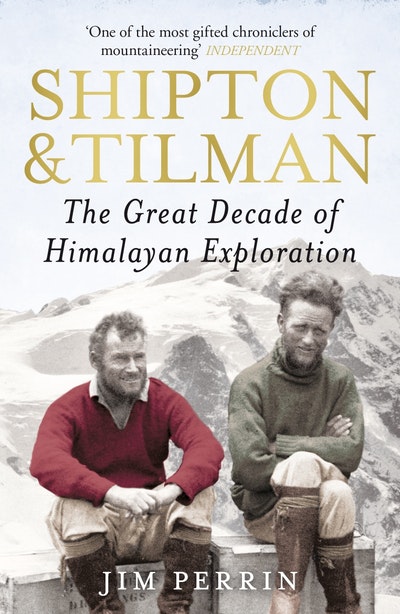 Published:

7 February 2013

ISBN:

9781409021407

Imprint:

Cornerstone Digital

Format:

EBook

Pages:

448
Shipton and Tilman
---
---
---
The award-winning author of The Villain tells the extraordinary story of two British mountaineers who single-handedly mapped out much of the Himalayas - including Everest - and the mountains of Africa.
Using unpublished diaries, Jim Perrin, the acclaimed author of The Villain and Menlove, tells the story of the greatest exploring partnership in British history. In the 1930s Tilman and the younger Shipton pioneered many routes in Africa and the Himalayas and found the key to unlocking Everest. They crossed Africa by bicycle, explored China with Spender and Auden, journeyed down the Oxus River to its source and, with no support, opened up much of the Nepalese Himalaya. In the words of Jim Perrin, 'The journeys of discovery undertaken through two decades by this pair of venturesome ragamuffins are unparallelled in the annals of mountain exploration.'
Jim Perrin writes of his source-material: 'These unpublished diaries, journals, and extensive correspondence have not previously been used to present a portrait of the most productive friendship in the history of mountain exploration. What they reveal is, in Shipton's phrase, "a random harvest of delight" gathered by two uniquely bold and engaging characters from the great mountain ranges of the world during the golden era of their first western exploration. Between geographical excitement, the nature of arduous travel in difficult and uncharted terrain throughout a lost epoch, and the quirkiest and most stimulating of friendships, the theme is a gift, and one that has long been waiting for adequate treatment'.
Published:

7 February 2013

ISBN:

9781409021407

Imprint:

Cornerstone Digital

Format:

EBook

Pages:

448
Praise for Shipton and Tilman
Required reading

The Alpine Journal
This is witty, literate, erudite and committed writing, and I'll be surprised if this anniversary year sees a better mountaineering book.

Geographical Magazine
destined to become a classic in the genre of mountaineering literature

Bernadette McDonald, Himalayan Journal
A fascinating portrait of a friendship that pushed the boundaries of knowledge and endeavour

Sunday Times
Gives several new insights into the lives of these two great men and additionally shows a number of previously unpublished photos, maps and etchings of Tilman and Shipton.

CLIMBER Magazine
Jim Perrin takes us over peaks and glaciers as he recounts Shipton and Tilman's exploits during a time when exploring meant travelling to places never before mapped by man. A humbling, gripping read.

Compass Magazine
The author's great strength is his knowledge of climbing, which gives him an insight into the psychology and practice of mountain exploration

Guardian
This comprehensive and important book, the result of 30 years of research, deserves to be read to the end. It gets better and funnier, as it progresses and it leaves even those such as me, for whom mountaineering has always been something of a mystery, beginning to understand and respect what drives true climbers

Country Life