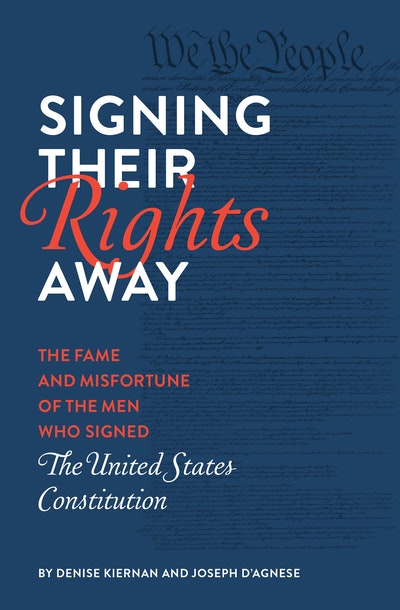 Published:

30 April 2019

ISBN:

9781683691273

Imprint:

Quirk Books

Format:

Paperback

Pages:

304

RRP:

$30.00
Signing Their Rights Away
---
---
With their book Signing Their Lives Away, Denise Kiernan and Joseph D'Agnese introduced readers to the 56 statesmen (and occasional scoundrels!) who signed the Declaration of Independence. Now they've turned their attention to the 39 men who met in the summer of 1787 and put their names to the U.S. Constitution.
An entertaining and essential collection of stories about the surprising and strange fates of the thirty-nine statesmen who created the U.S. Constitution.
Remember when our elected officials knew how to compromise? Here are short, irreverent, fun, and fact-filled biographies of the 39 men who set aside their differences and signed their names to the U.S. Constitution—the oldest written constitution of any nation in the world. You'll meet:
• The Signer Who Believed in Aliens
• The Signer Who Was Shot in the Stomach
• The Signer Who Went Bankrupt
• The Peg-Legged Signer
• And many more colorful colonists!
Complete with portraits of every signatory, Signing Their Rights Away provides an entertaining and enlightening narrative for students, history buffs, politicos, and Hamilton fans alike.
Published:

30 April 2019

ISBN:

9781683691273

Imprint:

Quirk Books

Format:

Paperback

Pages:

304

RRP:

$30.00
Praise for Signing Their Rights Away
"This is both educational and entertaining."—Booklist "Kiernan and D'Agnese, who also wrote Signing their Lives Away, have provided another volume that should appeal to all political and history buffs."—McClatchy Newspapers "This little book is entertaining, easy to read, and above all, informative. It's a brilliant piece of work and a must-have for any history-buff's library..."—PoliticusUSA "An extraordinarily fascinating study of America's lesser-known founding fathers alongside the more well-known ones, Signing Their Rights Away is a welcome and enthusiastically recommended contribution to public and college library shelves."—Midwest Book Review (Reviewer's Choice) "It's no secret that I love reading history and occasionally a book comes along that provides an unusual insight beyond the standard telling of a given event. Signing Their Rights Away....is a truly fascinating story that puts their achievement in perspective."—Bookviews "Kiernan and D'Agnese make both this period and the men who pulled off this incredible achievement exciting and entertaining...This is exceptional historical reporting that is informative, enlightening, and accessible. Anyone with even a remote interest in our rich national history should purchase this highly recommended book."—Larry Cox, King Features Syndicate "[The authors]...maintain a refreshing reverence for the Constitution itself. Rather than ask readers to believe that an 'assembly of demigods' (Jefferson's words) wrote the Constitution, Ms. Kiernan and Mr. D'Agnese challenge the notion that the group that crafted this document of enduring genius was uniquely brilliant or visionary. If this raises the question of how exactly the miracle was accomplished, it should at least give readers some hope for our own seemingly uninspired political era." —The Wall Street Journal "Entertainingly written."—School Library Journal, starred review