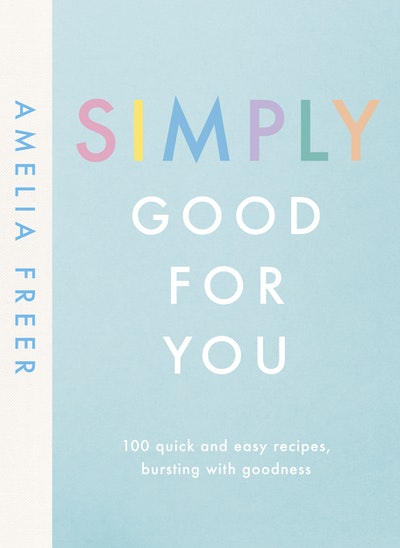 Published:

7 January 2020

ISBN:

9780241414682

Imprint:

Michael Joseph

Format:

Hardback

Pages:

288

RRP:

$50.00
Simply Good For You
100 quick and easy recipes, bursting with goodness
---
---
Nutritionist to the stars, Amelia Freer, shows you how to build and maintain a healthy lifestyle using simple ingredients and recipes

Everday food can be fast, easy, delicious and nourishing, so keep it simple with Amelia.
Simplicity is vital in our increasingly hectic world. And never more so than in the kitchen, where our quest for nutritional and culinary perfection has added layers of stress and anxiety to an otherwise simple pleasure - good, wholesome, home cooking.
In Simply Good For You, Amelia Freer, one of the UK's leading Nutritional Therapists and number one Sunday Times bestselling author of Nourish & Glow: The 10-Day Plan, Eat. Nourish. Glow and Cook. Nourish. Glow, shares 100 quick and tasty recipes straight from her own family kitchen to inspire and encourage you into yours.
- Begin your day with a wholefood chocolate or berry smoothie, packed with protein and essential nutrients to nourish and keep you feeling full until lunch.
- Make one of Amelia's filling 'Instant Soups', no cooking required. Creamy watercress & avocado or tomato, basil & cannellini bean.
- Feed hungry mouths fast with quick Fishcakes or try one of her many 'hero toppings' to turn a slice of toast or baked potato into a complete and balanced meal.
- For dinner, indulge in great flavours without fuss with Za'atar Chicken, Aubergine and Squash Traybake, or a game-changing roasted salad.
- Enjoy something sweet like her warm, gooey courgette brownies or citrus spiced plums.
This is unashamedly easy cooking for real life while still providing balanced nourishment and exciting flavours. Because you don't have to compromise between taste, ease and health
if you follow Amelia's quick and easy recipes, and refreshingly common sense advice, in Simply Good For You. Now we can all achieve quick, affordable nutritious food - that crucially, still tastes great.
This book is written for those too busy to follow complicated recipes with elaborate lists of ingredients; for the cook lacking in confidence who wants to eat well; for the foodies who just want to try something simple and healthy and for families who need good food fast. Most of all, it's written to be realistic on any night of the week.
So, eat for pleasure, eat for your health and eat fast with Amelia's, Simply Good For You.
Published:

7 January 2020

ISBN:

9780241414682

Imprint:

Michael Joseph

Format:

Hardback

Pages:

288

RRP:

$50.00
Praise for Simply Good For You
The nutritionist who has helped numerous celebrities shape up

Daily Mail
Amelia Freer has taught me so much about food...[you] have to fuel your body correctly

Victoria Beckham
Amelia Freer has helped me lose over a stone in two week

Sam Smith
Focused on nutritious fare, whatever your dietary requirements. A total crowd-pleaser

Talktalk
Eating what's good for you doesn't have to be complicated, as these delicious recipes demonstrate

Sainsbury's Magazine
Praise for Amelia Freer:

:
Quick and easy recipes that hit the right nutritional spot

Sunday Telegraph
Superstar nutritionist Amelia Freer's fourth book contains 100 light and colourful recipes from Lentil and Lemon Chicken Salad to Vegetable & Feta Fritters and Prawn Skewers with Herbed Broccoli Rice. Tasty stuff

Metro
Resolved to eat more healthily? Nutritional therapist Amelia Freer's delicious, easy recipes are the answer

Saga Magazine
100 recipes that have speed, ease, affordability and balanced nourishment as their watchwords

Waitrose Weekend
Unashamedly easy cooking for real life while still providing balanced nourishment and exciting flavours

Your Healthy Living
Amelia Freer brings simplicity back into the kitchen with these wholesome recipes. There's something for everyone

Be Kind
Amelia Freer's fad-free diet plans are a hit with the A-list. The recipe collection is a record of everything Freer's been feeding her family for the last two years

Evening Standard
Amelia Freer's new book Simply Good For You holds host to 100 quick and tasty recipes. Your skin will thank you for it

Get the Gloss
Now we can all get Amelia's nutritional expertise in this beautiful cookbook with 100 quick and easy recipes for varied and tempting dishes that really are good for us

Mail Online, The best healthy cookbooks
Crammed with simple, idiot-proof recipes. Does exactly what it says on the tin

Evening Standard
I am all for simple recipes that are easy to follow and her dishes are packed with flavour

Aldo Zilli, Daily Express
A worthy buy. Filled with 100 quick, easy and varied recipes - each one as speedy, simple and nourishing as can be

Luxe
Amelia makes healthy food simple and accessible. You'll be feeling good in more ways than one

Women's Health
A bible of 100 speedy, simple recipes packed with goodness

Appetite Magazine
Bursting with goodness

Natural Health
Amelia Freer really knows what she's talking about when it comes to crafting simple meals that really make a difference to physical health and mental wellbeing. Simply Good for You is a wonderful collection of life-changing recipes

Decor Kitchens & Interiors
Celebrates the joy and the nutrition of food, and features over a hundred delicious, quick and non-nonsense recipes that are as healthy as they are tasty

The Grace Tales
If you don't have the time or inclination to spend hours in the kitchen (who does?) but still want some healthy, wholesome recipes, look no further than Simply Good For You

Healthista
Quick, simple, healthy recipes

Country and Townhouse
Amelia treats good nutrition as a celebration of good food by creating easy recipes you can trust

Healthy Food Guide