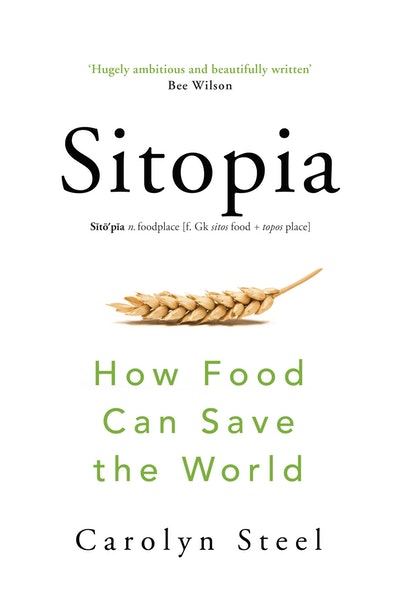 Published:

5 March 2020

ISBN:

9781448190751

Imprint:

Vintage Digital

Format:

EBook

Pages:

384
Sitopia
How Food Can Save the World
---
---
---
This visionary book about food – how it shapes our lives and our world – shows us the way to a good life and a better future
Food, and how we consume it, has defined human life since time immemorial. From our hunter-gatherer ancestors foraging for edible matter through to the enormous appetites of modern cities, food has shaped our bodies, our politics, how we trade and barter, our sprawling cities and our climate.
Whether it's the daily decision of what to eat for breakfast or the ceaseless flow of free-market capitalism, we live in a world organized by food – what Carolyn Steel calls 'sitopia' (sitos, food + topos, place) – but by failing to recognize its salience and true value, we have drifted into a way of life that threatens our planet and ourselves.
Yet food remains a potent tool to address the predicaments and opportunities presented by our urban, digital age. How are we to live healthy and ethical lives in a world where cheap, poorly produced food is the norm? How do we reform the production and distribution of food to avoid irrevocable climate change? What role will mind-blowing technological advances play in this future? And how can food give meaning to our lives and help us live a good life?
Drawing on insights from philosophy, history, architecture, literature, politics and science, and teeming with the real stories of farmers, designers and economists who are remaking our relationship to food, this is a provocative and thought-stirring book that challenges everything we thought we knew about food – whilst pointing the way to a better future.
Published:

5 March 2020

ISBN:

9781448190751

Imprint:

Vintage Digital

Format:

EBook

Pages:

384
A vital call for us to rediscover the way that food binds us to each other and to the natural world, and in doing so find new ways of living

Christopher Kissane, Guardian
Essential reading! A visionary look at how quality food should replace money as the new world currency

Tim Spector
Steel offsets the obviously weighty subject matter with a lightness of touch and twinkling eye for luminous details… an unambiguously essential read

George Reynolds, Daily Telegraph
The beauty of food is that it is so many things at once: necessity and treat, nature and artifice, the subject of science, philosophy, etiquette and art. The book is accordingly multiple in its themes, an all-you-can-eat buffet of thoughts and facts about food...a brave and ambitious book

Observer
No writer asks more interesting questions about food than Carolyn Steel because no one takes more seriously the profound role of food at the heart of human life. Every time I read her or hear her speak, I can almost feel my mind expanding. This hugely ambitious and beautifully written book shows that the way we eat now is at odds with the way we ate for thousands of years. But so far from being pessimistic, Steel suggests that learning to value food again can also point the way to more fulfilling and sustainable ways of living. Sitopia is a book destined to become a modern classic

Bee Wilson
Steel's future society would be one in which we felt in tune with nature and were less addicted to consumerism

Ben Cooke, The Times
Steel's first book, Hungry City, explored how the feeding of cities shaped civilisations over time; with Sitopia she extends her reach. Food shapes our world and the way we live in it. It determines our daily routines, it defines national cultures

Erica Wagner, Financial Times
Following her award-winning Hungry City, Carolyn Steel serves us up a second helping of food for thought with Sitopia, which poses the really big questions about food that we should all be asking ourselves right now. Foodie or not, this philosophical call to arms is essential reading for those who want to save the world, one meal at a time

Allegra McEvedy
Steel brilliantly uses food to demonstrate our ills and their causes. She shows, too, that food, if we value it properly, can heal us… [A] remarkable, prophetic, and desperately urgent book

Charles Foster, Oldie
In this compelling and positively framed book, Steel the author of the influential Hungry City, draws on insights from philosophy, history, architecture, literature, politics and science as well as those working to remake our relationship with food, to show how we might reform its production and distribution to avoid irrevocable climate change

Bookseller
Steel's exhilarating...journey through political, cultural, economic history will agitate sluggish imaginations to see new possibilities for nourishing a loving common life

Nathan Mladin, Tablet