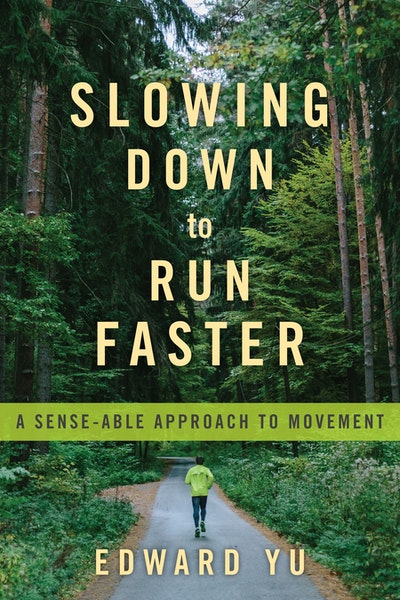 Published:

25 September 2020

ISBN:

9781623174903

Imprint:

North Atlantic

Format:

Paperback

Pages:

328

RRP:

$45.00
Slowing Down to Run Faster
A Sense-able Approach to Movement
---
---
To run faster, better, and more efficiently, you have to learn to run faster, better, and more efficiently. Trainer and former triathlete Edward Yu shows you how to achieve the results you want with a new multidisciplinary approach.
Why is it that trying harder to run faster can become an exercise in nothing more than futility? When the tips, hacks, tricks, and "expert advice" lead to more frustration than improvement, it's time for runners who are looking to take their practice to the next level to seek out a new philosophy and approach.
Despite training harder, running further, and pushing on for longer, the messaging serious runners receive doesn't always lead to the results they want. Drawing from Feldenkrais, Bagua, and Tai chi, Edward Yu--a trainer and former competitive runner and triathlete himself--offers an innovative approach to the art of running. Power, speed, coordination, and agility are all key components to achieving maximum performance, but in myopically neglecting the sense and sense-abilities of our bodies--how they move, what they feel like--runners have a tendency to over-rely on biomechanics, reductionism, and grit. Centering the art of running as an explorative, creative, and somatic-based practice, Yu shows runners how they can be better and run faster through sense and systematic, playful movement.
Slowing Down to Run Faster highlights our over-reliance on and misuse of biomechanics; underscores that running is a sensorimotor skill that can be fundamentally and profoundly improved through piecemeal and meticulous exploration; describes the pitfalls of imitation and "quick fixes" instead of sensing from their own bodies; uncovers harmful reductionism that underlies most popular training approaches; and contradicts popular assumptions about how to most effectively improve efficiency. With bold creativity, insight, and humor, Yu illuminates a path forward for runners ready to try a new way.
Published:

25 September 2020

ISBN:

9781623174903

Imprint:

North Atlantic

Format:

Paperback

Pages:

328

RRP:

$45.00