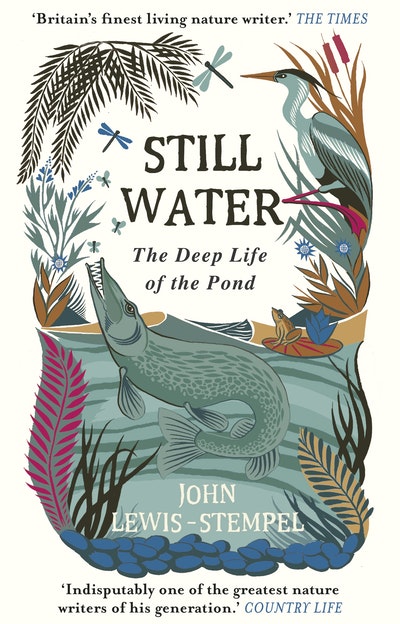 Published:

14 March 2019

ISBN:

9781473542525

Imprint:

Transworld Digital

Format:

EBook

Pages:

304
Still Water
The Deep Life of the Pond
---
---
---
The final book in the exquisite quartet from Britain's bestselling natural history writer - and 'finest living nature writer' The Times - explores a year in the life of a farm pond.
The Times and Irish Independent: BEST NATURE BOOKS OF THE YEAR
Great nature writing needs to be informative, detailed, accurate, lyrical, and, above all, to instil a sense of gratitude and wonder. John Lewis-Stempel succeeds in all these things triumphantly. From amorous toads to the eye-popping mating habits of water boatmen, a magical celebration of pond life by one of our finest, most evocative nature writers.' Daily Mail
Ponds: small bodies of water, both naturally formed and artificial, home to wondrous, multitudinous life-forms. Ponds define our childhood: frogspawn, goldfish, feeding the ducks, but also our village life, our farms, our landscape. And they are multi-layered - from carp circling the bottom to water boatmen, coot, and birds dragonflies overhead. In Still Water, John immerses himself in the murky depths, both literarily and figuratively, to explore the still waters of the British countryside through each month of the year.
Published:

14 March 2019

ISBN:

9781473542525

Imprint:

Transworld Digital

Format:

EBook

Pages:

304
Britain's finest living nature writer

The Times
Lewis-Stempel is a superb observer. he also has an original turn of phrase; colourful, but not overwrought.by the end he has shown with some flair that in the pond there are wondrous, multitudinous life forms. And curious cruelties

Robbie Millen, The Times
Great nature writing needs to be informative, detailed, accurate, lyrical, and, above all, to instil a sense of gratitude and wonder. John Lewis-Stempel succeeds in all these things triumphantly. From amorous toads to the eye-popping mating habits of water boatmen, a magical celebration of pond life by one of our finest, most evocative nature writers.

Christopher Hart, Daily Mail
Lewis-Stempel sees and hears things others will never see and hear, and he can write about them as no one else can.

Daily Mail: Summer Reads
One of England's most noted nature writers ... Still Water is a scintillating mirror of ourselves.

Derek Turner, BOOK OF THE WEEK: The Lady
The master of nature-writing takes readers through the changing life of a pond season by season.

Radio Times
UK farmer and nature writer John Lewis-Stempel has won much acclaim for his perfectly observed reflections on pastoral habitats and their residents. Still Water explores "the deep life" of ponds with characteristic wit and beauty from the two-time Wainwright Prize winner.

Hilary A White, Irish Independent
A beautifully written celebration of one of the natural world's most fertile founts of biodiversity and artistic inspiration ... A call to arms.

BEST NATURE BOOKS OF THE YEAR, 2019, The Times
'Lewis-Stempel vividly evokes a world of pond skaters and whirligig beetles, and - the most astonishing - dragonflies. Like so much in nature, the humble pond is a place for both simple pleasures and profound reflections.'

Daily Mail