Try this recipe from Jamie Oliver's Super Food Family Classics.
Tuna gives us a hit of vitamin D, which in turn helps our bodies to absorb calcium from the feta cheese and natural yoghurt, and they're what makes this salad creamy and delicious.
 
super tuna pasta salad feta & crispy cayenne crumbs
Serves: 4
Total time: 25 minutes
Ingredients 
1 small red onion
2 lemons
250g dried pasta shells
350g broccoli
1 slice of wholemeal bread (50g)
½ teaspoon cayenne pepper
1 cucumber
½ a bunch of fresh chives or dill (15g)
4 tablespoons natural yoghurt
2 x 120g tins of tuna in spring water, from sustainable sources
50g feta cheese
Method
Peel and finely chop the onion, place in a large bowl with a pinch of sea salt and black pepper, then squeeze over all the lemon juice and put aside.
Cook the pasta in a large pan of boiling salted water according to the packet instructions. Chop the broccoli florets off the stalk. Cut the woody end off the stalk, halve the stalk lengthways, then chuck it in with the pasta to cook through. Chop the florets into small bite-sized chunks, adding them to the water for the last minute only, just to take the rawness away.
Meanwhile, whiz the bread and cayenne into crumbs in a food processor, then toast in a dry non-stick frying pan on a medium heat until golden and crispy, tossing regularly. Peel the cucumber, halve lengthways and scrape out the watery core, then finely slice. Finely chop the herbs. Mix the yoghurt into the lemony onion, then add the cucumber and herbs. Drain the pasta and broccoli, finely chop the broccoli stalk, and add it all to the bowl of dressing. Drain and flake in the tuna, toss together well, then taste and season to perfection. Divide between your bowls, and serve sprinkled with crumbled feta and the hot crispy crumbs.
 
Calories: 411
Fat: 6.2g
Sat Fat: 2.7g
Protein: 33g
Carbs: 58.9g
Sugar: 8.8g
Salt: 1.5g
Fibre: 6.4g
 
Super Food Family Classics by Jamie Oliver is published by Penguin Random House
Jamie Oliver Enterprises Limited (2016 Super Food Family Classics)
---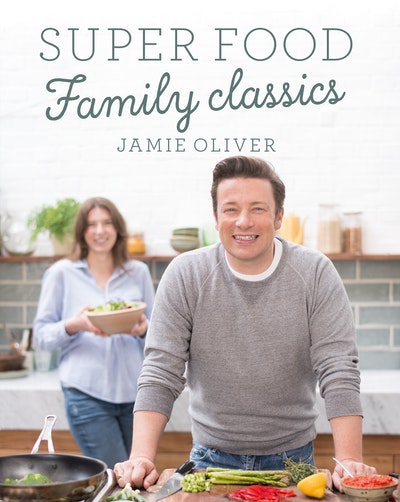 Continues the popular philosophy behind Everyday Super Food, bringing exciting healthy eating to the heart of the home.
Buy now
Buy now
---