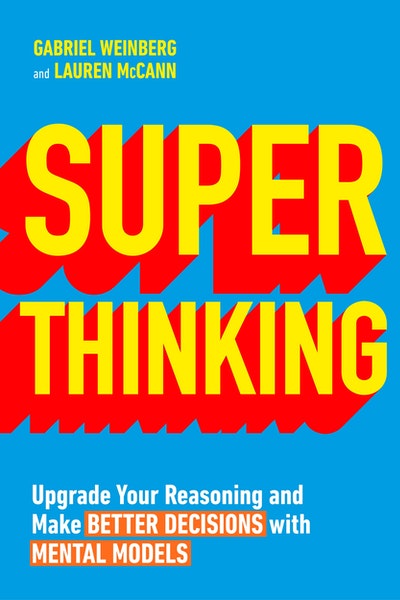 Published:

26 March 2019

ISBN:

9780241336373

Imprint:

Penguin eBooks

Format:

EBook

Pages:

352
Super Thinking
Upgrade Your Reasoning and Make Better Decisions with Mental Models
---
---
---
The busy person's guide to smarter and quicker thinking
You want to make better decisions. You want to be right more of the time-professionally and personally. However, being more right consistently is a hard problem because the world is such a complex, evolving place. How do you navigate this complexity?
Mental models are decision making tools that guide our perception of the world and our behaviour in it. They help us understand life, make decisions and solve problems. The best models help us make intelligent investments, develop ground-breaking technologies and even travel to outer space.
Building on our knowledge of well-known models such as the Bandwagon Effect or Paradigm Shift and introducing us to the lesser known like the Eisenhower Matrix or the Boiling Frog Symbol, this indispensable book distills the most effective mental models into a single, digestible volume. It will make even the most complex models accessible and engaging to enable you to make better, more informed decisions in every part of your life.
Published:

26 March 2019

ISBN:

9780241336373

Imprint:

Penguin eBooks

Format:

EBook

Pages:

352
Praise for Super Thinking
You can't really know anything if you just remember isolated facts. If the facts don't hang together on a latticework of theory, you don't have them in a usable form. You've got to have models in your head

Charlie Munger, investor, vice chairman of Berkshire Hathaway
An intellectual playground that will have your brain doing mental reps and seeing the world differently

Shane Parrish, creator of the Farnam Street blog and host of The Knowledge Project podcast
An invaluable resource for making sense of the world, making good decisions, and placing smart bets. A fast-paced and fun read jam-packed with useful information on every page. I wish I'd had this book ages ago!

Annie Duke, author of Thinking in Bets
Internalizing these mental models will help you understand the world around you. Once you can spot them, you can change your own behavior to avoid common traps, adjust how you interact with people to get better results, and maybe even articulate new mental models of the world that have yet to be discovered

Brian Armstrong, Cofounder & CEO of Coinbase