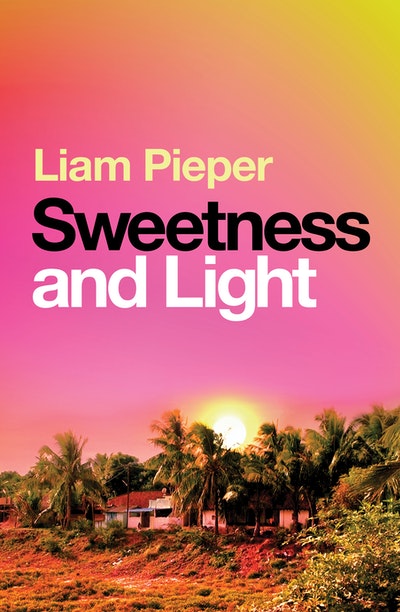 Published:

3 March 2020

ISBN:

9781760890070

Imprint:

Hamish Hamilton Australia

Format:

Trade Paperback

Pages:

336

RRP:

$37.00
Sweetness and Light
---
---
---
An intoxicating, unsettling story of the battle between light and dark, love and lust, morality and corruption
India, monsoon season.
Connor, an Australian expat with a brutal past, spends his time running low-stakes scams on tourists in a sleepy beachside town. Sasha, an American in search of spiritual guidance, heads to an isolated ashram in the hope of mending a broken heart.
When one of Connor's grifts goes horribly wrong, it sets in motion a chain of events that brings the two lost souls together – and as they try to navigate a world of gangsters, gurus and secret agendas, they begin to realise that within the ashram's utopian community, something is deeply, deeply wrong . . .
Racing from the beaches of Goa to the streets of Delhi to the jungles of Tamil Nadu, Sweetness and Light is an intoxicating, unsettling story of the battle between light and dark, love and lust, morality and corruption. This is an explosive and unforgettable novel that confirms Liam Pieper's place as one of Australia's finest, sharpest writers.
Published:

3 March 2020

ISBN:

9781760890070

Imprint:

Hamish Hamilton Australia

Format:

Trade Paperback

Pages:

336

RRP:

$37.00
Video
Unabridged with Liam Pieper
Liam Pieper, whose new book SWEETNESS AND LIGHT is out now, gets in front of the camera for our inaugural episode of Unabridged, a 10-question, rapid fire interview that gives readers an insight into who our authors are and what makes them tick. Find out more about SWEETNESS AND LIGHT https://www.penguin.com.au/books/sweetness-and-light-9781760890070
Video
At home with Liam Pieper
Welcome to the Penguin Long Weekend Literary Festival! Please enjoy Liam Pieper's author talk on his latest novel Sweetness and Light. To purchase a copy, please go to this link https://www.penguin.com.au/books/sweetness-and-light-9781760890070 We'd love to hear your thoughts via #PRHLongWeekend. Liam Pieper is an author and journalist. His first book was a memoir, The Feel-Good Hit of the Year, shortlisted for the National Biography Award and the Ned Kelly Best True Crime award. His second was the Penguin Special Mistakes Were Made, a volume of humorous essays. He was co-recipient of the 2014 M Literary Award, winner of the 2015 Geoff Dean Short Story Prize, the inaugural creative resident of the UNESCO City of Literature of Prague, and the 2018 National Library of Australia Creative Arts Fellow for Australian Writing. His first novel, The Toymaker, received the 2016 Christina Stead Fiction Award from the Fellowship of Australian Writers.