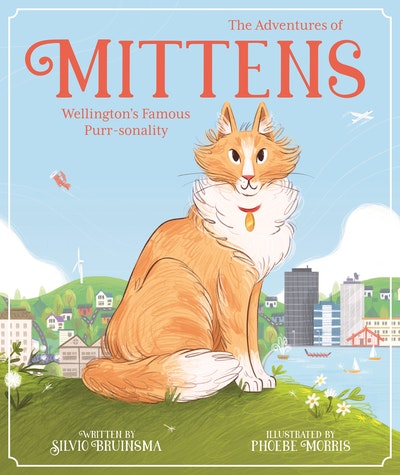 Published:

3 August 2021

ISBN:

9780143775850

Imprint:

Picture Puffin

Format:

Paperback

Pages:

32

RRP:

$19.99
The Adventures of Mittens
Wellington's Famous Purr-sonality
---
---
Meet Mittens, Wellington's world-famous cat-about-town. He has thousands of followers, a hit song, an exhibition of fan art, and with his exploring paws he brings joy to everyone he meets!
Join Mittens, Wellington's pawsome celebrity cat, on his real-life adventures in this feline-fabulous picture book by Silvio Bruinsma and Phoebe Morris.
Have you met Mittens? If not, it's only a matter of time.
Mittens is the most famous cat ever to parade the streets of Wellington with his noble nose and fabulously fluffy tail in the air. Mittens is on a mission to leave no corner of the CBD unexplored, no passerby unsmooched, no business, school or residence uninspected. He naps in shop windows, hails cars, crosses busy roads on the green light and, like any self-respecting cat, he lives for attention - but only when he's in the mood for it.
The Turkish Angora caught the the attention of the world when, just by being his inquisitive and charming self, his antics cheered up Wellingtonians during the 2020 lockdown. Wellington's mayor awarded Mittens a Key to the City and HRF (His Royal Floofiness) was even nominated for New Zealander of the Year!
Read all about Mittens' adventures around the capital city in this delightful rhyming story by Silvio Bruinsma, Mittens's guardian, with exuberant illustrations by the acclaimed illustrator and hippest of Wellingtonians, Phoebe Morris.
Published:

3 August 2021

ISBN:

9780143775850

Imprint:

Picture Puffin

Format:

Paperback

Pages:

32

RRP:

$19.99
Praise for The Adventures of Mittens
Written by Mitten's hooman Silvio Bruinsma, and illustrated by the always amazing Phoebe Morris, it tells the tale of a day in the life of Mittens as he wanders around Wellington, spreading, literally, the warmest of warm fuzzies. It's a simple, sweet rhyming story that flows effortlessly. I really appreciated the quality feel of this publication, the exceptionally rendered illustrations take you on a lovely mini tour of Wellington CBD and are warm and vibrant thanks to Wellingtonian Phoebe's endearing style. The book is a good match for junior readers, especially animal lovers. It would be perfect for a read aloud too. It captures the power of how animals can benefit wellbeing and also has a page at the end of the book further explaining his home life and social impact. Highly recommended!

Mini Prasad, Magpies
Wellington's favourite feline-focused picture book, entrancing children and adults both.

Unity Books Bestseller Chart, The Spinoff
The book is fun to read because the words rhyme and the pictures are really big, bright and happy. I also like the feel of the paper. I also like that he has been given the name of HRF (His Royal Floofiness). I'd like to meet Mittens.

BRIDIE, 7, Khandallah School, Wellington, Upstart Magazine
Anyone who's ever had anything to do with a cat knows they live by their own rules. So it is with Mittens, who has made Wellington's entire CBD his own personal stomping ground and won a special place in the hearts of those who have seen the Turkish Angora napping in a shop window, drinking out of the Cuba Street Bucket Fountain or window-shopping...Lovingly written by Mittens' very own human and delightfully illustrated by Phoebe Morris, this is bright, bold and with enough personality to match Mittens' winning one.

Dionne Christian and Zoe Gadd, Kete