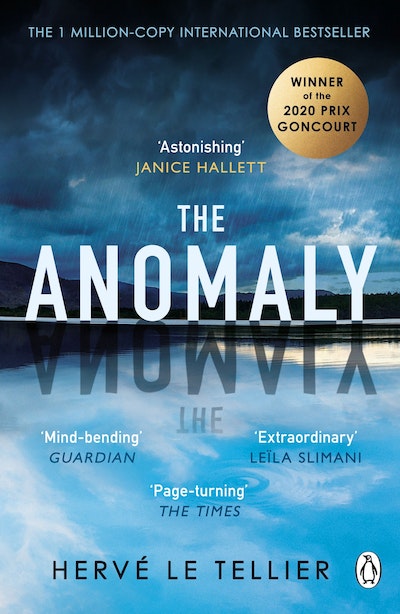 Published:

29 November 2022

ISBN:

9781405950800

Imprint:

Michael Joseph

Format:

Paperback

Pages:

336

RRP:

$26.00
The Anomaly
The mind-bending thriller that has sold 1 million copies
---
---
---
If there are two of you, and just one life - who gets to live it? Discover the international million-copy bestseller and profoundly brilliant 2020 Prix Goncourt winner
When flight Air France 006 enters a terrifying storm, the plane - inexplicably - duplicates. For every passenger on board, there are now two.
Just one thing sets them apart. One plane leaves the storm in March. The other doesn't land until June. For world leaders, the emergence of the June flight raises serious alarms. No science, faith, or protocol can explain this unprecedented event.
But for the passengers, a bigger question is at stake. What happens to them, now that their life is shared?
And as the doubles prepare to meet, only one thing is certain: life as they know it, will never be the same.
Published:

29 November 2022

ISBN:

9781405950800

Imprint:

Michael Joseph

Format:

Paperback

Pages:

336

RRP:

$26.00
It's dizzying, exhilarating, brilliant!

Nicholas Carreau, Europe 1
Hervé le Tellier's new novel is an exquisite, insane surprise. Quite simply astounding

Le Journal du Dimanche
A brilliant, extremely inventive book. Like an astounding screenplay for an American blockbuster, written by a Frenchman who is having fun with it

Olivia de Lamberterie, France 2
Hervé le Tellier has written an impossible novel. It's a thriller but also a fantasy. A choral novel, which is also surrealist. An adventure, a page turner, a bestseller, but also an experimental, highly literary work

Frederic Beigbeder, Le Figaro Magazine
How would society respond to the inexplicable? This is the question the author tries, with intelligence, elegance and humour, to answer. Hervé le Tellier has written a frank and gripping novel with complex, moving characters. You won't be able to put it down!

Claire Bitaudeau, Librairie Millepages
The situations are mad, but the questions they raise, far less so. Such is the profundity of this astonishing book: it makes light of itself, lending an air of fantasy to the fates of its characters, while Hervé le Tellier holds a mirror up before us

Le Figaro
Le Tellier, throughout this flight, deposits on the tarmac his stunned reader, ready to applaud

L'Opinion
Le Tellier is a masterful writer and his staggering story verges on thriller and science fiction

Version Femina
The novel is a tour de force which both dives into the personal lives of several characters and at the same time gives a group perspective on an international event which verges on science fiction. The taut rhythm of the investigation keeps the reader on tenterhooks

Toute La Culture
Somewhere between fable and science fiction, it's a fascinating novel

La Depeche du Midi
The novel weaves a surprising story out of several narrative threads which give Hervé le Tellier the opportunity to touch on as many literary genres as he does themes, in a biting and often funny critique of the start of the 21st century

En Attendant Nadeau
A uniquely, gloriously, provocatively French contribution to the sci-fi thriller genre - it will keep you guessing, get your heart pounding, and make you feel and wonder and - above all - think

Sam J. Miller, Nebula-Award winning author of Blackfish City
The Anomaly is a brilliant balancing act of a novel, a fantastic rush and ride that works on myriad levels, at various depths, and in a multitude of styles. It's a precise and erudite literary treat, a comedic sociopolitical-religious skewering of these contemporary times, a philosophical-scientific-mathematical dive into the puzzles of possibility, space, and time, and an ingenious thought experiment that lends itself easily to ad infinitum analysis and dissection. It's also entirely grounded in human nature. Le Tellier's pointillistic characters are, like all of us, buffeted by desires, seeking love, striving, aging, making good and bad decisions, choosing the right or wrong paths, believing they know and understand themselves, utterly trusting in free will. Highly intelligent, ironic without cheap cynicism, The Anomaly is an immensely fun novel, an immersive experience that leaves the reader analysing everything anew

Cherise Wolas, author of The Resurrection of Joan Ashby and The Family Tabor
In The Anomaly, Hervé Le Tellier has delivered a volatile and compelling thriller that has you hurtling toward the mystery at the heart of the novel from page one. The Anomaly is a gripping and moving blend of Blake Crouch's Dark Matter, the television show Lost, with a bit of The Philadelphia Experiment thrown in for good measure. I couldn't put it down.

Terry Miles, author of Rabbits
An extraordinary, fast-paced, disturbing novel, perfect for these extraordinary, fast-paced, disturbing times. Think Steven Spielberg meets Umberto Eco with a side order of black humour, generously sprinkled with genuine emotion

Sam Taylor, author of The Island At The End Of The World
An extraordinary mix of existential thriller and speculative fiction. Questions of philosophy, mathematics and astrophysics bend this novel far from the typical mold, and Le Tellier's characters must confront the deepest questions of existence. This thought-provoking literary work deserves a wide readership

Publishers Weekly
The Anomaly is one and ten novels at once, brilliantly connecting every mystery of intimacy with the great mystery of humanity

Michel Bussi
Excellent...at once zeitgeisty, intelligent, and entertaining

Charlie Hebdo
An addictive page-turner, The Anomaly flirts with thriller and science fiction, and mirrors the best televisions series in its very effective orchestration of suspense. Filled with fascination existential and metaphysical questions, this is an effective, funny and discreetly melancholy novel

Le Monde
I was completely blown away by this genre-defying masterpiece. Part thriller, part philosophical rumination on what makes us human, and with a dash of theoretical physics; this is an absolute must-read

Sarah Bonner, author of Her Perfect Twin
Exhilarating, thought-provoking, funny, and devastating. The Anomaly is unlike anything else I've read this year

Laure Van Rensburg, author of Nobody But Us
Buckle your seatbelts, as Hervé le Tellier takes you on an extraordinary ride. You won't want to put this book down until the very last page!

Leïla Slimani, author of Lullaby, winner of the 2016 Prix Goncourt
A witty, erudite novel, teeming and minutely detailed, a treat throughout, with-at its centre-that head-spinning conceit that will leave you deep in thought for a long time after reading the final page. It is rare to have so much fun with something so intelligent

Nicolas Mathieu, author of And Their Children After Them, winner of the 2018 Prix Goncourt
Wow, what an exciting, original blend of theory and heart. It's astonishing. I can't describe it, except to say: read it, and prepare for a whole new perspective on your own existence - and plane travel

Janice Hallett, Sunday Times bestselling author of The Appeal
It's a phenomenal read. I loved how it tied together. So clever yet also so gripping

Harriet Tyce, Sunday Times bestselling author of Blood Orange
A flight of imagination you'll be rolling over in your mind long after deplaning

Washington Post
A French literary phenomenon...The Anomaly captured a moment when the pandemic stopped the world and existence veered toward the virtual. It swerves between various genres - science fiction, a thriller, love stories, an introspective work - without being confined by any of them

New York Times
Manifest meets Lost in The Anomaly...a puzzle box of a sci-fi thriller

PopSugar
Humorous, captivating, thoughtful - existentialism has never been so thrilling

Kirkus Reviews
A striking thought experiment...Le Tellier delivers some sharp social comedy here. But behind the comedy are more profound psychological questions about individual freedom. The Anomaly is priceless

Times Literary Supplement
A speculative thriller from literary powerhouse Hervé le Tellier. Perfect for those who like their realities unstable

Crime Reads
Fantastic...The Anomaly wears its name well: it's rare in France that a work combines the best of American TV series with an impeccable mastery of the French psychological novel

Elle France
A mind-bending, prize-winning speculative thriller

Guardian
Mind-bending

The Times
Intriguing

SFX
The buzz around this Goncourt prize-winner is richly deserved, and just when you think you've worked it out . . . well, you probably haven't

Daily Mail
An intoxicating mix of the magical and life's big questions

Financial Times
Written with such page-turning conviction that readers are guaranteed a thoroughly enjoyable intellectual workout

The Times
Amusing, affecting, effervescent

Guardian
A good idea, elegantly executed

Daily Telegraph
Effervescent playfulness . . . Hilariously deadpan

Guardian
Dizzying, compelling

RTE Guide
It is intricate, ingenious, propulsive - but it is also affecting

Scotsman
The year has only just begun but I will be surprised if I read something as astonishing as The Anomaly in the next 12 months

Scotsman
A really intriguing novel

John Boyne
A delight. Intricate, ingenious, propulsive - but also affecting, with numerous moments that are terribly poignant along with its puzzles and winks

i
The Anomaly is thought-provoking and philosophical yet thrilling too, with superbly drawn characters, a dynamic plot, and a fascinating question at its heart - what if the entire world as we know it is a lie?

Andrew Hunter Murray
A master of one-touch characterisation. Le Tellier's genius is in making the unimaginable feel authentic

Metro
Mind-bending. Herve Le Tellier's emotional and intellectual rollercoaster is well worth the ride

The Times Literary Supplement
This high-concept SF thriller is enormous fun: a French prize winner spiced with Oulipian theory and literary in-jokes, riddling away at existential questions in the guise of a breakneck page-turner'

Guardian, 'Summer Reading: The 50 Hottest New Books'
A funny, smart thriller that surfs the Zeitgeist with typical elan

Adrian McKinty, bestselling author of <i>The Chain</i>
A delightfully confounding thriller . . . Le Tellier's prose is beautifully efficient and capable of quiet devastation

London Review of Books