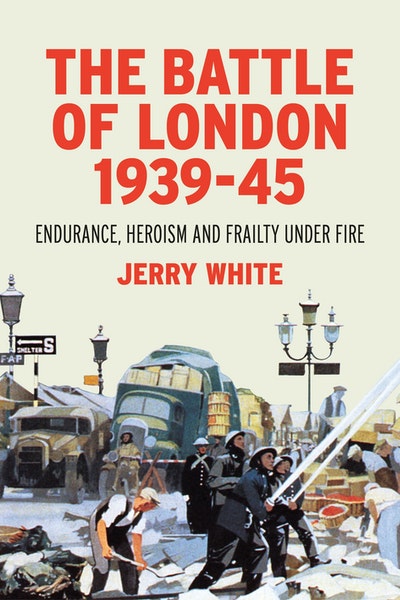 Published:

19 November 2021

ISBN:

9781847923011

Imprint:

Bodley Head

Format:

Hardback

Pages:

400

RRP:

$90.00
The Battle of London 1939-45
Endurance, Heroism and Frailty Under Fire
---
---
---
The definitive, meticulously researched social history of London in the Second World War, which transformed the capital, and life within it, beyond recognition.
London and the nation were at war with Germany from 3 September 1939 to 8 May 1945. These were almost six years of intermittent anxiety, disruption, deprivation and sacrifice. While the moments of agony were not continuous, for eight months from September 1940 to May 1941, and again for much of the period from December 1943 to March 1945, London was under sustained, sometimes unrelenting, aerial bombardment by night and by day. By the end of the war, one in two of the nation's civilian war dead had been Londoners, nearly 30,000 people. Throughout the war, London was the nation's front line, and the capital and its people bore the brunt of the nation's suffering.
No Londoner would ever forget the V-rockets, the 'weapons of retaliation' fired onto the capital by the Germans even as they were losing the war. Yet if the bombing defined the era for those who lived through it, the months of terror were outnumbered by those spent knitting together the skein of daily life at work, in the home, on the allotment, in the cinema or theatre and, not least, standing in those interminable queues for daily necessities that were such a feature of London's war. Much has been written about 'the Myth of the Blitz', but Jerry White has unearthed what actually happened during those years, getting close up to the daily lives of ordinary people, telling the story through their own voices.
London was a city with a wartime population of some 6½ million people. Some were heroes, some were villains, and some were both at different moments in time. Most fell between these extremes and just made do as best they could. None, though, could escape the drama which beset them. For every Londoner who stayed in the capital it was the time of their lives: 'I would rather have been in London under siege between 1940 and 1945 than anywhere else,' recalled the literary critic John Lehmann some years later, 'except perhaps Troy in the time that Homer celebrated.'
Published:

19 November 2021

ISBN:

9781847923011

Imprint:

Bodley Head

Format:

Hardback

Pages:

400

RRP:

$90.00