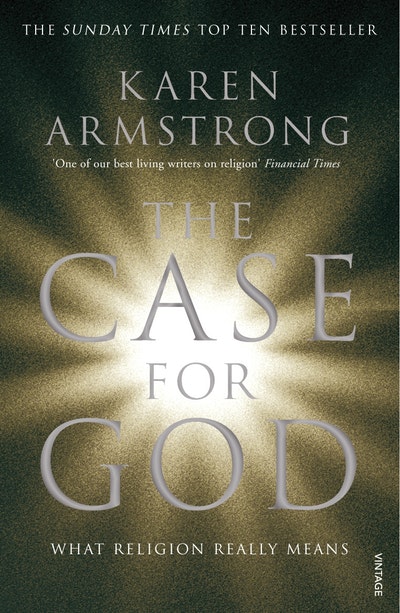 Published:

1 September 2010

ISBN:

9780099524038

Imprint:

Vintage

Format:

Paperback

Pages:

384

RRP:

$29.99
The Case for God
What religion really means
---
---
---
An essential book for our times: Karen Armstrong answers bestselling atheists Richard Dawkins and Christopher Hitchens and argues that faith still has a fundamental role in the modern world.
Now available in paperback
The enormous popularity of books by Richard Dawkins, Christopher Hitchens, Sam Harris and others shows that despite the religious revival that is under way in many parts of the world, there is widespread confusion about the nature of religious truth. For the first time in history, a significantly large number of people want nothing to do with God. In the past people went to great lengths to experience a sacred reality that they called God, Brahman, Nirvana or Dao; indeed religion could be said to be the distinguishing characteristic of homo sapiens. But now militant atheists preach a gospel of godlessness with the zeal of Christian missionaries in the age of faith and find an eager audience. What has happened?
* Karen Armstrong argues that historically atheism has rarely been a denial of the sacred itself but has nearly always rejected a particular conception of God. During the modern period, the Christians of the West developed a theology that was radically different from that of the
Published:

1 September 2010

ISBN:

9780099524038

Imprint:

Vintage

Format:

Paperback

Pages:

384

RRP:

$29.99
Praise for The Case for God
One of our best living writers on religion....prodigiously sourced, passionately written

Financial Times
A journey through religion that helps us to rescue what remains wise from so much that to many in Britain today no longer seems true.... Armstrong is one of the the handful of wise and supremely intelligent commentators on religion

Alain de Botton, The Observer
A tour de force of learning. A hefty history of theology, philosophy and science, and how they converge, it knocks Dawkins and Hitchens into an intellectual cocked hat...Armstrong rejoices in the unknowableness of life and searches, logically enough for meaning therein

Sunday Herald
Forget Richard Dawkins - just read it with an open mind

Jeanette Winterson
It isn't an easy read - why should it be? - but she is wonderfully clear and insightful - and not out to convert anyone

Daily Mail
Impressive...great eloquence

Scotsman
This is a stunned appreciation of an 'otherness' beyond the reach of language, and for Armstrong, constitutes the heart of every religion

New Statesmen
This is smart work

Telegraph
Armstrong makes a wise and passionate case for a God of myth rather than reason, of wisdom rather than knowledge

Steven Cave, Financial Times, Politics & religion books of the year
Armstrong's God is far from the pop icon of the Evangelicals and closer to the "unseen power" of Shelley.

Independent
Learned and passionately argued

Telegraph
Armstrong is excellent as a historian and explicator of religions.

Colin Waters, Sunday Herald
Cogent and lucid historically based reply to Dawkins and Hitchens'. 'As she reminds us with this excellent study, religion was the first philosophical system.

Lesley McDowell, Herald