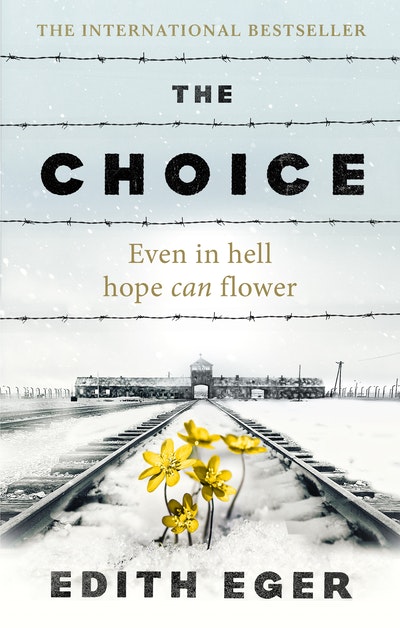 Published:

20 August 2018

ISBN:

9781846045127

Imprint:

Rider

Format:

Paperback

Pages:

384

RRP:

$28.00
The Choice
---
---
---
The incredible, bestselling memoir of survival, hope and empowerment
THE AWARD-WINNING SUNDAY TIMES AND NEW YORK TIMES BESTSELLER
Even in hell, hope can flower
'I'll be forever changed by her story' - Oprah Winfrey
'Extraordinary . will stick with you long after you read it' - Bill Gates
'One of those rare and eternal stories you don't want to end' - Desmond Tutu
'A masterpiece of holocaust literature. Her memoir, like her life, is extraordinary, harrowing and inspiring in equal measure' - The Times Literary Supplement
'I can't imagine a more important message for modern times. Eger's book is a triumph' - The New York Times
In 1944, sixteen-year-old ballerina Edith Eger was sent to Auschwitz. Separated from her parents on arrival, she endures unimaginable experiences, including being made to dance for the infamous Josef Mengele. When the camp is finally liberated, she is pulled from a pile of bodies, barely alive.
The horrors of the Holocaust didn't break Edith. In fact, they helped her learn to live again with a life-affirming strength and a truly remarkable resilience.
The Choice is her unforgettable story. It shows that hope can flower in the most unlikely places.
Published:

20 August 2018

ISBN:

9781846045127

Imprint:

Rider

Format:

Paperback

Pages:

384

RRP:

$28.00
I can't imagine a more important message for modern times. Eger's book is a triumph, and should be read by all who care about both their inner freedom and the future of humanity

New York Times Book review
Extraordinary….will stick with you long after you read it

Bill Gates
The Choice is a gift to humanity. One of those rare and eternal stories that you don't want to end and that leaves you forever changed. Dr. Eger's life reveals our capacity to transcend even the greatest of horrors and to use that suffering for the benefit of others. She has found true freedom and forgiveness and shows us how we can as well

DESMOND TUTU, Nobel Peace Prize Laureate
A masterpiece of holocaust literature. Her memoir, like her life, is extraordinary, harrowing and inspiring in equal measure

The Times Literary Supplement
Eger's remarkable spirit shines through in every word

Stylist
Edith's strength and courage are remarkable in this memoir as she draws on her own unthinkable experience in Nazi concentration camps to become a therapist and help others recover from all kinds of hardship. Her life and work are an incredible example of forgiveness, resilience and generosity.

Sheryl Sandberg
I can't describe to you how powerful this book is … I barely have words.

Marian Keyes
There have been many heartrending Holocaust books. But few as powerful as this new memoir by a ballet dancer.

Daily Mail
Exceptional…Eger became a friend of Viktor Frankl…and The Choice is a wonderful companion piece to his classic memoir Man's Search for Meaning. Both books are full of hope…and leave you marvelling at the resilience of mankind

Daily Express
One of the most incredible [stories] I've ever read – and one you must read too

Sun
It will inevitably be filmed. Read the book first

The Observer & Guardian online
Rocket-fuelled inspiration

Psychologies
Deeply moving...extraordinary insight...It is not surprising that, when Eger speaks, her audiences are roused to give her a standing ovation. For they are not only honouring Edith Eger but also the triumph of the human spirit.

Jewish Chronicle
Important...gripping...a universal message of hope.

Philip Zimbardo, author of, The Lucifer Effect
A beautiful memoir, reminiscent of the great works of Anne Frank and Viktor Frankl. But it is more than a book—it's a work of art. It gave me goosebumps, the kind that grace you in transcendent moments of appreciating a Mozart sonata, an Elizabeth Barrett Browning sonnet, or the ceiling of the Sistine Chapel

Adam Grant, New York Times bestselling author of GIVE AND TAKE, ORIGINALS, and OPTION B with Sheryl Sandberg
Edith Eva Eger is my kind of hero. She survived unspeakable horrors and brutality; but rather than let her painful past destroy her, she chose to transform it into a powerful gift – one she uses to help others heal.

Jeannette Walls, New York Times bestselling author of The Glass Castle
This warm, compassionate and truly extraordinary book is much more than a remarkable Holocaust survivor story. It is at heart an examination of the human spirit and how it can be helped to survive after trauma. Like Man's Search for Meaning by Victor Frankl, a more important book for our times is hard to imagine.

The Bookseller
Compelling and irresistible. A genuine, honest-to-goodness life-changer.

Good Housekeeping
Inspirational

Express
Powerful ... hard to put down.

Choice Magazine
Comparisons to Man's Search for Meaning are natural but this work has the potential to be even more bold.

Michael Berenbaum, Former Project Director, US Holocaust Memorial Museum
The distressed fabric of the author's traumatic past becomes a beautiful backdrop for a memoir written with integrity and conviction...A searing, astute study of intensive healing and self-acceptance through the absolution of suffering and atrocity.

Kirkus Reviews
Rocket-fuelled inspiration

Psychologies
Video
Life Lessons From Auschwitz | The Choice by Dr Edith Eger
Dr. Edith Eger discusses prejudice, how when we look at life as between 'us' and 'them' we are creating another Auschwitz. Edith believes that we all have a Nazi within us, and that we should embrace it by expressing love over what we hate. Edith explains how fear and love will never co-exist, highlighting how we have the choice every morning to be for, or against something.